15 Creative Camping Hacks
We know that spring is only just crawling it, so regular camping season hasn't quite arrived just yet, but that doesn't mean we're not excited! Our family is full of such camping enthusiasts that we usually start gearing up nice and early, just to make sure we're really prepared come our first trip of the year. That's why we always have our eyes peeled for neat DIY camping hacks that might make things a little quicker, easier, or more efficient when we finally get on our way!
Just in case you're just as interested in the cool idea of DIY camping hacks as we were, if not more, here are 15 of the very best and most creative ideas we've come across so far in our search for tips and tricks.
1. Fire balls
Even in the best camping conditions, sometimes it can be tricky to get a good fire started. Things get even harder when the weather and woods are damp! That's why we thought this neat fire starter idea from Nifty on Buzzfeed was such a cool trick. They show you how to make "fire balls" using cotton balls, isopropyl alcohol, and petroleum jelly. These will making getting your sparks started a little more time efficient, without getting dangerous.
2. Waterproof matches
Speaking of starting fires, what is it you're actually planning on starting fires with? Well, some people like to carry lighters and such when they camp but it's always smart to have a backup, especially if things get damp like we mentioned above. That's why we thought these waterproof matches were such an innovative trick! See how they can be made quickly using regular matches and turpentine on WikiHow.
3. Tarp shelter tent extensions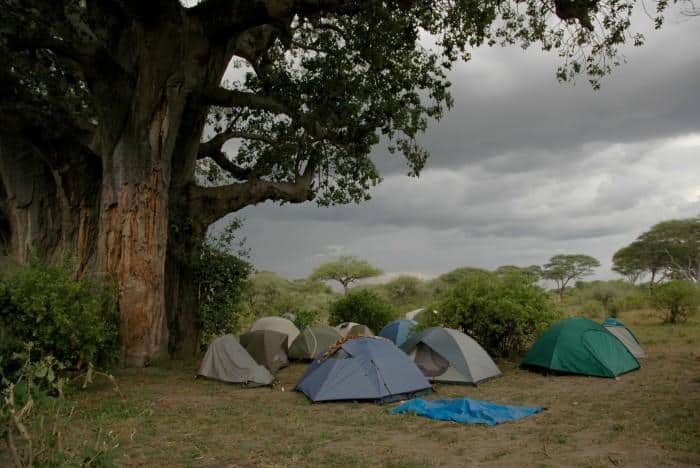 We know we've talked quite a lot about wet weather already, but that's because it's such an important consideration when it comes to surviving outside! One of the things we struggle with most on really rainy days is getting soaked moving between tents or areas in our campsite. That's why we thought these techniques from Get Out With the Kids for using tarps to build shelter spaces between the different areas of your campsite, like a covered path!
4. Carry hot water bottles for inside warm sleeping bags
Perhaps you're actually planning on camping a little earlier in the season than most people you know, so you're hoping to find some extra tips and tricks for staying even warmer than usual? In that case, we think you'll appreciate the resources we found on Hunting Boots! They have all kinds of information, but our favourite idea was to keep a few hot water bottles in your camping kit for those nights when things get particularly chilly. Fill them up with hot water before you put your fire out and tuck them right into your sleeping bag!