15 Creative Camping Hacks
We know that spring is only just crawling it, so regular camping season hasn't quite arrived just yet, but that doesn't mean we're not excited! Our family is full of such camping enthusiasts that we usually start gearing up nice and early, just to make sure we're really prepared come our first trip of the year. That's why we always have our eyes peeled for neat DIY camping hacks that might make things a little quicker, easier, or more efficient when we finally get on our way!
Just in case you're just as interested in the cool idea of DIY camping hacks as we were, if not more, here are 15 of the very best and most creative ideas we've come across so far in our search for tips and tricks.
1. Fire balls
Even in the best camping conditions, sometimes it can be tricky to get a good fire started. Things get even harder when the weather and woods are damp! That's why we thought this neat fire starter idea from Nifty on Buzzfeed was such a cool trick. They show you how to make "fire balls" using cotton balls, isopropyl alcohol, and petroleum jelly. These will making getting your sparks started a little more time efficient, without getting dangerous.
2. Waterproof matches
Speaking of starting fires, what is it you're actually planning on starting fires with? Well, some people like to carry lighters and such when they camp but it's always smart to have a backup, especially if things get damp like we mentioned above. That's why we thought these waterproof matches were such an innovative trick! See how they can be made quickly using regular matches and turpentine on WikiHow.
3. Tarp shelter tent extensions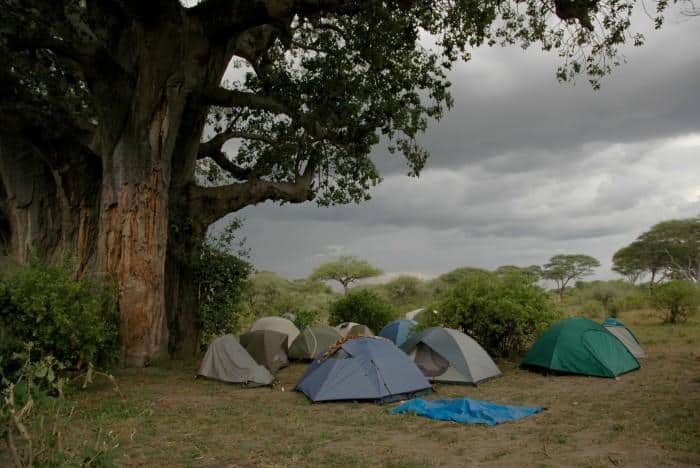 We know we've talked quite a lot about wet weather already, but that's because it's such an important consideration when it comes to surviving outside! One of the things we struggle with most on really rainy days is getting soaked moving between tents or areas in our campsite. That's why we thought these techniques from Get Out With the Kids for using tarps to build shelter spaces between the different areas of your campsite, like a covered path!
4. Carry hot water bottles for inside warm sleeping bags
Perhaps you're actually planning on camping a little earlier in the season than most people you know, so you're hoping to find some extra tips and tricks for staying even warmer than usual? In that case, we think you'll appreciate the resources we found on Hunting Boots! They have all kinds of information, but our favourite idea was to keep a few hot water bottles in your camping kit for those nights when things get particularly chilly. Fill them up with hot water before you put your fire out and tuck them right into your sleeping bag!
5. How to make a DIY tent
Perhaps you're actually planning on doing most of your camping when it's a lot warmer out so you're not quite so concerned with temperature, but you can't help noticing your own dissatisfaction with most of the store bought tent options you're finding out there? Sometimes we find that they're just a little too souped up for our liking. That's why we thought this guide to making your own DIY tents, outlined in more detail on My Outdoors Life, was so interesting. They tell you all about how DIY tents are usually more durable, more affordable, and more lightweight to carry!
6. Dollar store tubs as camping dish storage
Perhaps you're actually just looking for a simple, affordable way to keep all the supplies you need for feeding your family in your campsite nice and organize, but also safe and clean? In that case, we'd defintiely suggest taking a look at how Pennies Into Pearls achieved that very same thing using different shaped and totally cost effective tubs from the dollar store. They show you how to organize paper plates, plastic cutlery, and toiletries!
7. Tic Tac container spice shakers
Are you the kind of person who adores cooking so much that you can regularly be found making full delicious meals even when you and your family are on the road between campsites? In that case, we have a feeling you just might be the perfect person to try out this trick from The Ktchn for making sure you can add whatever spices you please to your food along the way! Check out how they filled and labelled empty Tic Tac containers with their favouring seasonings.
8. DIY essential oils bug spray
We're sure that anyone who has ever spent any length of time outside in the spring and summer already knows just how bad the mosquitos and other biting bugs can be, so imagine how much more you'll experience that on a full camping trip where you're outside all the time! Sure, there are lots of store bought bug sprays available, but we've always found homemade essential oil based deterrents to be even more effective, cheaper, and more fun to make. Check out one of our favourite DIY bug spray recipes on Really, Are You Serious?.
9. Sleeping bag cover as a doggie sleeping bag
In addition to worrying about yourselves and your kids on the road this camping season, are you also planning on bring a few furry friends with you? Then we'd definitely suggest making sure that you look for a few extra ways to keep them warm as well! For night time, we like the way Life With Mutts used the wind resistant storage bag of their own warm sleeping bag as a miniature doggy sleeping bag to make sure their pooch doesn't get too chilly while everyone sleeps.
10. DIY trunk bed for car camping
Perhaps you're actually going about your camping trip a little bit differently and you're considering trying out vehicle camping on a huge road trip, rather than posting up somewhere specific for a while and building a whole campsite? In that case, we think you'll really appreciate the way Instructables outlines the whole process of making yourself a cool, surprisingly comfortable car bed just like the one you see here.
11. How to choose where to sleep
Are you actually planning on camping in several different areas throughout the season this year but you want to make sure that you pick the best spot for sleeping no matter what kind of terrain you're in? Well, we have a feeling you might appreciate this information from Zip Outdoors just as much as we did, particularly where it discusses the part about choosing spots in especially tricky places like beaches or rocks. For example, try building your tent where the terrain changes from and to vegetation when you camp near a beach. This gives you good solid ground that still has a bit of softness.
12. Bear bells on toddler shoes
In addition to yourselves and your animals, are you also planning to travel with little kids on this years' camping trips? In that case, we would absolutely suggest taking a look at how Take Them Outside keep their kids a little safer from getting lost or meeting unwanted animals by turning bear bells into shoe accessories! This way, you always have an idea of where your little ones are around the campsite.
13. How to make a camping survival kit
Perhaps one of the most useful DIY tips we've ever received for camping was to make an emergency kit that stays with our campsite at all times, just in case something happens. Of course, we already had most of these things sorted even before leaving on our very first big camping adventure, but it never hurts to read through a reminder of what kind of things you should put together when you make a kit of your own! Take a better look at Beyond the Tent to see what they suggest including.
14.  Tips for camping alone
Anyone who has ever camped alone for a night or two is probably already aware of just how wonderfully freeing and peaceful it can be. Even so, being alone in any secluded area means you have a need for even more safety precautions as usual, just in case. There are all kinds of things you can do to take care of yourself on a solo camping trip and, luckily for all of us, Camping Sleeping is here to walk you through some of them. We particularly appreciate tips about simple campsite setup and sleeping arrangements.
15. DIY camp toilet
Now, depending on where you're camping this season, you might have access to actual toilets near your site! In other places, however, digging a good old fashioned hole might be your better option. Just in case you can't bring yourself to get quite that rustic in your camping lifestyle, however, here's a fantastic tutorial from A Thrifty Mom for making your very own camp toilet that's both easy to use and easy to clean, which is clearly a plus!
Do you have other awesome DIY camping tips and hacks that you find really useful whenever you take a trip with your family but that you don't see here on our list? Tell us all about it or link us to some instructions so we can try it out as well!