Have you ever thrown away your kids' old crayons because they were too short to colour with? Have you ever accidentally dropped a box of them and been upset when they snapped in half? DIY enthusiasts have not one, not two, but several solutions for dealing with broken crayons or old crayon ends creatively!
Check out these super fun ways to reuse crayons. You kids will love making these bright, colourful crafts!
1. Crayon heart pencil toppers
Using plastic pencil topper sticks and a heat resistant tray with heart moulds lets you create adorable pencil toppers that are perfect for your kids' classmates on Valentine's Day. Check out how to do it on Skip to My Lou.
2. Melted crayon dot art
Heated crayons let you and your kids create artistic pointillism pictures, just like real artists! See how to get started on Pieces by Polly.
3. Recycled chunky crayons
Why not use your little crayon pieces to make more crayons? Kids will love Make and Takes' chunky tie dye crayon idea.
4. 2 ingredient lip gloss
This craft is fun and useful for both you and your kids! coconut oil and crayon pieces are the perfect recipe for easy, colourful lip gloss. Get the recipe from Mom Dot Com.
5. "Like new" crayons
Get a heat resistant tray with long, straight moulds and melt broken crayon pieces of the same colour into each one. Voila, brand "new" crayons! Natural Thrifty shows you how it's done.
6. Crayon heart garland
Ever Mine shows you how a very thin layer of melted crayon wax can be used to create delicate hearts that are perfect for Valentine's garlands.
7. Crayon colour block candles
Brit + Co.'s colour block candle recipe shows you how to turn broken pieces into funky decor.
8. Crayon letters
Alphabet ice cube trays make the perfect mould for colourful wax letters. One Charming Party shows you how to make them.
9. Marbled crayon Easter eggs
This idea is great because it's not quite as messy as decorating eggs with liquid dye! Instead, check out how The Thrifty Couple used melted crayon wax to marble them.
10. Rainbow melted crayon art
52 Kitchen Adventures shows you how to arrange your old crayons by colour and shade and melt them down a canvas to create a gorgeous rainbow.
11. Crayon "stained glass"
Activity Mama shows you how to make a "stained glass window" using only construction paper, wax paper, crayon pieces, and your clothing iron!
12. Melted crayon "paint"
There are several different ways to paint with melted crayon wax, but kids will get a kick out of carefully melting it themselves using your hot glue gun (with supervision)! Artful Parent walks you through the perks and difficulties of crayon paint.
13. Crayon quiet time bottle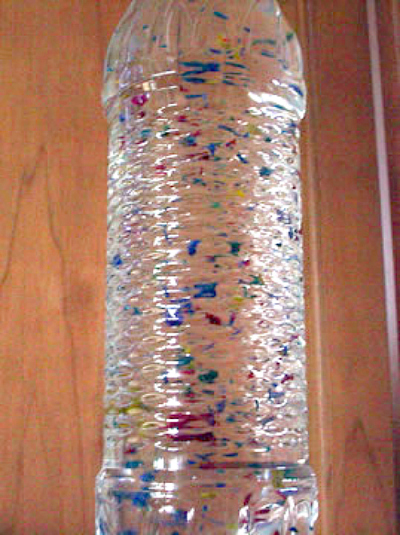 If you're a parent, you've probably seen tutorials on the Internet for making "quiet time" bottles out of water and glitter. Dr Jean shows you how to make the same thing using bright crayons instead!
14. Crayon Christmas ornaments
Marbling clear glass Christmas balls gives them a gorgeous tie dye effect that will brighten up your tree! Check out the tutorial on The Swell Designer.
15. Homemade crayon playdoh
Turn the crayons your kids loved using into another classic kid staple: playdoh! Get the recipe at Sugar Aunts.
Have you made other crayon crafts that you think everyone should see? Tell us how you did it in the comments section!