15 Crafts that Use Glitter as Snow
Have you always loved the way your street looks in the morning when you open your curtains and see a fresh snowfall outside? Few things are prettier than the sight of sunlight glittering off the show in the trees and across your yard. Even more than how that looks, however, we love the way that this effect can be mimicked in crafting and DIY! What's the best way to do that, you ask? With glitter, of course!
Check out these 15 awesome crafts that use glitter to make frost and snow.
1. Glitter snow ornaments
Are you looking for a simple craft that really lets the glitz and glam of crafting with glitter take centre stage? Then these easy glitter covered ornaments are for you! Using a larger, more textured white glitter, like the one Two Sisters Crafting used here, really makes it look like prettily packed snowflakes.
2. Glitter foam snowflakes
Arts Creating reminds you that sometimes the simplest crafts are the most fun, especially if you're working on them with your kids! These cute little snowflakes were cut out of glitter foam. You might use an online template or trace the shape inside a snowflake shaped cookie cutter, or just hand draw a design yourself! Glitter foam makes for an easy version, but you can always add glitter too if the only foam you have is matte.
3. DIY glitter snow globe
Have you always loved the whimsical snow globes that pop up on every store shelf around the holidays? They're one of our favourite pieces of holiday decor too, but we don't always see what we really want in the little scenes inside the globe. To solve that problem, Crafthubs shows you how to make your own!
4. "Frosted" pine cones
White glitter isn't the only colour that will help you make holiday crafts look frosted and pretty! Cool colours like blue and turquoise can also help you build a winter wonderland aesthetic in your decor and we're pretty obsessed with this lovely pin cone idea from The Homes I've Made! If you really want to make things look frosted, add a little bit of silver glitter on the tops of the pine cone branches.
5. Sparkling foam snowman
Foam spheres are always a diverse crafting tool and we love working with them because you can find them in all different sizes at almost any crafting or dollar store. Covering them with glitter so that they look like snowballs, for example, is fun and easy to do! We love the way Zing  Zing Tree used pins, sequins, googly eyes, and pipe cleaners to turn their foam balls into a snowman!
6. "Snow" filled Christmas crackers
Perhaps you like the way placing a Christmas cracker on each guest's plate looks for dinner on Christmas Day, but you're not sure everyone will actually use of enjoy the noise of real Christmas crackers? Then fake it 'til you make it… but make it even prettier! Here Come the Girls guides you through the process of making and filling your own Christmas crackers where the novelty, instead of a big bang, is that you can see the cute things inside without having to tear them apart. Throw in a little bit of sparkly "snow" to really tie thew hole thing together!
7. Winter snowflake slime
Are your favourite kinds of crafts (besides the sparkly ones, of course) the sensory kind that will keep your kids enthralled while you're making it and afterwards when they can play with what they've made? Then we have the perfect glitter-filled winter craft for you! This sparkly slime recipe by Little Bins for Little Hands feels like the popular Gak slime from the 90s, but prettier.
8. Tape resist glitter forest
As if painting isn't already fun enough, this negative tape painting craft from Left Brain, Craft Brain adds the ideas of geometric paint art and glitter to the mix! Make some tree designs by lightly sticking tape down and painting over it all over the place so it looks like a snow storm! Throw some glitter into the storm just for fun and then carefully peel the paint of when things are dry to reveal clean white trees.
9. Frosted tree branches
Do you simply love the look of bare tree branches on a chilly winter's morning because of how delicately frosted they are? You can recreate that look for inside your home too if you follow Lynn's Sweet Paradise's lead and lightly dust faux branches with glitter. We also love the way they've added cranberries for extra holiday cheer!
10. Sparkle snow dough
Has play dough always been your kids' favourite DIY and play time thing no matter the time of year? Then you'll always have something to do, but your kids will enjoy their play dough time even more if you make it festive! Kitchen Floor Crafts shows you how to make a lovely pure white play dough that has just enough glitter to make it look like a snow ball.
11. Sparkly popsicle stick snowflakes
Popsicle stick crafts are always a hit with both parents and kids because they're so easy and affordable! They're also versatile enough DIY tools that you can make themed things out of them no matter the season or time of year. In the winter, for example, they make fantastic snow flakes. We can't take our eyes off the glitter and rhinestones that She Knows bedazzled their snowflakes with!
12. Snow storm in a bottle
Have you ever seen those popular "quiet time shakers" made from water bottles filled with water and glitter that are meant to be a calming tool for children? This is a similar idea but holiday themed! Rather than using glitter in many colours, Blue Skies Ahead suggests sticking to silver, white, and opalescent glitters that will look like a snow storm when you shake the bottle.
13. Icy cold snow paint
What's better than painting a snowman? Painting a 3D snowman, of course! This awesomely sparkly homemade "paint" by Growing a Jeweled Rose takes Christmas crafting to another level by letting you and your kids make your own version of store bought puffy paint. It's like two crafts in one!
14. Sparkly glue gun snowflakes
Adding glitter to something pre-made is always very fun but we find that we enjoy using it even more when we're adding it to something else that we made ourselves! That's why these adorable little DIY snow flakes caught our eye so much. Make the shape out of hot glue on wax paper and then, when the snowflakes are dry, peel them off the paper, paint them with nail polish, and splash some glitter of your choice on top! Check the idea out in more detail on Glue Gun and Merlot.
15. Snowy shadow box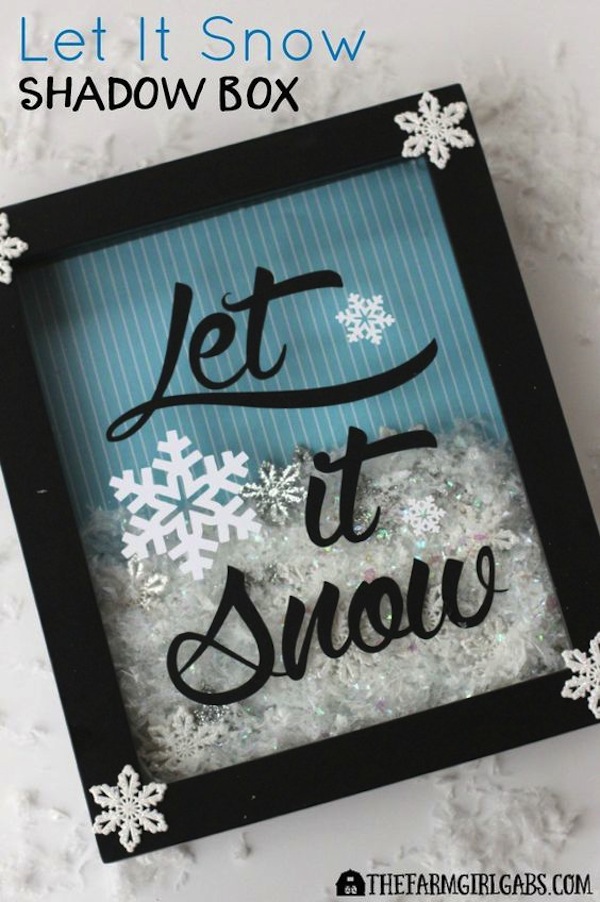 Have you always loved making shadow boxes because you enjoy the way they really stand on in a room, literally and physically? Usually one would place objects or larger trinkets inside one, but for the holidays, The Farm Girl Gabs suggests filling that space with paper cut out snow flakes, shredded opalescent glitter, and- of course- glitter!
Have you and your kids made other sparkly snow crafts that you loved but that you don't see on our list? Tell us how you made them in the comments section!