We've written about making crafts with actual wine bottle corks before, but that's not the only kind of cork you can work with! Some of the coolest cork crafts are actually made with cork board because it bends and it's easier to cut into custom shapes.
Check out these 15 awesomely creative cork board crafts that you'll actually get good use out of!
1. Confetti cork board
Kiwi Crate's DIY cork board idea is a super fun customization project involving lots of colour. Try jazzing up the regular pin board you use for your memos, notes, or keepsakes by dabbing little circles or dots of differently coloured paint all over the cork backing. The board will go from a drab looking piece of furniture to an art piece.
2. Painted cork board jewelry display
Siwur suggests painting your regular cork board as well, but rather then creating random polka dots, why not place your colours intentionally and create a pattern of your choosing?
3. Cork board wall
Are you so busy remember your own meetings and appointments, as well as those of your whole family, that a normal cork board of reminders just won't do? Craft Nectar has you covered with step by step tips for creating not just a larger cork board, but rather an entire cork board wall that you can use and customize however you need!
4. Cork board desk backing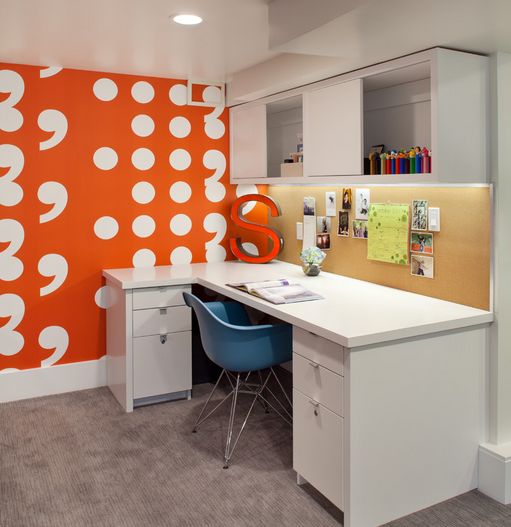 Maybe you don't need the whole wall in your office to be cork board, but a bigger surface than your average framed board would still be helpful? Try creating an expansive cork board on the back of your desk underneath its shelf, just like Inside Design Studio did here.
5. Framed multi-square cork board
Infarrantly creative shows you the perks of separating a very large section of cork board into smaller framed sections. Not only does this look quite decorative, but it might also help keep you organized if you assign different sections to different tasks or areas of your life!
6. Stylish cork board cut outs
urge you to get a little more creative with the shape of your cork board surface. Instead of using the entire cork boar as one sheet, try cutting it into pointed strips and creating a chevron like pattern across your wall. Spark & Chemistry took it one step even further by painting some strips to create a pattern within the pattern!
7. Cork board cupboard doors
Whether you put them in the kitchen our your children's play room, cork board cupboard doors are a versatile and extremely useful idea. Let Knotting Hill Interiors show you how they're done.
8. Ampersand cork board coasters
Cork board is easy to cut, so you can theoretically create cork coasters in whatever shape you want! Home Edit suggests these cute ampersand coasters, and we agree with that choice completely. They're whimsical but still chic!
9. DIY cork containers
Whether yo fill these little cork containers with writing utensils near the phone where notes are taken or plants that might need labeling, you're setting yourself a step ahead by using cork board to construct them. Home Edit shows you how to make them in just a few simple steps.
10. Cork board wall by the stairs
Forget corking just one wall in your office; Murphy & Co Design went all out and corked the entire hallway wall all the way up the stairs! Imagine how easy it will be to leave your family notes or hang your children's' art projects on the wall when you're finished!
11. Cork board speech bubble
shows you how simple it is to cut clean shapes, like speech bubbles, out of single layers of flat cork board. If you're feeling really crafty, paint some kind of cute message in the middle that you don't mind seeing every day when you turn towards your desk, just like The Things She Makes did on this one!
12. A cork board made of corks
We already mentioned that we've written about cord projects made of wine corks before, but now we have a design from A Beautiful Mess that fits in both categories! This cork board made of wine corks is slightly less convenient for pinning things to because there are spaces between the corks, but the fun you'll have making it and then awesome way it looks are both worth it!
13. Mini floral cork boards
Lily Ella walks you through the process of transforming thin sheets of plain brown cork board int prettily decorative flowers that are perfect for this time year now that it's getting warm and bright out again!
14. Stenciled cork board
suggest that you take the idea of painting your framed cork board a little further than just creating words or shapes with dots. Try using a stencil to mark out a shape but leaving most of the board to be painted your favourite colour, or a colour that contrasts your room's decor scheme.
15. Vintage wooden spool cork board
Do you already have a small cork board that you'd like to jazz up and get creative with? Silly Pearl did just that, using cute vintage wooden thread spools to create a 3D frame all the way around the outer edges of the board. We're absolutely in love with the idea and the look!
Have you made other custom cork board crafts that you don't see on our list? Tell us about them in the comments section below!