Cool DIY Decor Pieces for Teen Boys' Bedrooms
When it comes to decorating the bedrooms of teenage boys, there's no clear guideline or template to follow; it all just depends on what they like at that time and whether they are invested enough to make an overall aesthetic happen with you! In our case, our sons were enthusiastic about the idea but slightly less interested when it came to making actual decisions, so we took over. That's how they ended up with so many DIY and homemade decor pieces and details on their walls!
1. DIY branch hook
If your child is an outdoorsy kind of guy, then you can never go wrong with an overall look that is lightly inspired by trees and the woods. It's themed but still adult looking, manly but not stuffy. It's perfect! That's why we loved this simple tree branch coat hook idea outlined in just a few simple steps on Garden Therapy so much. Now our son finally hangs up his jackets!
2. Chicken wire light fixture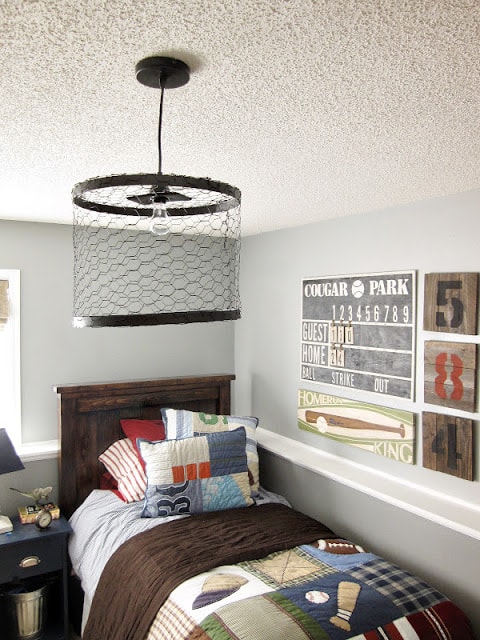 Perhaps your kids have always had an affinity for animals and the country, since you live out in the farmlands? Well, even if they don't, this minimalist looking chicken wire light fixture is still a pretty cool looking detail to add to any room with a boyish colour scheme, whether that's dark, neutral, or light. See how simply this was made in more detail on Kris Krafting.
3. Industrial inspired PVC pipe and string photo headboard

Do you actually know that your son would prefer a much more city inspired and industrial looking element in his room but you hesitate to put actual cold metal in there, particularly since you're not very experienced working with it? Then we have a feeling you'll get along a little better with something like this faux metal piping headboard that's actually made of silver painted PVC piping. We love the way DIY Network wive string around it and stuck pictures across it with clothespins.
4. Baseball bookends

Just in case your son is a sports lover, with baseball as a particular favourite, here's a way to reuse some of those old, beaten up baseballs that are scattered around the backyard and garage! We love the way ModPodge Rocks outlines the simple step by step process of making either an individual or a set of matching book ends from an old baseball, making that love for sports apparent like a motivational homage.
5. Skateboard floating wall shelves
Maybe your son is a little more of a risk taker and a little less of a sports player, but still very active? Well, if skateboarding is on his roster of talents or passions, then we're pretty sure Jenna Burger has the perfect tutorial for you! We're in love with the way they bought cheap mini skateboards and used metal wall brackets to turn them into stylish themed floating wall shelves.
6. Leather and wood suspended shelf
Perhaps you're actually convinced that your son's bedroom could do with a slightly more adult aesthetic, since he's already very mature and even cares a little bit about style? In that case, we think you might get along a little better with something like this reclaimed wood and leather strap suspended shelf idea outlined step by simple step on Around The Houses.
7. Old T-shirt headboard
Perhaps your son has all kinds of different interests and you've actually been looking for a way to help him display how much he appreciates those things all in once place? In that case, if he wears a lot of graphic t-shirts but also wears them out easily like our fast growing boys do, here's an awesome way to upcycle the ones with the coolest pictures or logos! See how this t-shirt headboard was made in more detail on DIY Network.
8. Stuffed sports jersey pillows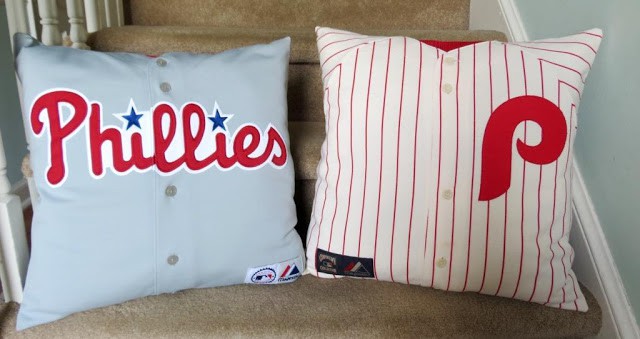 Are you very interested indeed in the idea of making something that involves t-shirts or clothing being upcycled, since your kids tend to both accumulate and grow out of garments so quickly, but you're not sure you have space for an entire headboard? Then perhaps stuff t-shirt pillows are the way to go instead! We're huge fans of how Sweet Buzzings teaches you to make these sports jersey pillows, but we think the idea would look just as neat with something like band shirts or school team tees. We actually used this tutorial as an opportunity to teach our boys to sew themselves!
9. Pallet door headboard with rope name art
Did we really catch your attention when we started talking about how rustic and farmhouse aesthetics fit boys' rooms very well, but you're looking for some kind of statement piece that will really set the tone? Well, if your son doesn't yet feel too old or cool enough for a bit of personalization, then maybe this wooden rolling barn door headboard complete with a rope name is something you can use for inspiration! See how it was done in more detail on Love of Family and Home.
10. Boneyard lantern
Maybe your son has slightly spookier tastes in style and decor, being a huge horror movie fan with an affinity for reading murder mysteries? Our oldest fits that description quite well, which is why we weren't surprised at all when he told us that, if we were all going to craft decor for his room, he wanted to make this awesome boneyard lantern from Oh My Creative. We might borrow it from him to put in the living room when we decorate for Halloween!
11. Star Wars specimen wall art
In our experience, both Lego and the Star Wars movies are things that no boy or man who loves them every grows out of, no matter how old they get. That's why we thought this Star Wars themed lego wall art that's lay out like a the kind of specimen charter you might usually see bugs on was such a cool idea! It also upcycles toys that don't necessarily get played with the same way anymore or that are being kept like collectibles. Get the details for making it happen on Makoodle.
12. Action figure table lamp
Have we really caught your attention now with all this talk of upcycling your son's old toys in order to make cool new decorative pieces for his room? Then gather up all those action figures and toy soldiers he hasn't taken out of the toy box in years and take a look at how Instructables turned theirs into the base of a lamp by gluing them together in a sort of epic battle scene and spray painting them gold!
13. DIY basketball hoop trash can
Did we really hit the nail on the head when we started talking about ball games and your son being a huge sports fan, but it's not actually baseball that he's passionate about? Then here's an awesome homemade garbage can idea for the basketball lovers! You've probably seen people pretend their trash is a basketball hoop at home or in the office before, just using their imagination, but Jane Costiglio is here to show you how to actually turn your sons garbage can into a miniature hoop that he can throw things into when he's doing his homework.
14. Upcycled pallet bedside bookshelf
Is the thing your son is actually the most passionate about of anything books and reading? Our youngest is like that too, and we finally started looking up DIY ways to help him store his books better because they were piling up by his bed and toppling over. That's when we found this awesome reclaimed pallet tutorial where Shades of Blue Interiors shows you how to turn one into a simple wall mounted bookshelf that's nice and space efficient!
15. DIY chalkboard dresser
If you ask us, the idea of making a cool chalkboard dresser that your kid can actually write and draw on is a good one no matter what his age or maturity level is. Sometimes things are just fun! Rather than labeling the drawers organizationally, if he's a little bit older and already knows where his laundry goes, consider how useful this will be for reminding him to feed the dog before he leaves for school. Get the full details for making this dresser happen on DIY Well.
Have you made other awesome DIY decor projects for your son's room before that were a huge hit but you don't see anything quite similar on our list? Tell us all about what you created and how you did it or link us to photos of your finished work in the comments section!