Cool DIY Decor Pieces for Teen Boys' Bedrooms
When it comes to decorating the bedrooms of teenage boys, there's no clear guideline or template to follow; it all just depends on what they like at that time and whether they are invested enough to make an overall aesthetic happen with you! In our case, our sons were enthusiastic about the idea but slightly less interested when it came to making actual decisions, so we took over. That's how they ended up with so many DIY and homemade decor pieces and details on their walls!
1. DIY branch hook
If your child is an outdoorsy kind of guy, then you can never go wrong with an overall look that is lightly inspired by trees and the woods. It's themed but still adult looking, manly but not stuffy. It's perfect! That's why we loved this simple tree branch coat hook idea outlined in just a few simple steps on Garden Therapy so much. Now our son finally hangs up his jackets!
2. Chicken wire light fixture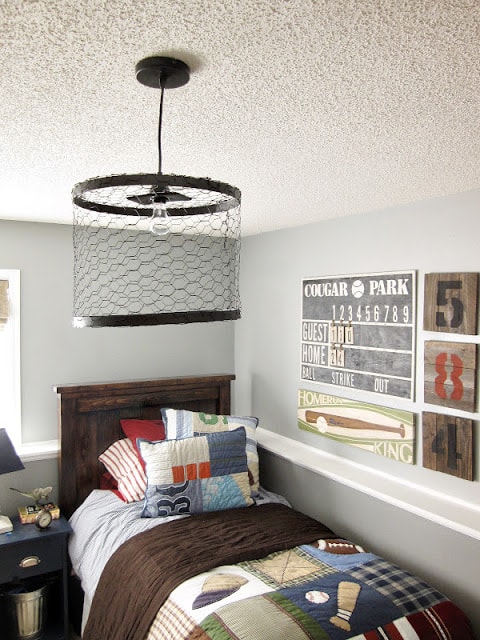 Perhaps your kids have always had an affinity for animals and the country, since you live out in the farmlands? Well, even if they don't, this minimalist looking chicken wire light fixture is still a pretty cool looking detail to add to any room with a boyish colour scheme, whether that's dark, neutral, or light. See how simply this was made in more detail on Kris Krafting.
3. Industrial inspired PVC pipe and string photo headboard

Do you actually know that your son would prefer a much more city inspired and industrial looking element in his room but you hesitate to put actual cold metal in there, particularly since you're not very experienced working with it? Then we have a feeling you'll get along a little better with something like this faux metal piping headboard that's actually made of silver painted PVC piping. We love the way DIY Network wive string around it and stuck pictures across it with clothespins.
4. Baseball bookends

Just in case your son is a sports lover, with baseball as a particular favourite, here's a way to reuse some of those old, beaten up baseballs that are scattered around the backyard and garage! We love the way ModPodge Rocks outlines the simple step by step process of making either an individual or a set of matching book ends from an old baseball, making that love for sports apparent like a motivational homage.
5. Skateboard floating wall shelves
Maybe your son is a little more of a risk taker and a little less of a sports player, but still very active? Well, if skateboarding is on his roster of talents or passions, then we're pretty sure Jenna Burger has the perfect tutorial for you! We're in love with the way they bought cheap mini skateboards and used metal wall brackets to turn them into stylish themed floating wall shelves.
6. Leather and wood suspended shelf