Awesome Cookie Decorating Ideas for Any Occasion
The only thing more fun than decorating a fresh batch of cookies is eating them! Before you chow down, think about all the different things you can make your cookies look like. Why not have a little fun before they're gone? Check out these great cookie decorating ideas that are perfect for any event, or just your own amusement!
Camper vans
Vintage camper van cookies make the perfect road snack for your family holiday!(Photo source: Bake at 350)
Decorative fans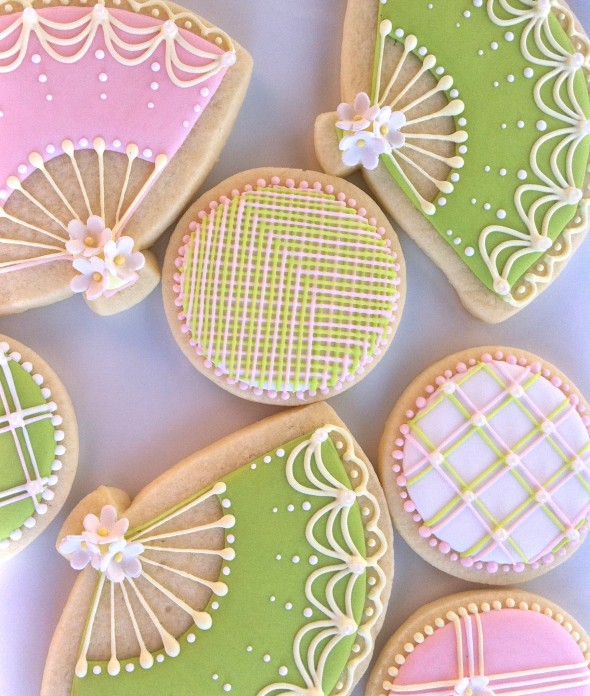 Having a party on a hot summer's day? Give the atmosphere a little Southern charm with these adorable fan cookies.(Photo source: Sweetopia)
Cameras

Looking to make a sweet treat for a friend who loves photography? What better than these adorable camera shaped cookies!(Photo source: Farmer and the Dail)
Sugar skulls
Looking to celebrate Dias de los Muertes with a sweet treat? Check out these adorable sugar skulls!(Photo source: Loris Place)
Test tube cookies
Did your daughter just pass an important science test at school? Celebrate with beaker and test tube cookies!(Photo source: A Cookie Jar)
Valentines
Instead of giving your loved ones fancy paper Valentines, try giving them delicious cookies that look like fancy paper Valentines!(Photo source: Sweet Sugar Belle)
Golf
What better theme for Father's Day cookies than golf? Dad will love their taste and their reminder of his favourite pass time.(Photo source: Beka)
Whales
Who knew big sea creatures could be so adorable? Kids will love these whale cookies!(Photo source: Quacks Bakery)
Corsets
Looking for snack ideas for a bachelorette party? Corset cookies are the perfect mix of cute and sassy!(Photo source: Loris Place)
Football gear
Even big, tough football players like cookies! Try making them some footballs, helmets, and jerseys!(Photo source: McCormick)
Tea party
What's a tea party without some cookies, after all? Tie your snacks right into the theme!(Photo source: Sweetopia)
Butterflies
Butterflies add a cheerful touch of colour to any party.(Photo source: Loris Place)
Reindeer
Everyone loves cookies at Christmas! Try balancing a little bit of salty with your sweet by adding pretzel antlers.(Photo source: All Recipes)
Frosted squirrels
The shape is adorable and the filling is delicious. There's never a bad time for ginger squirrel cookies!(Photo source: All Recipes)
Bunny noses
Kids always love cookies, but they'll especially love being able to play with them! Putting the cookies on sticks will let them pretend the adorable bunny nose is there own.(Photo source: Tidy Mom)
Paris
Eiffel Towers, French berets, and bisous! Paris themed cookies are perfect for your friend with the travel bug.(Photo source: Sweetopia)
Chanel
You might not be able to afford to buy your best friend a Chanel purse for her birthday, but you could always bake her one!(Photo source: The Berry)
Hedgehogs
As if cookies aren't delicious enough on their own, turning them into cute hedgehogs gives you an excuse to add chocolate and nuts!(Photo source: All Recipes)
Do you have other awesome cookie decorating ideas that you don't see here? Tell us about them in the comments!