Contemporary DIY Coffee Tables
When it comes to contemporary looking or conceptual furniture, we feel like we just can't get enough. Our home is adorned in all kinds of modern looking, nearly-minimalist, and contemporarily styled pieces but our favourites are always the ones that we made ourselves. Lately, we've been keeping our eyed peeled for great, contemporary looking coffee tables, but we simply kind find what we're picturing in stores, so we've opted to make it ourselves!
1. Scandinavian style inspired coffee table
As of late, Scandinavian furnishing and home decor styles (which inherently exude a sense of contemporary lines and colouring) have been trending hard in the world of interiors. Needless to say, we're thrilled! We were also very intrigued indeed to come across this lovely Scandinavian styled DIY coffee table bearing unique shapes and painting styles all outlined in detail on Small Fry Creations.
2. DIY square industrial coffee table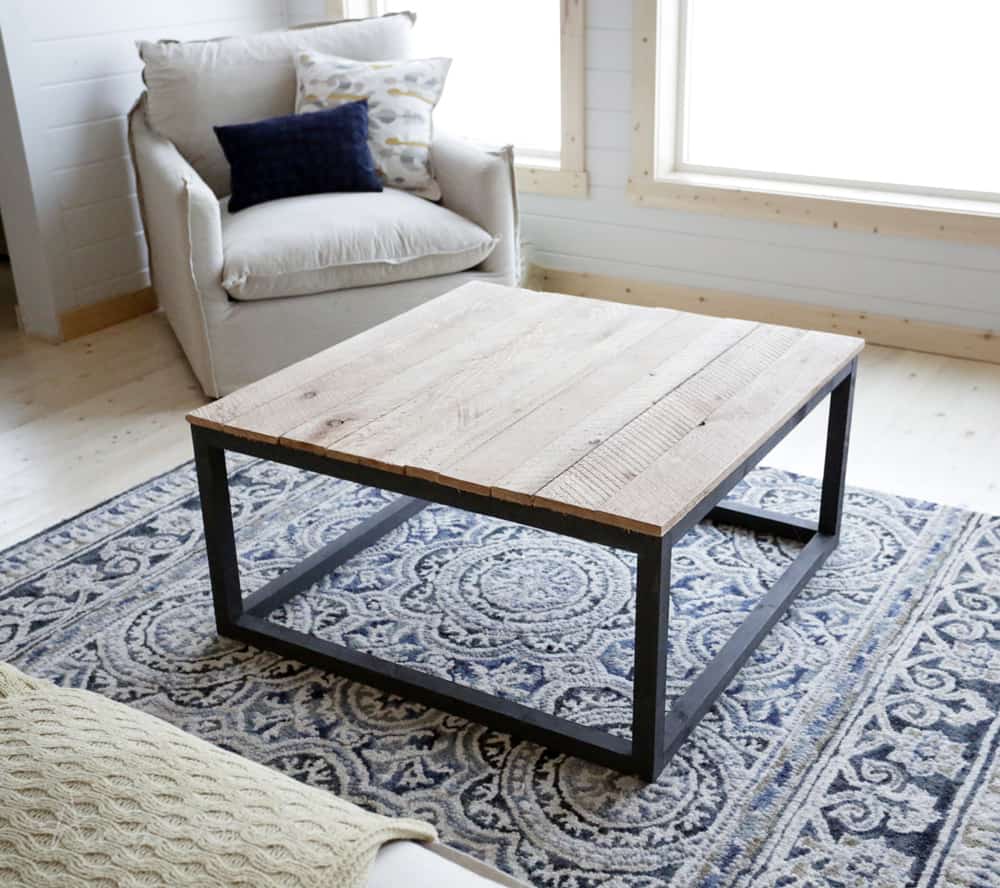 Maybe you're actually looking for something a little simpler and low maintenance looking, or perhaps you've just always preferred the kind of nearly dated contemporary style that borders on the cusp of being industrial chic? In either case, we have a strong feeling you might get along very well indeed with something like this lovely square industrial coffee table outlined in detail on Ana White.
3. Modern stained wood coffee table
Have we really caught your attention with the idea of making a wooden coffee table that has a contemporary shape and style to it, but you're just not convinced that you want quite as much metal involved as the idea above features, if any? In that case, perhaps you'd prefer to try your hand at something like this homemade, light stained modern wooden table featured with full instructions on Create, Celebrate!
4. Midcentury style modern coffee table
Rather than choosing to make a contemporary looking piece with a slightly vintage influence that aligns with industrial chic, would you rather go with something a little more homey and typical of the residential area you actually live in? Then we have a feeling you might get along a little better with something like this mid-century style modern coffee table from HGTV that looks like it might have come straight out of a home in the 1950s.
5. Midcentury "spider" table
Just in case we really caught your attention when we started talking about contemporary DIY furniture that has a specifically mid-century influence to it but you're not sure the piece above quite has the materiality you're looking for, here's an alternative idea for your consideration! We're completely in love with the way Chris Salomone made this wooden "spider" table, name for the angle of its sprawling legs.
6. DIY painted table with geometric legs
Were you actually quite intrigued indeed by the idea of adding a decorative paint to the top of your table that follows a contemporary style, but you're also convinced that you'd prefer a differently shaped leg to the last painted idea we showed you? In that case, we'd definitely suggest taking a look at the way Mr DIY Dork made this geometric painted table with matching geometric leges!
7. DIY crate cubby coffee table
Perhaps you're actually the kind of person who believes the best kind of contemporary style is that which uses concepts of transforming upcycled materials to create something new? In that case, we think you'll find something a little more along the lines of what you're looking for by trying out this crate coffee table idea that helps you build a piece that gives you a few extra cubbies to put things like books in within your living room. Get the full instructions for making your own on A Trail Life.
8. Modern wood and metal coffee table with matching end tables
Are you actually still scrolling through our list and thinking about how much you loved the wood and metal industrial idea, but you're also convinced that a slightly more polished finish than the more rustic version we showed you earlier might suit your space a little better? In that case, we have a feeling you'd have more success with something like this tutorial from The Coffee Table that also shows you how to make a set of smaller matching side tables, if you so please.
9. DIY hairpin leg side table
Just in case you really are still feeling quite enamoured with the idea of a contemporarily styled piece that bears a slightly more rustic influence in its details but you still just haven't found a design that's quite made up your mind, here's another tutorial for your consideration! Check out Homedit to learn how this hair pin leg side table that could easily be used as a coffee table for small spaces was made.
10. DIY modern farmhouse coffee table
What if we've really hit the nail on the head for what you're looking for in our talk of tables that look contemporary in their mix of modern and rustic but you'd much prefer to make something that's styled in the farmhouse chic vein rather than the industrial or mid-century? Then we're pretty sure Sincerely, Marie has just the tutorial for you.
11. Rustic modern coffee table with plumbing pipe legs
If you're going to make yourself something that feels and looks quite rustic contemporary would you rather still build it to appear as minimalist as possible, just for authenticity's sake? In that case, we think you might feel some appreciation for the way DIY Furniture Studio built this easy rustic modern wooden coffee table that actually has metal piping for legs.
12. DIY modern angled plywood bench style coffee table
Maybe you're still feeling more enthusiastic about the idea of using minimalist lines and Scandinavian inspired neutral colours, but you'll admit that you love the way rustic influenced contemporary styles put wood to good use? Then we'd suggest taking a look at how Remodelaholic combined all of the above to make this angled plywood bench style coffee table!
13. Larger hairpin legs and pallet coffee table
Just in case you loved the idea of making a contemporary influenced coffee table with wooden cubbies and hairpin legs but you're not sure you're quite experienced in furniture making yet to extrapolate from the side table tutorial that we showed you earlier? Then you might be better off using this actual, fully realized hairpin leg and wooden pallet coffee table tutorial outlined step by step on Homedit!
14. Upcycled drawer to modern coffee table
We've already talked a little bit about upcycling, but what if you're intent on the idea even though you don't have access to any old wooden pallets like the other repurposed tutorials we've shown you suggested using? Then we think you should take a look at th way Oh So Lovely made their own contemporary style tray coffee table from an old wooden drawer instead!
15. Pottery Barn knockoff zinc coffee table
One of our favourite things to come across in our DIY searches for just about anything is a tutorial that helps us harness the style and beauty of a great store bought piece that bears a pre-made label we can't necessarily afford the price of. That's exactly what Pneumatic Addict does here! Take a better look at their tutorial to learn how this Pottery Barn zinc topped coffee table was made.
Do you know a fellow home crafter or DIY enthusiast who has been itching to make their very own contemporary coffee table but who you think could use a little bit of guidance along the way? Share this post with them so they have all kinds of inspiration and information!