Easy Cheap Dinner Recipes
In our house, every single member of the family has their own busy schedule. Even so, we love being able to sit down to at least one meal together and that's usually dinner, since our days start at different times and we're either at work or school during lunch. Even if it's just a quiet few minutes to wolf down something before music lessons or sports practice, our family is pretty good about making sure we eat in the same space as often as possible. That's why we always try to make sure we have plenty of quick, easy, and cheap dinner ideas on hand at all times!
1. Crispy cheddar chicken
So long as you're someone who includes meat in your diet, who doesn't love chicken and cheese? We'll happily eat them separately but any time we can combine the two in one place, we'll absolutely take that opportunity. This simple crispy cheddar chicken dinner recipe outlined step by simple step on Jamie Cooks it Up is the perfect example of what we mean.
2. One-pot spaghetti and meat sauce
We're huge spaghetti fans and we always have been, ever since we were little kids! We don't find it a particularly hard thing to make in its regular form, but that doesn't mean we're not open to the idea of making things a little more quickly and easily on a busy night than we normally would! That's why we thought this one-pot spaghetti with meat sauce recipe featured on Domestic Superhero was such a neat thing.
3. Sloppy joe casserole
Just like spaghetti, sloppy joes are another dinner classic that's a total hit in our house. Sometimes, however, they're just ever so slightly too messy to serve up to our kids before they have to go somewhere. That's why we were very pleased indeed when we came across this slightly less messy casserole version of the sloppy joe sandwich outlined step by step on Cravings of a Lunatic.
4. Simple sweet n' sour meatballs
Are you totally interested in this idea of making a quick, filling meal that has both a starch and a meat component, just to keep the kids feeling nice and fuelled as they finished off their day, but you want to collect as many ideas as possible? In that case, we'd definitely suggest taking a look at how Kraft Canada made these delicious and simple sweet n' sour meatballs served on top of rice.
5. Easy turkey tetrazzini
Did we almost catch your attention when we started talking about the idea of making a quick and easy spaghetti dinner but you also can't help wondering whether you can't make other pasta dishes just as fast, just to keep things from getting repetitive? In that case, we'd absolutely suggest taking a look at how Delish made this fantastic tasting easy turkey tetrazzini that's a little more lean and calorie wise than some of the other suggestions you've seen so far.
6. Cheesy chicken enchiladas verde
If you're going to pop something quick and easy in the oven, would you rather make it something that has a little more kick and flavour than your average dinner? Well, if you've ever been a fan of Mexican recipes, here's one that you might not even realized is quite as quick and easy as it really is! Take a better look at Campbell's to see how these cheesy chicken enchiladas verde were made.
7. Cheesy bowtie chicken
In our house, leftovers are often the name of the game. That's especially true if the dish is something we can serve both hot or cold and have it taste just as good either way! Then we get two slightly different meals out of it. This delicious cheesy bowtie chicken dish, which tastes great warmed up like a pasta and served cold like a salad, is the perfect example of what we mean. Find out more about it on Taste of Home.
8. Feta stuffed peppers
Did we actually really catch your attention when we started talking about quick, easy, and affordable dinners that are a little more calorie wise than what you've seen so far, but nothing you've scrolled by has quite made up your mind yet? In that case, we'd absolutely suggest taking a look at how Taste of Home made these feta stuffed peppers that keep you full thanks to seasoned ground turkey and orzo.
9. Pork, carrot, and chickpea stew
Since it's fall now, we've been finding ourselves craving warm, hearty meals especially often lately. We are, of course, still on the lookout for things that are quick and affordable to prepare, but sometimes you just need something that makes your tummy feel full and warm! That's why we liked this pork, carrot, and chickpea stew outlined step by step on Woman's Day so much.
10. Turkey lettuce wraps
Just in case you're still keeping your eyes peeled for diet-friendly meals that are just as cheap and fast to make as the other things you've seen, here's a delicious idea that we actually just can't get enough of! SkinnyMs walks you step by step through the process of making turkey lettuce wraps that leave you feeling fed but not overly full and taste nice and refreshing. We've literally made ourselves these twice this week alone.
11. Cilantro lime chicken drumsticks
Maybe you've already got your family favourites picked out when it comes to side dishes and smaller meal elements, but you're always looking for new quick ways to make the main point of your entree? Well, if your family likes to eat chicken as often as ours does, then here's another alternative for your consideration! Take a better look at Budget Bytes to learn more about how these flavourful and fragrant cilantro lime chicken drumsticks were made.
12. Slow cooker Buffalo chicken lasagna
When it comes to having dinner ready on time for your busy family, a crock pot or slow cooker is the best thing a person could ask for! Simply combine the ingredients the night before, turn it on in the morning, and let it do its thing all day until your meal is ready by the time your family gets home from work and school and sits down to eat! Did you know that even lasagna can be made in the slow cooker? That's precisely what Taste of Home teaches you how to make here, but with an absolutely mouthwatering Buffalo chicken spin on its flavours and ingredients.
13. Slow cooker pork chops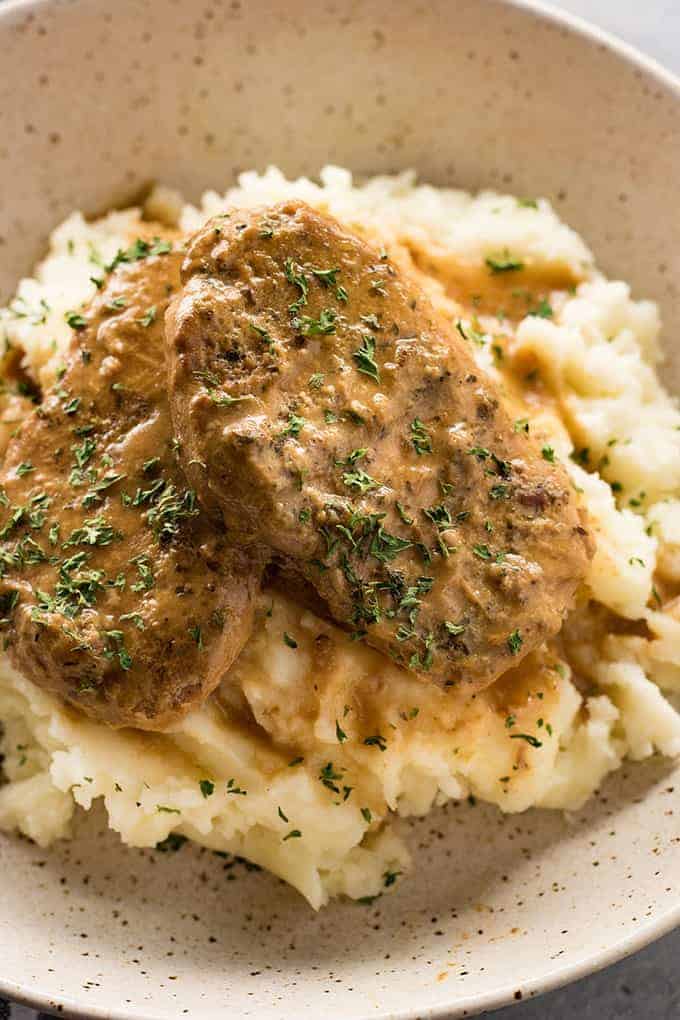 Just in case we really caught your attention with this whole idea of preparing a great, cheap dinner in the slow cooker to save time but you're just not sure your kids would eat a lasagna that tastes like Buffalo chicken, here's a slightly more classic option that might be even faster and easier to prep! Check out the tutorial on Campbell's to see how they made these scrumptious slow cooker pork chops that taste great complemented by all kinds of easy side dishes.
14. Easy Shepard's pie
Just in case you're still feeling totally enamoured by the idea of making a simple, quick Sheperd's pie but you're just not sure your kids will go for any of the recipes we've shown you so far with the fun spins on flavour, here's an ultra easy tutorial for learning how to make the classic version! This tutorial from Delish is so nice and accessible that even a beginner can do it.
15. Better than takeout chicken fried rice
Besides looking for something that's cheap to prep and simple to make, are you also looking for a dish that might save you money in the long run as well by replacing your need to constantly order that thing you always crave as takeout? Well, if your weakness is fried rice like ours is then we think you'll be just as grateful as we were to come across this quick and easy homemade fried rice recipe that Rachel Schultz swears tastes even better than the kind they usually order!
Do you have another favourite affordable and super simple dinner recipe that your family always gobbles right up but that you don't see here on our list? Tell us all about it in the comments section or link us to the recipe so we can try it out too!