DIY Concrete Hair Clip Container with Template and Video Tutorial
In addition to being a total DIY lover, are you also a pretty avid organizational enthusiast? Then I'd be willing to bet that you get just as excited as we do about the concept of making your very own decluttering solutions and small storage units as I do! I'm always on the lookout for new, crafty ways to give myself additional spots to put little things that might otherwise end up scattered across my dresser or bathroom counter. That and my recent ongoing love for DIY concrete projects is what got me thinking about the possibility of making my own concrete hair clip container. I tried it out and I'm pleased to report that the idea was eve more than a possibility; it was a total success!
In fact, I was so happy with how my container turned out that I decided to make another one for a friend who I know has the same habit of scattering their pins and clips all over the bathroom as I do. I kept track of my steps while I was at it, just so I could show other people how simply it can be done! Check out these step by step instructions complete with photos! If you'd rather follow along with a video tutorial instead of written words, scroll to the bottom of this post to find just what you're looking for.
For this project, you'll need:
A spoon
A plate
DIY fine particle cement
Water
Scissors
Hot glue
Oil (canola or vegetable will do)
Paint (two colours)
A paintbrush
A folding utility knife
Tape
A pencil
An empty toilet paper roll
A template
Step 1:
Gather your materials! I copied the idea of this template from something I found online to get the shape, but I drew it myself using a ruler and a pencil. I've made a copy that you can use here!

Step 2:
Use your scissors to cut out your paper template, cutting only around the outer edges and not along the lines of the square in the middle. Then place the paper template on your piece of cardboard and use your pencil to trace around the outside of the shape to leave the same shape sketched on the board.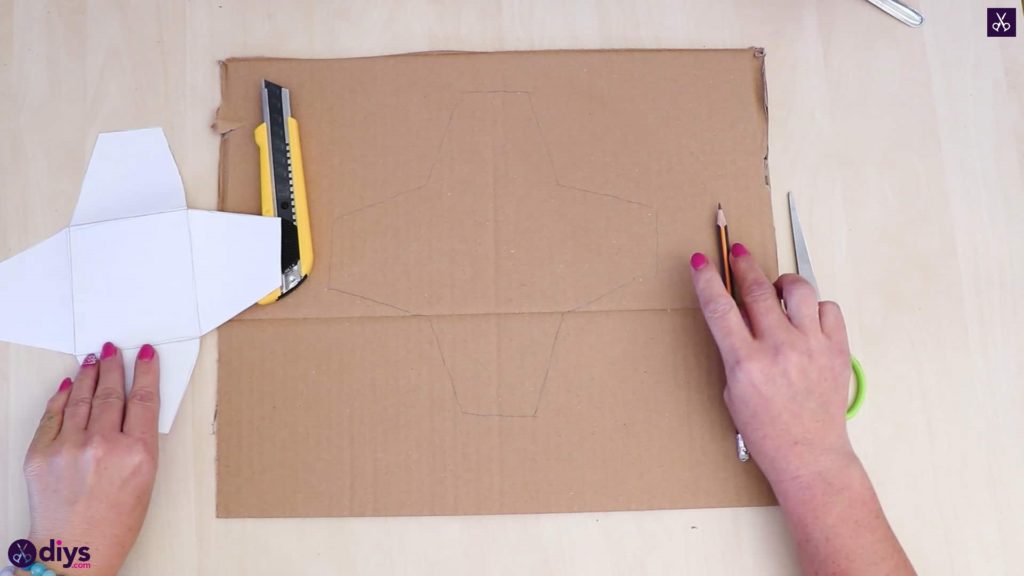 Step 3:
Use your scissors to cut the template shape out of the cardboard, once again only cutting around those outside edges. Then use your pencil (and a ruler if you need one) to draw the straight lines of the inner square like you saw on the original template, so each of your four protruding sides has a line at its wider base.