15 DIY Christmas Tree Drawings To Do With The Kids
Grab the little ones and all of the arts and crafts, it's officially Christmastime! It's time to get creative and use your imagination to bring the spirit of the holidays to winter break. You'll love the ideas below and you'll be able to fill up the December calendar with lots of fun ideas for the kiddos to enjoy. School through and check out these 15 DIY christmas tree drawings to do with the kids!
One
Check out this YouTube video to learn how to whip up a super easy Christmas tree. Have the kids grab some paper and markers – then just hit play after you watch their creativity unfold.
Two
Here's a tree that you can learn how to draw – but it's inside of a snowglobe. Drawing Tutorials 101 give us lots of great drawing projects, but this one is really great for the kiddos this time of the year.
Three
Sweet and with step-by-step instructions, this tutorial can be found at Craftsy. It's a bit of an accent piece instead of an entire tree but the kiddos will have fun with this one as well. They're potted trees, so they can be included in a larger holiday scene!
Four
Check out YouTube again for another version of the step-by-step process. Trees are very easy to draw and the tutorials you find online can be quite similar – so you just need to find a finished product that fits your fancy the best.
Five
If you visit Craftsy again, you'll learn how to draw a Christmas tree in four different ways. This is a good tutorial to have in your pocket, espeically if you're trying something new.
Six
At Drawing How To you can learn how to easily draw a cartoon style Christmas tree. Grab all of the markers and crayons and let your kiddos get to work creating something extra special to leave for Santa Claus this yaer.
Seven
Yes, you can even have the kiddos learn how to draw a Spongebob Squarepants Christmas tree! How cool is that?! Hop on over to this YouTube video and follow along.
Eight
Christmas trees can be rather simple to draw, and this YouTube video represents that well. Maybe your little ones will want to learn from this tutorial. The finished product looks like a fun coloring book page!
Nine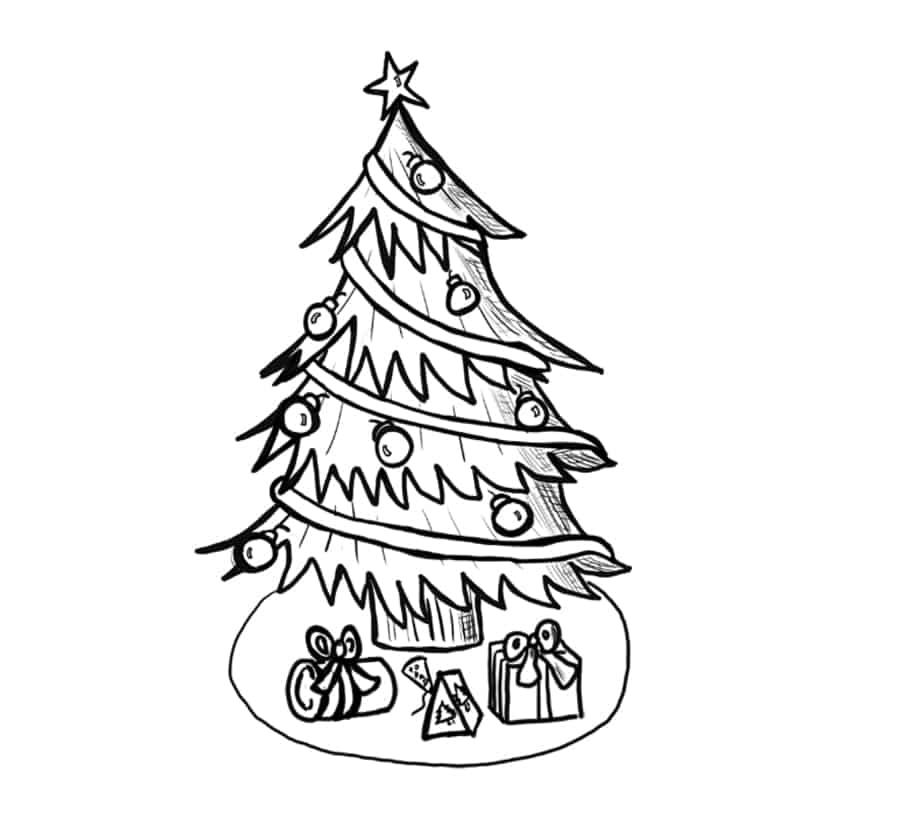 Here's a Christmas tree tutorial we found at Drawing How To but this one includes some packages at the foot of it all. The kiddos will have a blast drawing it but even more fun adding colors and personalization to it afterwards.
Ten
We Draw Animals will let you in on the secret to drawing a fir tree. This one looks a bit more realistic and nature-inspired. And then you can add your own ornaments!
Eleven
Over at My Crafts, you'll find this tutorial which, again, teaches you how to draw a pretty Christmas tree. The difference with this one though is the addition of both ink and paint as the finishing touches.
Twelve
You can learn how to draw a nature-inspired pine tree at Happy Family Art. This one is a more "grown up" version of the rest of these. Just don't forget to add ornaments and presents at the end!
Thirteen
Then there's a way to draw a cupcake Christmas tree. We're thinking there will be some little ones out there that will gravitate to this idea. Details can be found at Dragoart.
Fourteen

Check out Easy Peasy and Fun for another charming Christmas tree drawing tutorials. All of these are such good finds for kiddos wanting to truly learn how to draw something new.
Fifteen
We started with a super simple tree and now we have a realistic one to play with. For your older kids or ones that want a challenge, try handing them this tutorial! Check it out at YouTube.