Homemade Christmas Chocolate Bark Recipes
17 Making delicious chocolate bark is something we've started doing with our kids quite regularly. Besides tasting great, it also gets them excited about working in the kitchen and learning about how to work with food. They've even come up with some awesome flavour combinations of their own since we started out foray into the bark world! Now that the Christmas season are here, they're determined that we all keep making bark together, just in unique holiday flavours and we're totally on board for that idea!
Just in case you'd love to make some homemade holiday chocolate bark this season too, here are 15 of the best recipes, flavour combinations, and tutorials we've come across so far.
1. Italian triple chocolate bark
If you're never tried Italian style chocolate that has hazelnuts in it then we are very sorry indeed to tell you that you've been missing out! There's just something so rich and satisfying about the way this recipe from An Italian in My Kitchen is made using three separate kinds of chocolate perfectly blended into one, with whole hazelnuts in the mix for flavour and crunch.
2. Dark chocolate pecan bark
Maybe you're very interested indeed in making a chocolate bark that has some nutty crunch to it but hazelnuts have never really been your thing? In that case, we think you might get along a little better with something like this fantastic dark chocolate pecan bark! My Wife Can Cook shows you how it's done in surprisingly few simple steps.
3. DIY melted snowman chocolate bark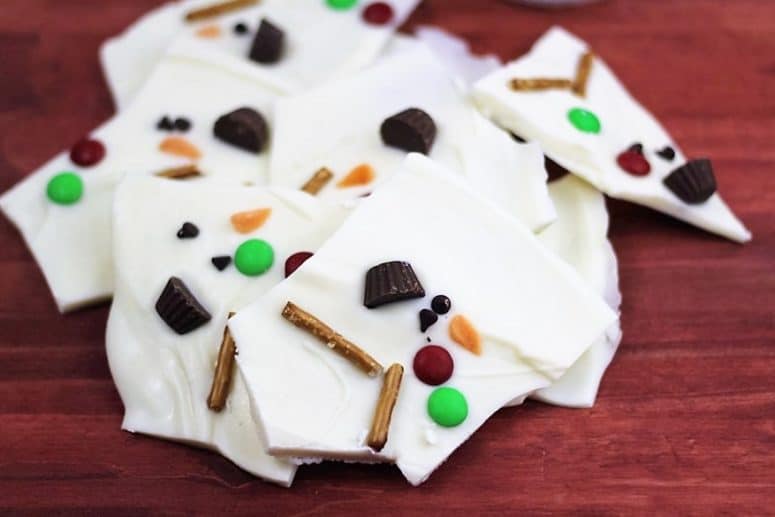 If you're going to make chocolate bark with your kids, would you prefer that if have some kind of cute novelty to make sure they stay interested the whole time you're making it together? In that case, we think you'll get a real kick out of the way By Pink made their white chocolate slabs looking like funny melted snowmen! Use candy for the features in your chocolate "puddle".
4. No-bake Christmas lights bark
Just in case you've never noticed before, peanut M&Ms are the perfect shape for making Christmas light themed things! Now that you can see the similarities, go forth and make something sweet and awesome, like this fantastic white chocolate Christmas likes bark from Bellyful. This idea would also look cute in milk or dark chocolate if you don't like the taste of white!