Homemade Christmas Chocolate Bark Recipes
17 Making delicious chocolate bark is something we've started doing with our kids quite regularly. Besides tasting great, it also gets them excited about working in the kitchen and learning about how to work with food. They've even come up with some awesome flavour combinations of their own since we started out foray into the bark world! Now that the Christmas season are here, they're determined that we all keep making bark together, just in unique holiday flavours and we're totally on board for that idea!
Just in case you'd love to make some homemade holiday chocolate bark this season too, here are 15 of the best recipes, flavour combinations, and tutorials we've come across so far.
1. Italian triple chocolate bark
If you're never tried Italian style chocolate that has hazelnuts in it then we are very sorry indeed to tell you that you've been missing out! There's just something so rich and satisfying about the way this recipe from An Italian in My Kitchen is made using three separate kinds of chocolate perfectly blended into one, with whole hazelnuts in the mix for flavour and crunch.
2. Dark chocolate pecan bark
Maybe you're very interested indeed in making a chocolate bark that has some nutty crunch to it but hazelnuts have never really been your thing? In that case, we think you might get along a little better with something like this fantastic dark chocolate pecan bark! My Wife Can Cook shows you how it's done in surprisingly few simple steps.
3. DIY melted snowman chocolate bark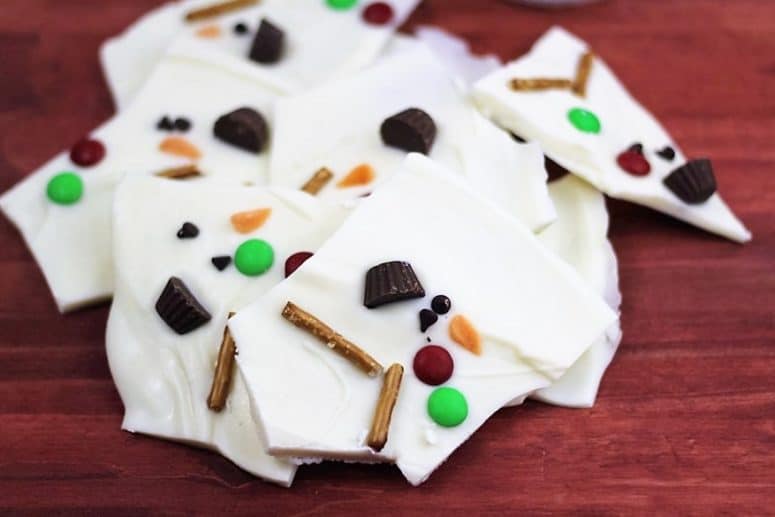 If you're going to make chocolate bark with your kids, would you prefer that if have some kind of cute novelty to make sure they stay interested the whole time you're making it together? In that case, we think you'll get a real kick out of the way By Pink made their white chocolate slabs looking like funny melted snowmen! Use candy for the features in your chocolate "puddle".
4. No-bake Christmas lights bark
Just in case you've never noticed before, peanut M&Ms are the perfect shape for making Christmas light themed things! Now that you can see the similarities, go forth and make something sweet and awesome, like this fantastic white chocolate Christmas likes bark from Bellyful. This idea would also look cute in milk or dark chocolate if you don't like the taste of white!
5. Nutty dark chocolate candy cane bark
Are you still thinking about how much you love the idea of chocolate and nuts together in one bark but you're having trouble choosing between nut options? Well, who said you have to choose? We love the way Pickled Plum combined peanuts, almonds, and cashews in their dark chocolate and even threw in crumbled candy cane to make sure it really gets that holiday element!
6. Salted caramel chocolate pretzel bark
Sweet and salty things have always been popular in our house, which is the first reason this delicious salted caramel pretzel bark from Honey and Birch caught our eye! The second reason is that caramel is another classic holiday ingredient that we'll use at just about any opportunity, so this really was just the perfect recipe for us to add to our list.
7. Christmas coconut bark
Sure, coconut might sound like more of a summer time ingredient option, but we doubt you'll be passing up the chance to use it once you've seen how adorable shredded coconut looks sprinkled onto desserts to look like snow! We're completely obsessed with the way Happy Foods Tube used coconut and blue sprinkles to make the surface of their chocolate look like a blizzard.
8. Candied orange peel bark
Maybe you'd rather make something where the flavour speaks for itself and you don't have to embellish or decorate it specifically to get that holiday charm? Well, if you like the taste of classically Christmassy Terry's chocolate oranges, we think you'll love the taste of this fantastic candied orange peel bark outlined step by step on Ice Cream and Inspiration!
9. Fruit and nut chocolate bark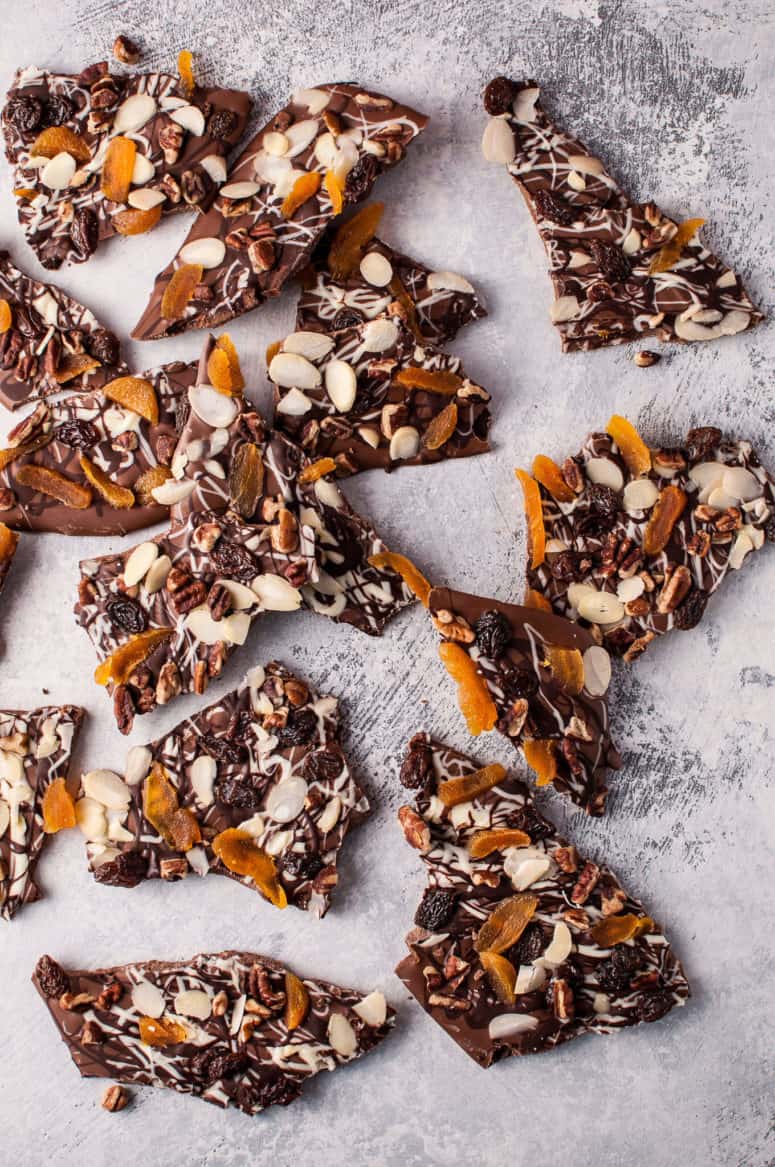 Just in case you're still thinking about how a nutty Christmas bark might be the best idea for you but you're not convinced that adding crushed peppermint is the way you'd like to go, here's an alternative that lets you get crafty with holiday dried fruit! Check out how Salt & Lavender added different kinds to their bark to make things taste even more delicious.
10. Maple bacon holiday bark
That's right; this chocolate bark has bacon in it. Just in case that's not enough to add flavour, they also threw in a hint of natural mint as well, just to make sure the holiday theme really hits home with each bite! The flavour combination these things create is almost unlike any we've tried before. See how it happens in more detail on The Castaway Kitchen.
11. Pistachio cranberry white chocolate bark
Just in case you're still thinking about how much you'd love to make some sweet white chocolate bark but we've got you thinking about how appealing the idea of adding a nut crunch really is, take a look at this undoubtedly holiday inspired recipe from The Blond Cook that makes things more flavourful using pistachios and dried cranberries!
12. Loaded Christmas candies bark
Are you actually convinced, as you scroll, that the ideas that will go over the best with your kids are definitely the ones involved as much Christmas candy as possible? In that case, we think you simply must take a look at how Averie Cooks made this delicious chocolate bark that also features Oreos, pretzels, sprinkles, and M&Ms, just for starters.
13. Rose petals white chocolate bark
If you've never tried the delicately glorious taste of rose flavoured treats then the holidays are absolutely the time to do so! Even though we usually prefer milk chocolate, this recipe from Tasha's Artisan Foods is a glorious exception because the sweetness of the white chocolate complements the subtle hints of rose perfectly. It also looks like a wintery dream!
14. DIY chocolate peppermint
Are you actually still not over the idea of adding peppermint flavours to your chocolate bark because mint chocolate has always been your favourite and now it's really "in season"? Then we have a feeling this bark recipe from Ahead of Thyme that combines milk chocolate, white chocolate, candy cane pieces, peppermint flavour, and holiday candy is going to be right up your alley.
15. Peppermint cookie chocolate bark
Just in case you're really enjoy the concept of making a certain dessert that also tastes like or involves elements of another dessert but you just haven't seen anything that quite strikes your fancy yet, here's a delectable recipe from Wake Up to Waffles that's perfect for cookie lovers! Check out their tutorial to learn more about how this peppermint cookie chocolate bark was made in just a few simple steps.
Do you have another kind of favourite chocolate bark that you love making around the holidays but that you don't see here on our list? Tell us all about how it's made or link us to photos of your finished treat in the comments section!