Cherry Ballon Party Garland
I'm so excited that it's cherry season!  Yes, it's my favorite fruit, and there's no way to show it off than to make a cherry garland for an upcoming kids party.  It's not only fun to look at, but it might just persuade the kids to eat more fruits.  Whether it does or not, it's a fun garland to make and great for a last minute decoration idea.
For this DIY, you'll need:
Red or pink balloons
A balloon inflator
Twine
Green card stock paper
Tape or glue
Scissors
Pencil
If you have left over balloons from your last party, here's a cute way to use them again.  You'll need a few red balloons to create cherries.  Use the balloon inflator, optional, to blow them up.  But be sure not blow them up all the way.  Cherries are somewhat round and a blowing them up halfway might just do the trick.  Secure the ends.
Cut a small piece of twine.  This one measures about 18 inches long.  Tie each end to the tip of the balloon and cut off any excess string.
Next, cut a long piece of string, the length that you want your full garland to be. Hang that on the wall with thumbtacks or Command strips.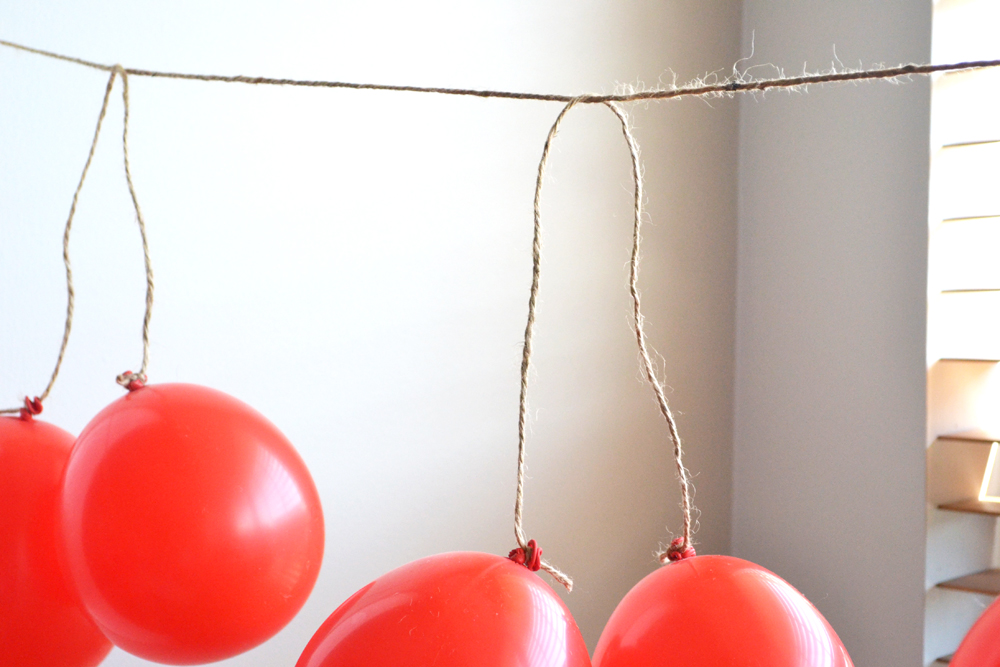 Loop each double "cherry" balloon around the garland twine that is hung.  They should sit evenly and not fall to either side.
Then draw a few leaves on green card stock paper and cut them out. If you want, add some more stem details to the leaves for variation. Glue the two leaves together.
Use hot glue or tape to adhere to leaves to the front of the garland.  Another option is to punch a hole at the bottom of the leaf and tie it on the garland to secure.
Let the kids decorate for their own party!  This craft is perfect of little hands.  Teach them about the different types of fruit and let them hang their creation for all the guests to see.