20 Awesome DIYs Under $20 To Make!
You don't have to spend an arm and a leg to create something wonderful. Instead of worrying about a budget, we've compiled a list of projects that you can dive into without breaking the bank. From the kids to the house, let's have a peek at 20 awesome DIYs that are under $20 to make and experiment with!
1. Pom-Pom Box
All Things Big & Small shows us how to make the most adorable pom-pom box to hide our trinkets and fun little things. In the playroom or the nursery, this cutie will shine.
2. Tassel Bedskirt
Add a bit of extra pizzazz to the bed with this tassel bedskirt from Tatertots and Jello. Use some scraps to make this an inexpensive but intricately fun project for your home!
3. Moon Clock
Learn how to create a moon clock at Pambula. And not only is this super chic and funky piece inexpensive to make, it's only $10 if you shop for the right materials.
4. Desk Organizer
The best part of this desk organizer from Amy Krist is that you may already have all the materials right at home making the project essential free to experiment with. And you'll have a snazzy new piece to help out in your home office!
5. Compass Banner
Hop on over to Emily and learn how to create this sweet this compass banner. It's a great piece to mix and match with when it comes to cultivating a gallery wall – whether in the nursery room, hallway or even the dining room.
6. Polka-Dot Wall
Taylor Made gives us a tutorial that we can use over and over when creating new spaces in our home. Inexpensive to do but intricately designed, follow the directions and make something magical in your own home!
7. White Brick Vase
Personally, I'm in love with this sweet, brick–styled vase from Say Yes. I love the idea of being able to pattern and personalize items around the house that need a bit of extra personality.
8. Copper-Trimmed Jewelry Dish
You'll need some clay and copper leaf to get this project from We Are Scout started. If you love pieces for the house that hold that extra bit of style and detailing, then you'll want to learn how to make these!
9. Bookshelf Trim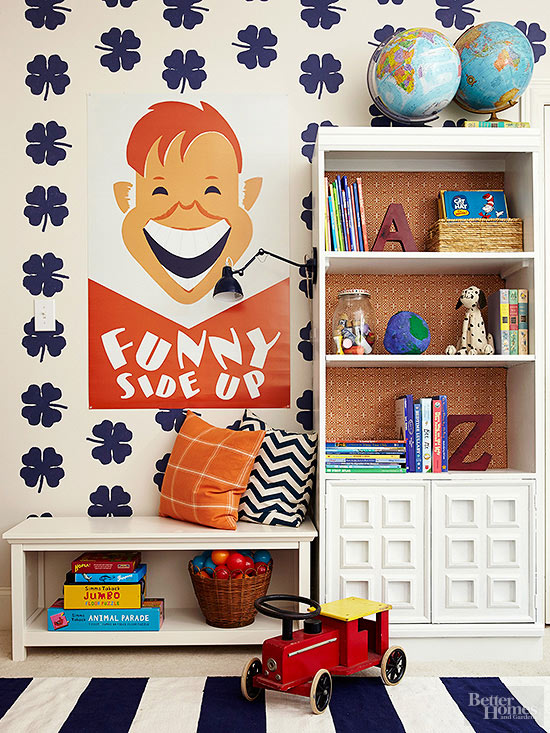 This is a perfect idea for a cheap weekend project. Add some like to a bookshelf by applying contact paper to the back. Check out the details at BHG.
10. Spool Hook
All you need are three items to get this project started. A vintage spool, a screw and a wooden dowel all come together to create this chic and cozy foyer piece from At Home In Love.
11. Mounted Side Table
Poppytalk created this wall mounted side table that we're gushing over. It's the perfect piece to help out in a smaller space like an apartment or dorm room!
12. Welcome Mat
Using some porch paint, A Beautiful Mess updated an easy mat and created something that gives off style and a welcoming energy to every guests that walks up to the front door.
13. Chevron Art
Strawberry Chic made this chevron art and it looks like it could be a store-bought piece! Visit the tutorial and learn how to make your own piece of wall art to display in your foyer or dining room!
14. Berry Baskets
Lovely Indeed bought some $1 plastic berry baskets and then gave them a quick coating of paint for a refreshed and more stylish look. Now she has a great addition to her home office without spending an arm and a leg on new "stuff."
15. Copper Bud Vases
Poppy talk made these uniquely chic copper bud vases and we're swooning over them. Whether you decide to make just one or 5 in a row near the windowsill, they're such a great, lively addition to the home.
16. Arrow Jewelry Holder
This adorable arrow jewelry holder can shine a light – and help with organization – in your bedroom or bathroom and the best part is that Lemonade Makin' Mama made it both easy and inexpensive to do!
17. Coffee Filter Wreath
Love Grows Wild took some coffee filters and make this beautiful, lush wreath out of them. Buy a pack of new ones or use leftovers, either way this is an inexpensive wreath project and one that still creates something feminine and sweet.
18. Pallet Art
Taking some old pieces of wood and some leftover paint, you too can create a super inexpensive piece of art like this one from Naptime is my Time. There are so many different ways to decorate and inspire your home with it.
19. Window Blind
Charming Zebra shows us how to make a problem spot dissappear with ease and extra pops of style. We love the pom-pom addition and the fact that you don't even have to sew this cutie up!
20. Tribal Cutting Board
All Things Big & Small spent only $15 creating this fabulous piece for the kitchen. Of course, it's functional but we love the unique style and personal appeal it brings into the kitchen!