Homemade Cat Posts, Trees, and Houses
Are you the kind of pet owner who would go to just about any lengths to make your pet comfortable and give them an awesome place to curl up or play? Are you particularly fond of the idea of giving indoor cats some adventure space to make up for the fact that you prefer not to take them outside? Then you've probably already got your eyes on some of the awesome indoor cat posts and climbing tree designs that are out there. There are plenty of cat structures that you can buy from stores, but they're not always very affordable and some of the pre-made ones are difficult to put together even though they come with instructions. Instead, we suggest trying to make a cat post or climber of your very own!
Making your own cat climber doesn't mean you have to wing it and conceptualize an entire design yourself if you're not used to working with tools and structured materials. Like with most awesome DIY projects, there are plenty of designs already out there and there are even some that come with full tutorials to help you along the way. Check out these 15 awesome cat post and structure ideas that will give your furry friends somewhere to sleep, play, and get some exercise without even leaving your living room!
1. Tall DIY cat condo
Are you a little bit more experienced in working with wood and prepared to make things look smooth, sanded, and well finished? Then you might be interested in making your kitties a cute "cat condo" just like Ana White did here. Sure, the fact that it looks like a real little wooden house might be mostly for your own satisfaction, but at least it will contribute to your home décor rather than sticking out in the corner! Your cats will certainly appreciate being able to crawl underneath, inside, and on top of the cabin when you're all finished.
2. Painted wooden box and carpet tower
Are you a little bit less experienced in wood working but you have access to some old wooden crates that you've been hoping to upcycle? Then we definitely suggest checking out how Ideas & Products cut circles into the size of these ones for fun kitty climbing and hiding. Their tutorial also shows you how they attached the crates in a stack according to size. Using square crates is a great idea because the whole tower will fit well in a right-angled corner of your home so the whole thing stays out of the way. Keep your crates unpainted if their natural grain suits your existing décor scheme or paint them fun, bright colours to add a little bit of personality!
3. Carpeted platform tree
Perhaps you don't have any crates right now and you're not quite ready to build a miniature house of your own, but you're still insistent on building some type of climbing structure for your feline friend? Then we'd say platforms are the way to go and we think DIY Network would agree with us! They also suggest covered your platform kitty tower in scrap pieces of carpeting so that your furry friends have something satisfying to safely sink their claws into without damaging your furniture.
4. USS Enterprise themed cat tower
Do you like the carpet platform idea we just showed you above but you're also a sucker for any DIY project or craft that can be novelty themed? Then maybe you'd prefer this hilarious USS Enterprise themed cat tower instead! Instructables shows you how to add cylindrical "wings" to one of your platforms so that it looks like your cat is flying a space ship whenever they sit on it. This is another great way of giving yourself some satisfaction while also doing something nice for your pet.
5. Climbing tower with toys on top
Do you have a huge particle board cylinder leftover from linoleum flooring from when you renovated your kitchen recently? That'll make for an awesome and rather simple cat tower too! As Le Chat Canaille's kitty was kind enough to show you in this picture covering the cylinder with scrap carpeting will create a surface that your feline friend can climb right up with their claws but also hide inside if you cut a "door" in the side. We also love the added bonus of attaching toys to the top so that Kitty is encouraged to make their way up there and rewarded with something to play with each time they do!
6. Tree trunk cat climber
Perhaps you live in a nature-filled area or on the edge of the woods and the easiest way for you to access wood for building things is to collect the branches and fallen trees you come across naturally when you walk around your yard or the surrounding property? Then you've got just about everything you'll need for making an awesomely natural looking cat climber already! Artemisfolk shows you a cat post built from wooden branches in different sizes, leaving the bark on for maximum scratch-ability and a cool rustic aesthetic that won't detract too badly from your current décor.
7. Carpet and tubing cat tree
Maybe you liked the idea of using spare cylindrical tubing but you only have a short section so the previous vertical tower design we showed you won't work for you? Then check out how On My Honor used tubing covered in carpet to create comfortable little curl-up stations for their kitties instead! Cutting your tubing in half will give you double the platform building power because each side can be used. Plastic PVC piping will also work!
8. Short cat tower
Are you new to structure building and low on supplies but determined to build some kind of climbing tree or scratching post for your cat so they feel as loved as possible? Well, lucky for all of us, there's no rule that says all cat climbers have to have tons of platforms and reach all the way up to your ceiling! Check out how Geek Greek made this miniature version that's perfect for smaller homes with just one feline friend.
9. Drawer tree with toys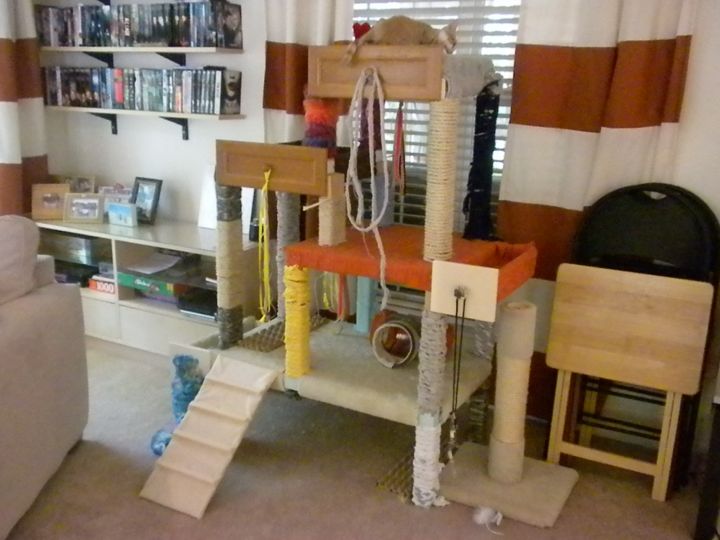 Did you love the idea of building your cat a climbing tree that had toys attached to it but you don't currently have access to any piping or cylinders? Then Foster House has good news for you. They show you how to attach fun kitty toys of all kinds to climbers built from just about anything; even drawers upcycled from the old dresser in your garage!
10. Comfy cat shelves
Are you not very confident at all in your ability to build a free standing cat tower but you're still determined to give your cats somewhere to climb that's all their own? Then perhaps this simple staggered shelving idea featured on Imgur is the best plan for you. There's no tutorial to go with this one, but if you've ever hung a shelf on the wall before for décor purposes then you've already got all the skills you need. The only difference is that these shelves were put up with the express purpose of holding sleepy cats rather than picture frames or figurines! This idea is also a great space saving alternative for smaller apartments that just don't have room on the floor for a big cat tower in addition to all of your regular furniture.
11. Wall mounted scratcher
Do you love the idea of getting your cat's climbing station up off the floor because you're limited in space but you still want to give them something a little more than just a flat shelf to sit on? In that case, try blending the shelving idea with the concept of a climbing structure just like Offbeat Home did here! A simple, short single tower on top of a wall mounted shelf keeps things out of the way but still gives Kitty their own little haven.
12. Wooden ladder cat tower
Do you have the floor space or a cat tower but you're really not feeling certain about your ability to build a structure from scratch all on your own? In that case upcycling an old wooden ladder by transforming it into a kitty climber instead! We love the idea of adding pillows and wooden crates between the rungs so that your cat can climb from step to step and curl up in or play with something different in every spot. Put it by the window for extra appeal so Kitty can watch the world go by!
13. Gift box cat houses
Perhaps you're kind of adverse to working with wood at all but you don't see why that should stop you from making your cats a space all their own? Well, you're absolutely right that it shouldn't and this poster on Pinterest agrees entirely! Instead of hammering towers together, they've built a little network of differently sized gift boxes with holds cut in the sides so that cats can climb inside and on top of the pile as they please, napping wherever they choose. Take the lid off some boxes and leave it on others so they can poke around and see where you're at as well!
14. Cat treehouse with a hammock
Are you really into the idea of a cat "tree" specifically because it's making you picture an awesome treetop hangout full of feline friends? Then build your vision as you see fit! My Modern Met suggests using branches and rope wrapped tubes to make the treehouse happen, as well as some faux leaves to really hit the "tree" aspect of the idea home. They even added a fabric hammock so their kitties can hang in comfort and we love that idea so much that we might go add a hammock to our own cat's climber the moment we're done writing this list.
15. Cardboard box and tube cat castle
Are you scrolling through this list and realizing that all you've got access to right now is tape and some cardboard boxes? Don't feel discouraged! As this feature on Pinterest proves, that's really all you need to make a simple "cat castle". Your furry friends will just be happy to explore and curl up in their new spot no matter what it looks like. Whether your cat tower is made of carpet covered wood or simple cardboard boxes taped together, your cat will love you just the same.
Do you know someone who loves their kitties more than anything in the world and is always crafting for them? Share this post with them for a little but of cut pet crafting inspiration!