50 Grilled Shrimp Recipes For Any Weeknight Dinner
Serve up a light and savory meal with any of these dishes below. Whether it's as a side or a part of a grander plate, these 50 grilled shrimp recipes are perfect for any weeknight dinner. Take a peek below!
1. Sriracha Peach Shrimp Skewers
Blackberry Babe starts us off with a gorgeous helping of sriracha peach shrimp skewers. They'd be the perfect topping to your summertime BBQ!
2. Chorizo & Garlic Shrimp Burger
Garlic, grilled shrimp topping off a nice and juicy burger, Lady & Pups shares all the details. Check it out after the jump.
3. Grilled Shrimp in a Banana Leaf
Who knew a banana leaf could come in handy? Check out this fun recipe over at My Recipes!
4. Chipotle Shrimp Burrito Bowl
Kelly's Ambitious Kitchen took her grilled shrimp to an entirely new level by creating this burrito-style bowl around them. With a bit of chipotle flavor, you'll love the extra kick in the pants.
5. Jambalaya Pizza
Life Tastes Good whipped up a jambalaya pizza that's filled with deliciousness. And that includes some grilled shrimp sitting perfectly atop.
6. Spanish Pork Burgers with Grilled Garlic Shrimp
Little Kitchen Big World went the burger route as well. But this time they garnish a pork burger!
7. Sheet Pan Grilled Shrimp Fajitas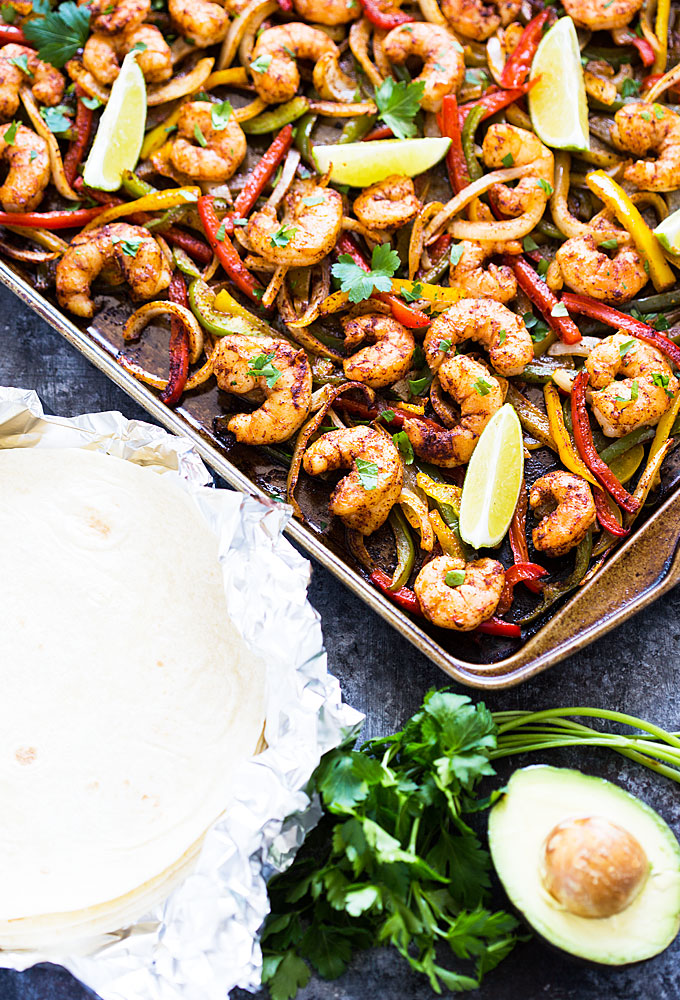 Who's a fan of fajitas? Over at The Blond Cook you'll learn how to use shrimp for your next batch on Taco Tuesday.
8. Grilled Shrimp and Pepper Jack Cheese Nachos
Barbells and Bellinis gave us the best sharing dish of the bunch! Pepper jack cheese and grilled shrimp is only the beginning to this bite.
9. Spicy Lime Grilled Shrimp
The Recipe Critic went with a spicy lime shrimp that's perfect for grilling all throughout the year. On top of salads, over rice or just on the skewers – they're tasty!
10. Classic Marinated Grilled Shrimp
The Seasoned Mom gives us a great recipe for simple marinated grilled shrimp. Tweak the recipe or go with the timeless treat for dinner this weekend.
11. Teriyaki Grilled Shrimp and Pineapple
If you like things a bit sweeter, add some pineapple to the mix. Check out Closet Cooking for this teriyaki dish.
12. Grilled Shrimp Boil Packets
Cooking Classy went with this fun foiled recipes that includes all you need for dinner tonight. Grilled shrimp, corn, potatoes and more!
13. Grilled Honey Cajun Shrimp
Here's another spicy and sweet recipe for your shrimps! If you like Cajun-style food, then you'll love this one.
14. Pesto Grilled Shrimp
Closet Cooking has so much inspiration for us to try out in the kitchen. And that includes these delicious, grilled pesto shrimp kebobs.
15. Coconut-Rum Grilled Shrimp
Coconut and shrimp is a flavor pairing that may seem odd but is loved by a lot! Check it out – with a bit of rum – over at Home Cooking Memories.
16. Bangin' Grilled Shrimp Skewers
Skinnytaste went extra spicy with these bangin' shrimps. Check out the kick in the pa
17. Grilled Shrimp with Pomegranate Salsa
How does pomegranate salsa sound to you? The View From the Great Island Add a bit of sweetness and bout of fall to your plate with this recipe.
18. Shrimp Tacos with Pineapple Salsa
Amy Sheree made some tacos that will blow all other tacos right out of the water. With pineapple salsa, jalapenos and grilled shrimp, you'll get an explosion of flavor in every bite!
19. Thai Shrimp Salad
If you're looking for a fun salad to try, think about putting together one of these thai salads from Bev Cooks. The grilled shrimp is an added bonus!
20. Pesto Parmesan Spaghetti Squash with Shrimp
If you want to hop onto the spaghetti squash trend, but with a personalized spin – add shrimp! It's a fun recipe and something "different" to put on the dinner menu at home.
21. Grilled Jerk Shrimp and Pineapple Skewers
Closet Cooking gives us another skewer recipe you'll love for your cookouts. Jerk seasoning and pineapple is always a winner in our book.
22. Tequila Lime Shrimp
Salt & Lavender knows that tequila and lime is as good as fine wine. And on shrimp, it tastes good too!
23. Grilled Shrimp Poppers
Hispanic Kitchen amped up this classic appetizer by adding some shrimp. Check out the recipe after the jump.
24. Grilled Shrimp with Olive Oil and Herb Sauce
Over at Magic Skillet, you'll find an easy-to-follow recipe for shrimp lovers that don't want to get too adventurous. It's also perfect for novices in the kitchen.
25. Shrimp Po' Boy
Bev Cooks went with a shrimp po' boy that will light up the room when you serve it. Make lunch of dinner a bit more fun with this recipe!
26. Mexican Corn Salad with Honey Lime Shrimp
Food Faith Fitness brings a great recipe to whip up for your next neighborhood potluck. And it's healthy too with fresh ingredients including corn, jalapenos and avocado.
27. Grilled Shrimp Scampi
Have you ever wanted to learn how to make shrimp scampi? Check out the details over at Striped Spatula.
28. Taco Lime Grilled Shrimp
You can bring shrimp to the taco flavors but it doesn't have to actually be in a taco. Snag this fun recipe over at Closet Cooking.
29. Blackened Shrimp Avocado Cucumber Bites
If you visit Closet Cooking again, you'll find the recipe for these cucumber bites. They're perfect for entertaining and they're guilt-free bites!
30. Lemon Shrimp Kabobs
Crafty Morning went with some lighter seasoning for these grilled shrimp kebobs. Add some lemon and go!
31. Grilled Shrimp and Sausage Kabobs
Taste and Tell added sausage to the mix! If you want a kebob that's unique and full of flavor for your cookout, this is the one to try.
32. Browned Butter Honey Shrimp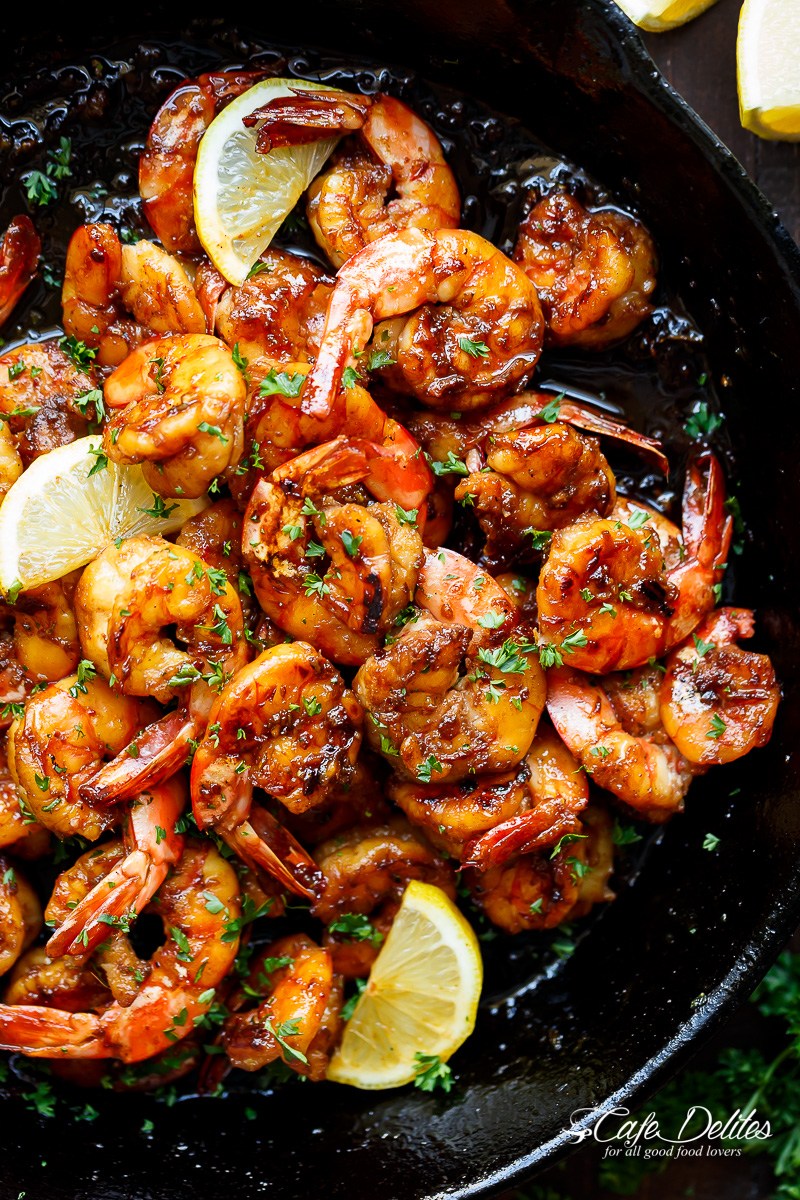 Browned butter is always going to be delicious. Jazz up your shrimp with some help from Cafe Delites.
33. Pasta with Asparagus and Grilled Shrimp
Who loves pasta? White Plate Blank Slate has this beautiful recipe for a dish that includes our favorite carb and grilled shrimp – yum!
34. Honey Lime Grilled Avocado Shrimp Nacho Bowls
Nacho bowls will always excite us. But when they're healthy too and from Food Faith Fitness
35. Grilled Detox Salad
If you're looking for a salad to set off your detox or diet, then this is the salad to do it with. And it's full of satisfying ingredients and flavor!
36. Grilled Coconut and Pineapple Sweet Chili Shrimp
This recipe from Closet Cooking combines so many great flavors. Coconut, pineapple and some great spices come together on a beautiful kebob.
37. Honey Garlic Korean BBQ Grilled Shrimp
Half Baked Harvest went with an Asian-inspired dish that includes some spice! But don't worry, there's some honey thrown in to smooth it all out.
38. Soy and Lime Spicy Grilled Shrimp
Girl and the Kitchen had an interested combo to dip our shrimp into as well. Soy and lime come together nicely – and with a bit of a kick – here.
39. Spicy Sweet Glazed Shrimp
Glaze those shrimp in a sweet and spicy mix! Grab all the details over at Martha Stewart.
40. Mexican Grilled Shrimp with Corn Salsa
No. 2 Pencil has a batch of shrimp that was Mexican-inspired as well. This time they're accompanied by corn salsa.
41. Grilled Shrimp and Vegetable Bowl
Skinnytaste gives us yet another, tasty and delicious, recipe. Full of flavor and veggies, it's a guilt-free dinner.
42. Grilled Sesame Asian Shrimp
Throw your shrimp on the grill and then throw them in a bowl with some veggies and sesame seeds. Check out this recipe over at The Nutritionist Reviews.
43. Hawaiian Garlic Butter Shrimp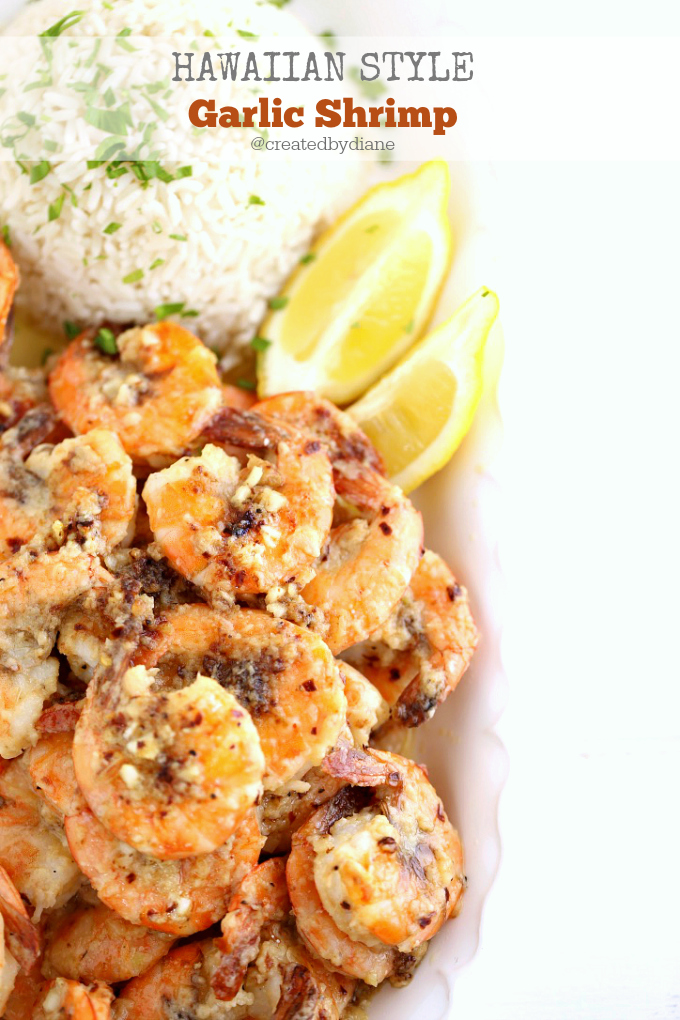 Hawaiian-style, butter shrimp seems like it could be quite the delicious bite. If you're feeling adventurous in the kitchen, check out this recipe!
44. Spicy Shrimp and Avocado Lettuce Wraps
The Garlic Diaries created lettuce wraps with their grilled shrimp. Check out this low-carb concoction after the jump!
45. Grilled Shrimp, Orzo and Arugula Salad
Salt & Lavender brings us another salad that will tantalize the taste buds but keep our tummies under control too. There's so much freshness in every bite!
46. Sticky Honey Garlic Butter Shrimp
The Recipe Critic shows us how to make this sticky shrimp that the entire family will love. It's also a great recipe to try for a neighborhood potluck!
47. Garlic Parm Shrimp
Garlic and parmesan will always be a great combination. Find the recipe at New South Charm.
48. Sheet Pan Shrimp Boil
Damn Delicious went the shrimp boil route as well. But this time using a sheet pan!
49. Seared Shrimp & Summer Cous Cous
Cous cous is a great accompaniment to your shrimp too, surprisingly! Grab the details after the jump and don't forget the cherry tomatoes!
50. Coconut-Harissa Grilled Shrimp Skewers
Floating Kitchen added some coconut to their shrimp too! Grab the recipe for these beautiful kebobs and light up the cookout tonight!