Homemade Granola Recipe With Caramel and Apple
Get ready to DIY some homemade granola, friends. Back away from the cereal isle, put down the box, we are getting into the kitchen. Granola is easy to make, and you can save wads of money by making your own. We are talking pennies on the dollar here. All the ingredients are inexpensive, and it just takes a few minutes to throw a batch together.
The results are mind-blowing. Homemade granola is easy and DELICIOUS! We can also customize it to our hearts content. Don't love the pumpkin seeds in the boxed variety? Sub in some chopped almonds. Can't get behind the raisins? Add in dried cherries instead. You are in the drivers seat here.
Empowering the home cooks of the world, one batch of granola at a time.
Today's recipe features quintessential fall flavors. Fragrant cinnamon, dried apples, maple syrup, and chopped dates combine to create a warm caramel apple flavor. The maple syrup infuses caramel flavor throughout, and when you bite into a date piece, it is like a little nugget of caramel. The cinnamon makes the entire recipe warm and fragrant.
Now, let's talk technique for a minute. I like almost all granola, but I LOVE it when clumpy, clustery granola. When you sink your teeth into a crispy and light cluster of granola goodness all is right with the world.
If you don't like clumpy granola, ignore all the wisdom I am about to bestow upon you, and continue chasing down every last loose and illusive oat grain with your spoon. If you do like clumpy granola, you are my people and this is for you.
Tips for foolproof clusters of crispy granola perfection:
Tip #1: Add a bit of flour.
This granola recipe calls for a strange ingredient: oat flour. The addition of the flour helps the oats clump up and stick together. The flour combines with the sticky maple syrup to really bind the oats and create impeccable clusters.
Tip #2: Pack it in.
Here is the pro tip: Once you dump your well mixed granola out onto the baking sheet, use your hands to press it into the sheet. Really compact it down so that the individual oats begin to stick together. You want it to look like one giant granola cracker. It should be one continuous surface, with no areas of the pan showing through.
Tip #3: Let it cool completely.
That's right. The annoying cooling time. They fact of the matter is, it usually doesn't matter. Chocolate chip cookies, I eat 'em straight off the cookie sheet. Brownies, you better believe I dig in right away, but granola… I always, 100 percent, invariably let it cool completely before serving. Allowing the granola to cool, lets it set up properly into picture perfect clusters. So resist the urge! Don't touch the granola until it has had at least 1 hour to cool.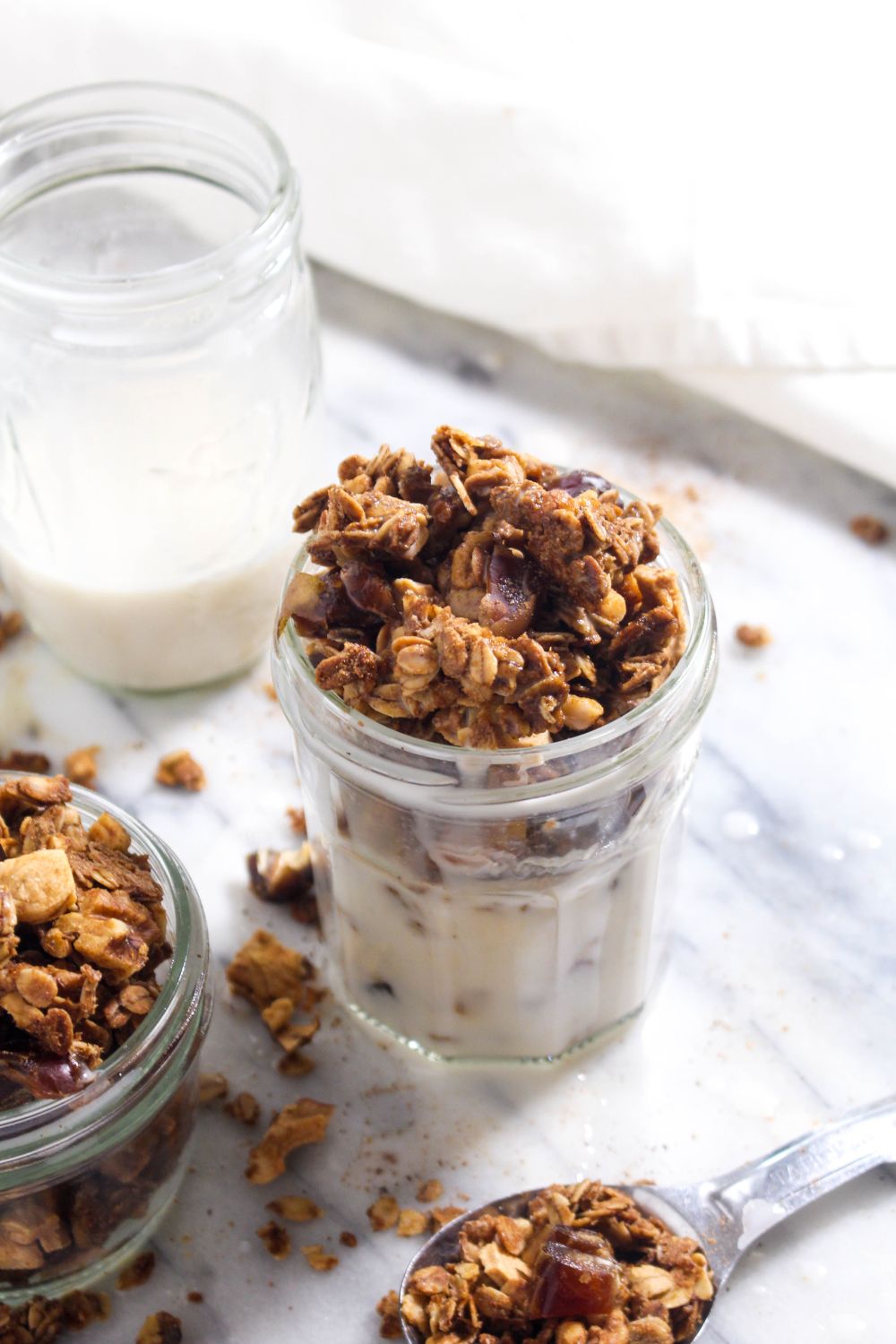 Ingredients to make homemade granola:
2 cups oats
1/4 cup oat flour
1 cup walnuts, chopped
1/4 cup coconut oil
1/4 cup maple syrup
2 tablespoons date syrup (or more maple)
1 teaspoon vanilla extract
1/4 teaspoon salt
1 teaspoon cinnamon
1/4 cup chopped dried apples
1/4 cup chopped dried dates
Step by step instructions for granola breakfast:
Preheat the oven to 300 degrees.
In a saucepan, melt the coconut oil and maple syrup.
Whisk in the vanilla, cinnamon and salt.
In a medium bowl, stir together the oats, oat flour, and walnuts.
Pour the wet ingredients into the dry.
Stir to combine.
Pour onto a baking sheet and press the granola to pack it down.
Bake at 300 degrees for 1 hour, rotating the pan halfway through cooking. Remove the granola from the oven and let cool completely. Break it apart and mix in your dried apples and dates. Serve.