15 Blackberry Recipes To Round Out Your Summertime Meals
Spruce up your dishes a bit over the course of the next couple of months with the addition of a sweet tartness that you may not have thought of before. Something for dessert or even a bite on the savory side, you could use this fruit on any course or any time of the day. These 15 blackberry recipes will easily round out your summertime meals and have everyone asking for seconds. Let's dive right in!
1. Blackberry, Balsamic, & Prosciutto Pizza
Kiwi and Carrot starts us off with a modern twist on a classic favorite; pizza! This recipe has vivacious flavors that play off of each other beautifully. It's a great dish to serve up with a bottle of wine among friends.
2. Blackberry & Peach Yogurt Popsicles
For a sweet and healthy treat, take a peek at this recipe for peach and blackberry yogurt popsicles. They're homemade, easy to whip up, and everyone in the fam will enjoy them. Grab the details at A Better Happier St. Sebastian.
3. Grilled Chicken with Blackberry Sweet & Sour Sauce
Chicken plays so well with sweet additions and that goes double for this tender, grilled chicken served up with scrumptious blackberry sauce. Try out the recipe by visiting Steamy Kitchen and spruce up a normal weekday meal for the family.
4. Blackberry Cake with Cream Cheese Icing
This blackberry cake with cream cheese dressing is the perfect dish to serve at brunch or your next potluck. It's something offbeat but just as delicious as classic bites. Check it out by visiting Serious Eats.
5. Blackberry Bacon Grilled Cheese
Here's a savory and sweet combination that we love. Hop on over now to visit Lemon Tree Dwelling and snag the recipe for this blackberry grilled cheese. Fruits and cheeses always play well together and this dish is no exception to that rule.
6. Blackberry Breakfast Bars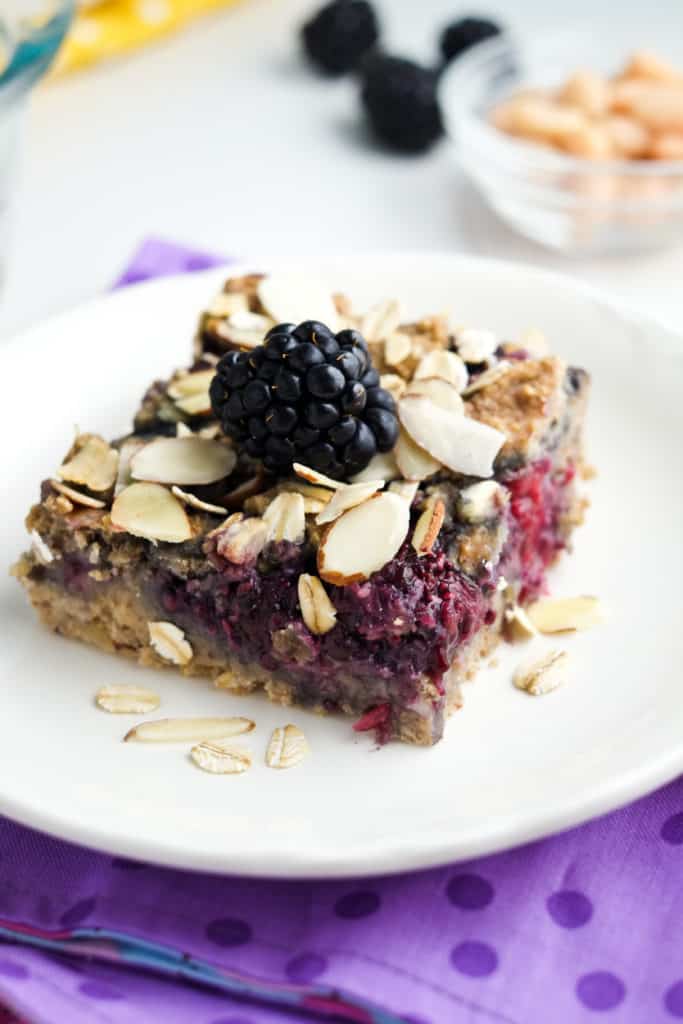 Super Healthy Kids is making breakfast healthy and enjoyable with these blackberry breakfast bars. Whip up something a bit outside the norm with this treat. The kids can grab, go, and indulge on their way to school.
7. Blackberry Cheesecake Ice Cream
Vintage Kitchen went the dessert route with this blackberry-inspired recipe. Perfect for a spring or summer night, this blackberry cheesecake ice cream is scrumptious – and even better because it's homemade. Have the kids help with this one!
8. Lamb Lollipops with Blackberry Reduction
Are you looking for something to impress the in-laws with? Try your hand at this dish from Cali Girl Cooking. Lampchops with some blackberry reduction, all you need are some killer side dishes to round out the plate.
9. Blackberry, Strawberry, Basil, Brie Pizza Crisps
Half Baked Harvest has an appetizer that you'll fall in love with. You could even serve these pizza crisps up with some side salads as a lighter meal to share with the gals. Don't forget the wine!
10. Blackberry Bourbon Cupcakes
Here we have another dessert that you'll fall in love with. Who knew blackberries and bourbon could come togther so nicely and make cupcakes no less! Check it out at Southern Fatty.
11. Blackberry, Farrow, & Arugula Salad
Fork Knife Swoon created a salad that utilized from fresh blackberries. Arugula, farrow, and this tart fruit blend so nicely for a refreshing and healthy lunch option.
12. Blackberry Cobbler
Are you in the market for a more traditional recipe? How does blackberry cobbler sound to you? Learn how to whip this up for the family at Betty Crocker.
13. Blackberry & Brie Bites
Inside BrewCru Life has another great appetizer option. Perfect as a year-round recipe, these bode well with allkinds of holidays and celebrations. Guests at showers, birthdays, or even holiday parties will love them.
14. Victorian Sponge Cake with Blackberry Curd
We've got another cake recipe that you'll be loving. Test your skills over at The Sugar Hit and serve this one up for your family on the weekend. They'll be impressed with its look and its flavor!
15. Blackberry-Glazed Salmon
We finished off with this dinner idea from The Millennial Cook. Blackberry glazed salmon, it too is a healthy dish that's packed full of flavor. It's a great date night option as well.