15 Biscuit Recipes That Will ROCK Your World
From savory to sweet and everything in between, there's something really special about these flaky pieces of Southern goodness. From breakfast to brunch to dinner, you can serve these up as a side or as the main course. These 15 biscuit recipes will rock your world and have the entire family asking for seconds. Let's have a peek at some of our favorite finds!
1. Raspberry Cobbler with Dark Chocolate Biscuits
Annie's Eats starts us off with this sweet and delicious dessert idea. Filled with tart, raspberry cobbler and dark chocolate biscuits, you get the best of both worlds here. Perfect for a celebratory meal topping or even for Valentine's Day with those heart shapes!
2. Fluffy Vegan Biscuits
Minimalist Baker will show you how to make the perfect, classic biscuit – but vegan style! Use it for breakfast, lunch, or dinner. Or, use it as a side dish or a sandwich helper!
3. Garlic & Thyme Biscuits
You can even use this recipe to take a classic biscuit and give it a makeover. A bit of garlic and thyme can really "spice" things up a bit. Grab the recipe by visiting Foodness Gracious.
4. Bacon Cheddar Chive Biscuits
Here's a super scrumptious and addictive biscuit recipe to try. Over at Damn Delicious you'll find all the details behind these bacon, cheddar, and chive concoctions. It's the perfect topping to family dinner or brunch!
5. Sweet Cinnamon Biscuits
Here's another sweet-inspired recipe but this time it's from Add A Pinch. Perfect as a morning surprise, these cinnamon biscuits will light up the family as soon as the sun comes up. Think about using these for brunch or a birthday breakfast.
6. Sausage Biscuit Skillet with Guinness

Over at Jelly Toast, you'll be able to learn all about this sausage biscuit skillet meal (made with some Guinness). If you're looking for some new dinner ideas, this may strike your fancy. And it's easier than you may think to whip up.
7. Classic Cheese Biscuits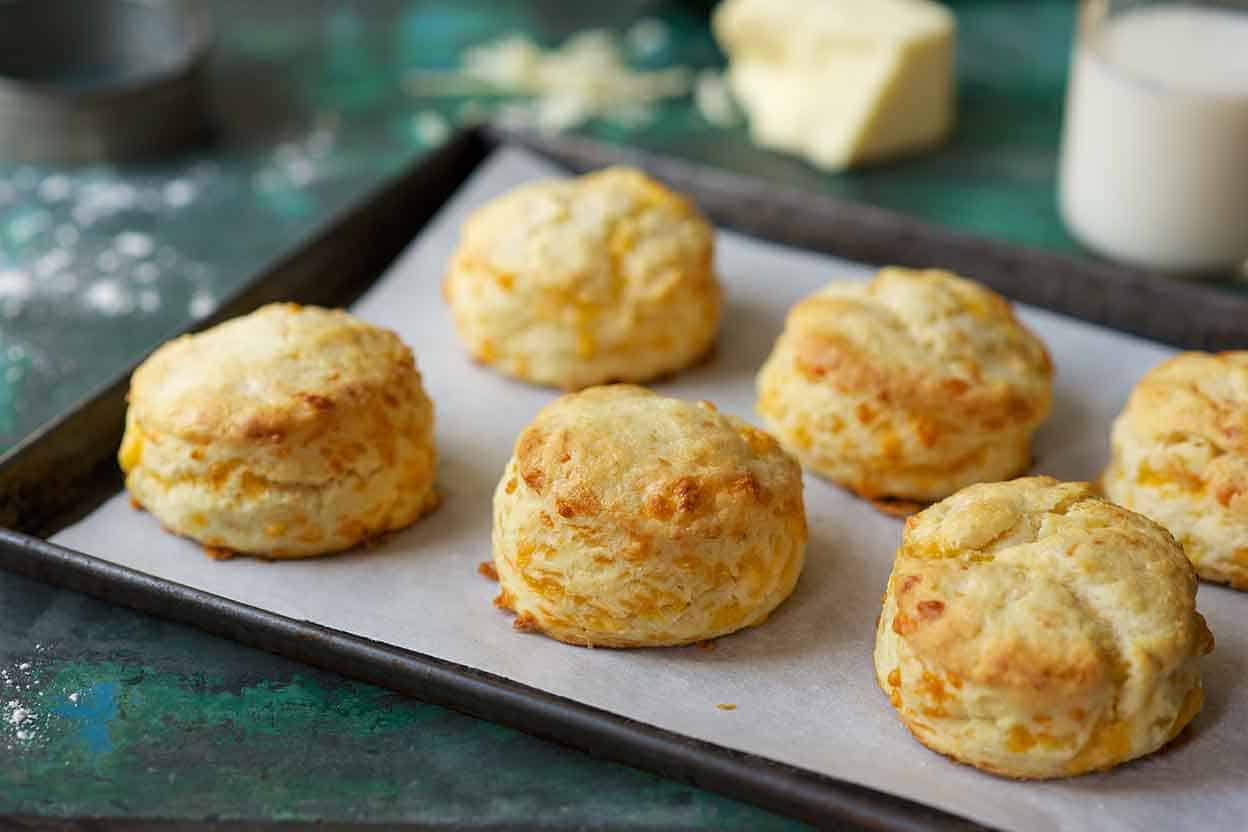 King Arthur Flour provides us with an easy and delicious classic cheese biscuit recipe. This is definitely one to dog-ear everyone and keep in your recipe book for all the events to come. It's a great potluck option as well!
8. Turkey Pot Pie with Sweet Potato Biscuits
If you're looking for dinner ideas that include biscuits then this turkey pot pie will have your drooling. Covered with soft, sweet potato biscuits, Wholefully will give you all the details. Visit now!
9. Red Velvet Biscuits
These red velvet biscuits are all the rage and we're in love! I Heart Recipes will guide you through the making of them – but it's the aftermath that we're excited about. Use them for desserts, an afternoon pick-me-up, or as a surprise for a friend.
10. Chocolate Chip Biscuit Smore's
Sugar and Charm made us fall in love with these chocolate chip s'mores biscuits. Filled with all the sweetness and goodness of the classic dessert, these will be the highlight of the weekend. Have the kiddos help too!
11. White Chocolate & Cranberry Biscuits
White chocolate and cranberries go together so nicely. The tartness of the fruit and the sweetness of that chocolate go hand in hand and make some of our favorite cookies. But, according to Viva they work just as well in biscuits too.
12. Biscuits & Gravy
Everyone needs to know how to make some classic biscuits and gravy. And with some help from Show Me The Yummy, you'll be able to easily learn how. Make this for breakfast by the weekend!
13. Egg-Stuffed Breakfast Biscuits
The Flavor Bender has another delicious breakfast idea for you to try. These egg-stuffed sandwiches are the perfect way to start the day off with the family. Take the leap and check it out.
14. Blueberry Biscuits
Silkelicious Party Trays featured these scrumptious-looking blueberry bites. Complete with icing, this will win over the brunch table and the rest of the family. They'll be asking for seconds.
15. Blue Cheese Biscuit Breakfast Sandwiches
Finally, take the jump over to Diane, A Broad and check out how to whip up these blue cheese biscuit sandwiches. They're a funkier spin than our regular breakfast sandwiches – and we love the twist. If you're already a fan of these flavors, check them out!