20 DIY Bikes Racks To Keep Your Ride Steady and Safe
Whether you want to keep your single mountain ride theft-free on your first-level patio or want to clean up the garage a bit and get the family's bikes organized and tidy, there are plenty of ways to make it happen. With these 20 DIY bike racks you'll keep your ride steady and safe and ready for an evening pedal whenever you'd like. Let's take a peek at some of these great projects!
1. $90
Bike Forums made this functional and fun bike rack for just $90. It's a great idea for bigger family's and a way to clean up the garage a bit.
[amazon box="B000MJ11TI"]
2. Wooden
Michael Marriot showed us this wooden, Z-design rack that looks pretty simple to make. If you're good with your hands, take a go at it!
3. PVC
Over at the BMX Museum, you'll find out how to make a rack made of PVC pipe. But this is the best way to show off your bikes and put them on display!
[amazon box="B0845RLTFM"]
4. Numbered
Our Taylor Life made a numbered, pallet bike rack for the family too. You can even house the scooters in their and have everything organized for the kiddos.
5. Crib Rail
Here Comes The Sun got really creative with their DIY bike rack design. Take an old crib rail, you too can make one of these innovative pieces.
6. Helmet Storage
If you want something that you can store the family's helmets on too, we've found the perfect tutorial. Hop on over to Addicted 2 DIY and learn how to make this rack!
[amazon box="B07MQ5ML4X"]
7. Pallets
Instructables used pallets too for a bigger, doubled design. If you're handy outside, you'll be able to whip this up in no time.
8. Inside
Mini Penny has us swooning for these inside, wall racks. It makes your bikes double as wall art and adds so much interest to the house!
9. Pipes
We found this idea over at Etsy and couldn't help but become inspired. They're easy to DIY yourself too, and spray paint them for some color!
10. Handlebar
And old handle bar could make the perfect wall rack as well. Again, we're loving how this can double as wall art and get your bike off the ground and lessen the clutter of your apartment. (via)
[amazon box="B07QLFV9WF"]
11. Family
Single Tracks has another great idea for a family bike rack station. Also made out of wood, it's quite the simple design and tutorial.
12. Shelving
Good Ideas For You shows off this suspended rack again and focuses on the addition of the shelf. Start your design out above and go from there.
13. Posts
Ikea Hacker used posts inside their home for the right kind of bike storage. This is such an innovative and industrial way to hang them up!
14. Stationary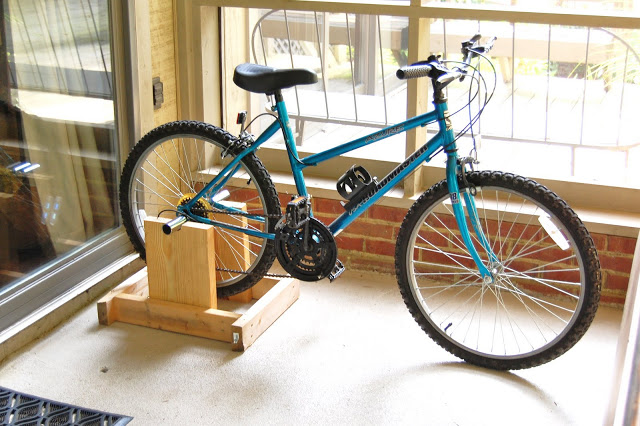 What about turning your bike into an exercise, stationary bike while storing it away? Check out this fun tutorial to get the best of both worlds out of your cycle. (via)
15. Fold Out
Milili inspired us with this fold out design sold on their site. We're featuring it because we know there are some super handy men and women out there that could DIY one of these all on their own!
16. Suspended
Apartment Therapy shows us another way to suspend those bikes in the air when you don't have too much space. It's a great idea for smaller apartments and dorm rooms!
17. Shed
Of course you could always create a little shed to store your bikes instead of just a rack. Use it for a variety of functions, just look at the top of this one where you can plant some flowers! (via)
18. Brackets
Covered with cork, a simple bracket can do the job too. Check out Apartment Therapy for this easy idea and how to install it in your own home.
19. Fallen Tree
We're loving how innovative this idea is! A fallen tree can be turned into a bike rack for the backyard with some a little bit of labor. (via)
20. Single
Instructables also shows us how to make a simple, single bike rack made out of wood. Check out the tutorial and get started tonight!