8 Best Outdoor Projector Screen Reviews – Have Some Screen Time Outdoors
With warm weather at the door, you must be looking forward to spending your evenings in the backyard with family and friends. There's nothing like a small get-together with your loved ones gathered around a large outdoor projector screen. With popcorn, dip and crackers, and comfy seatings, it's movie night every night.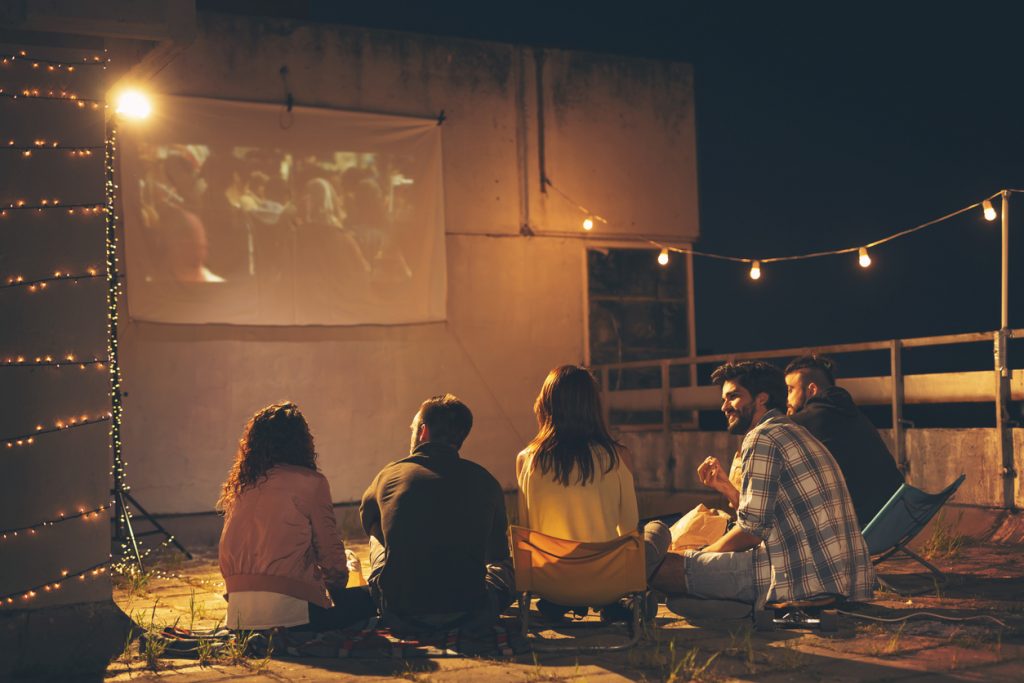 But before you can enjoy some screen time outdoors, you'll need to set up your backyard movie theatre first. As usual, it's the projector screen that takes up more of your time. And why not? It's the one part of your outdoor home theatre that gets everybody's attention, literally.
We went ahead and gave the top projector screens a try, so you don't have to. The result was these best outdoor projector screen reviews. We compared them, looked for distinguishing features and flaws, and settled on the top three picks for you. We also included an outdoor projector screen buying guide to help you make an informed decision when you buy the right outdoor projector screen for your viewing pleasure.
Best Outdoor Projector Screen Reviews
Out of the many projector screens, we have tried, only the following 8 made the cut. Here's what we liked and disliked about each one of them, along with our recommendations.
If size matters in outdoor projector screens, and it surely does, then the Elite Screens Manual B 100-INCH Projector Screen, with its 59.8-inch height and 93.8-inch width, has got the right size for your outdoor screen time. Thin and portable, the screen has a black back to prevent ambient light penetration and provide an excellent viewing experience.
Easy to set up, the Elite Screen has an auto-lock mechanism that leaves a two-inch stretch to make it easy for you to pull it down. The whole setup takes a few minutes from start to finish. The included 6-inch and 12-inch L-shaped brackets come in handy when you install the screen in your backyard. All of this means that you won't have to waste time fiddling with levers or buttons or trying to adjust the screen vertically and horizontally to achieve the best viewing angle.
Speaking of which, this projector screen has a 180-degree viewing angle and 1.0 gain, which means that the quality of the picture remains the same no matter where you sit relative to the screen. It is compatible with UHD and HD projectors and is 4K and 8K ready.
The white surface has a black back to eliminate light interference from the background. We also liked that it's easy to clean, fold, and store away since it doesn't take up much storage space.
The one thing we didn't like about the Elite Screen is that it tends to have wrinkles and waves after a few uses. You'd need to attach small weights to the bottom of the screen to remove the waves and keep it taut and wrinkle-free.
Pros
100-inch screen.
Easy to set up with 6-inch and 12-inch L brackets.
180-degree viewing angle.
Compatible with UHD and HD projectors.
Black back that eliminates light penetration.
Cons
Gets wrinkles and waves after a few uses.
View price on Amazon
In the world of projector screens, the larger the screen, the more expensive it is. However, the Mdbebbron 120 inch Projection Screen turns this rule upside down as it offers a whopping 120-inch screen at an affordable price. To make it even a deal hard to pass for people on a budget, the screen has wide applications, can be used in many settings, and is easy to install as well.
You can use the Mdbebbron projector screen not just in your backyard but also in the office, in your theatre home movie, or for education purposes. This versatility and portability, not to mention the low price tag, explains its popularity.
The screen is a foldable one. That means it's easy to install and fold back. When you're done with it, just fold it and put it in your suitcase, backpack, or even handbag. It's that convenient and portable.
And then, of course, there's its large size to brag about. The screen's dimensions are 58 inches high, 104 inches wide, and 120 inches diagonally. This all translates into a wide viewing space that can accommodate a large audience.
Made from Polyester fabric, the white surface reflects back a sharp and good quality picture. The fabric is anti-crease, so you won't have trouble with wrinkles that could distort the image or reduce the colors' quality and vividness.
However, the screen needs to be mounted against a wall or a solid surface to get the best picture quality. It doesn't have a black back which means that light interference from the background is a real problem.
Pros
120-inch screen.
Light and portable.
Wide applications from outdoor entertainment to office and educational uses.
Anti-crease fabric that prevents wrinkles.
Affordable price.
Cons
No black back, which means background light interference can reduce the image quality.
View price on Amazon
What you need from an outdoor projector screen is stability in the face of strong wind and top-notch picture quality. The Vamvo Outdoor Indoor Projector Screen put those two requirements front and center in its redesigning of this popular product. The new upgrade added two side ropes for more stability. The result is a slightly more expensive projector screen but well worth what you pay for it.
The Vamvo projector screen can be used both indoors and outdoors, although it really shines when you place it in your backyard. It has a sturdy construction, and the tripods keep it standing firmly even in the presence of strong winds. The lateral ropes keep the screen firm and taut, so you won't need to attach weights to remove the creases and wrinkles.
And if installation time is a concern for you, the new upgrade has made it easy to set up the screen with an improved and intuitive design. Add to that the wide viewing angle standing at 160 degrees for comfortable viewing. The audience won't have to sit crammed in the center to get the best viewing experience.
The whole screen with the stand weighs 9 pounds which is still light enough to make it portable. The screen and the stand are easy to fold and don't take up much space. However, since it doesn't have a black back, you'll need to set it up against a suitable backing. The ambient light can become a serious issue that interferes with your overall viewing experience.
Pros
Sturdy new design for more stability.
Two side ropes that keep the screen smooth and prevent creases.
120-inch screen.
Easy to install, fold, and store away.
Cons
The stands need to be weighed down to prevent them from tipping over.
No black back.
View price on Amazon
Elite Screens has established itself in the outdoor entertainment equipment niche. This is the second product from this company we used, and it immediately dazzled with the picture quality and vivid images. There was no surprise there since the Elite Screens Yard Master 2, 120-inch Outdoor Indoor Projector Screen has 1.3 gain, which means that the white matt surface reflects back all the light it receives from the projector with zero loss.
The screen is both Active 3D and 4K UHD projection ready. It has a 180-degree viewing angle for the comfort and convenience of the viewers. The quality of the picture remains the same whether you're sitting at the far sides or smack-dab center.
As for background light interference, the Yard Master takes care of that with its black back. Whether you mount it on a wall or set it up in the middle of the yard, you won't have any ambient light interference.
Assembly is easy and quick without the need for special tools. The aluminum frame is made of a single piece with four detachable legs that you can assemble and dismantle quickly. Moreover, the material is easy to clean with water and soap. So maintaining the screen will not be too much work, nor will it take up a lot of your time.
We also liked the snap button frame. It fixes all four corners of the screen to the frame with buttons for more stability. No more creases, wrinkles, or waves that distort the images.
On the downside, the Yard Master is quite expensive, and it's not easy to snap the screen corners into the buttons on the frame.
Pros
1.3 gain for vivid images and colors.
120-inch screen.
Easy to assemble and sturdy.
180-degree viewing angle.
Black back.
Cons
High price tag.
Not easy to snap the corners of the screen into the buttons on the frame.
View price on Amazon
So far, we have been reviewing screens that come with stands or those that can be mounted on a wall using brackets or even duct tape. But the Gemmy 44743 – Airblown- Movie Screen ups the ante with an intuitive design that does away with stands and brackets altogether. All you need to set up this airblown project screen is a power source and let the self-inflatable screen become ready to use within a little over a minute.
High price tag aside, this is an innovative project screen with many design options. You can choose from four different styles to suit your landscape and personal taste. And although the screen standing at 91 inches diagonally is not as large as other projector screens on this list, it still offers a good quality image.
And if you're worried about a strong gust of wind blowing away the airblown screen, the included tethers and stakes keep it firm and stable. Its built-in fan is fast and surprisingly quiet as it inflates the screen in a short period of time. At the same time, the screen also deflates quickly, which cuts down on the dismantling time.
But apart from the novel concept, the Gemmy 44743 still has a few drawbacks that it hasn't managed to shake off. One of those is the need for a power outlet to set it up. It also has a bulky frame and takes up more space than a thin screen that you mount on the wall. And despite the large size, the viewing screen itself is considerably small.
Pros
Airblown screen.
Self-inflates within a short time.
Easy to set up and deflate.
Included stakes and tethers keep the screen in place.
Cons
Small screen size.
High price tag.
Needs a power source to set it up.
Takes up more space with its bulky frame.
View price on Amazon
If the time it took to set up the airblown projector screen turned you away from the Gemmy 44743, then you might prefer this screen from PropVue. The PropVue Projector Screen with Stand 100 inch – Indoor and Outdoor, with its tripod and the anti-wrinkle matte screen, is specifically designed with ease of setting up in mind. The whole process is done in three steps. And there's no need for you to weigh down the screen corners to keep them smooth, either.
That's because the screen can be secured by tight straps that make wrinkles a thing of the past. And since it's made of matte PVC, it won't easily get wrinkled. The HD screen has a 16:9 aspect ratio like most of the projector screens on this list which makes it compatible with most movies and powerpoints. And thanks to the water-repellent PVC, you can use the screen both indoors and outdoors.
The tripod is sturdy and has wide legs, which give it stability whether on grass, concrete flooring, or indoors. You can adjust the tripod to change the viewing angle to fit the image's source and aspect ratio. And with its 1.1 gain, the screen offers a good quality picture. Add to that the decent 100-inch size, and you know you have a good projector screen for a small to a medium-size audience.
The only problem we had with this screen was that it tends to sway with the slightest breeze. This is a problem if you place it outdoors in an unsheltered spot. We had to anchor the screen to prevent it from swinging from side to side.
Pros
Anti-wrinkle matte PVC screen.
Sturdy and adjustable tripod for easy setup.
Adjusts the angles of the screen to fit any picture resolution.
1.1 gain.
100-inch screen.
Cons
The screen tends to say with a slight breeze outdoors.
View price on Amazon
Sometimes a 100-inch projector screen is not enough. You have a large backyard, or you have invited the whole neighborhood for a cookout and want to show them your latest home movies. So naturally, you'd want a 150-inch screen like the P-Jing Projector Screen 150 inch Foldable Anti-Crease Projection Screen.
Large as it is, the screen is easy to put together in a few minutes. The anti-crease material ensures you have a good quality picture no matter how many times you have folded and unfolded the screen. But don't let its large size intimidate you weight-wise. The screen only weighs 2.8 pounds which makes it quite portable and easy to handle.
We also liked its full HD support and the fact that you could use the front side as well as the back side of the screen. So if the audience is too large for the seating arrangement, you can erect the screen in the middle using a stand or a frame and have the guests sit behind as well as in front of the screen.
The screen is easy to anchor thanks to the two ropes that line up its sides. This makes it easy to set it up even when it's windy outside. The screen doesn't swing, sway, or bellow with the wind.
However, the lack of a stand or tripod means you have to mount the screen on a wall. If there's no suitable wall, then you'll have to purchase a stand or a tripod to set it up in the backyard. You also have to be careful when setting it up since the stretchable material tends to stretch too much.
Pros
150-inch screen.
Weighs only 2.8 pounds.
160-degree viewing angle.
Full HD format.
Cons
No stand or tripod included.
The screen tends to stretch too much.
View price on Amazon
We wrap up our list with an inflatable screen. Yes, another one. Only the GOLDORO Outdoor Projector Screen doesn't take that long to set up. The whole process of inflating and placing the screen doesn't take more than a couple of minutes. Made from tough oxford fabric, the screen is both sturdy and durable.
It also comes with everything you need to set it up. The included air blower gets it up and ready in a short time. You also have stakes and ropes to tether it to the ground and make it stable.
As for the screen itself, it's made from white silk fabric that can be detached. This makes it easy for you to clean the screen and fold it away.
The 168-inch screen has a 16:9 aspect ratio and comes with a black bag for storage. It practically requires less maintenance and hassle than other airblown projector screens on this list. Even the air blower is a built-in one for convenience. You can set it up anywhere, either indoors or outdoors. It doesn't require a wall to be mounted on or special arrangements. You can also take it with you to a camping site or even a picnic.
On the downside, the Goldoro projector screen weighs 11.3 pounds. That's not a small weight to log around. Also, when it's inflated, it can become a little unwieldy, especially if it's not secured to the ground. But other than that, the screen serves its purpose rather well.
Pros
Inflates within a couple of minutes.
Built-in air blower.
168-inch screen.
Sturdy Oxford fabric frame and silk material for the screen.
Cons
Heavy and unwieldy if not tethered well to the ground.
View price on Amazon
Outdoor Projector Screen Buying Guide
We understand that comparing the best outdoor projector screen reviews side by side might not give you the whole picture. You still need to know what makes a good project screen stand out and what features to look for. Our buying guide covers these points, and our FAQs section answers your most relevant questions.
How to Set up your Outdoor Projector Screen
One of the first questions that pop up when you set out to set up your movie theater in the backyard is how and where to place the projector screen. After you're done with setting up the digital projector and the sound systems, you're faced with the larger-than-life projector screen. How much distance should you place between the screen and the seated viewers?
You don't want it to be too close that people have to throw their head all the way back and turn it from left to right to follow the movie. The rule of thumb is to keep the viewers away from the screen at about one and a half times the size of the screen. So if the screen is 100 square inches, then place it about 5 feet away from the seats and so on.
Also, you should get the weather forecast well in advance. If rain or a flash storm is on the horizon, then you might want to stay indoors and watch TV instead. Rain and electrical appliances are a dangerous combination.
Key Features to Look For
It's great to know what size you'd want your outdoor projector screen, but is that all that matters? How about the material, the resolutions, the lumens, and all the other myriad features? So let's see what the top features you should consider when buying a projector screen for your outdoor entertainment.
Material: One of the first things to look for is the material the outdoor projector screen is made of. Some screens are made from Lycra, while others are made from PVC. The best material is usually a textured matte surface that prevents light penetration. The Elite Screens Manual B 100-INCH Manual Pull Down Projector Screen is a good example of that. Its white surface prevents reflection, and it has a black back that eliminates interference from background light sources.
Screen Size: Before you splurge on a large screen that sets you back a few hundred bucks, you need to know if it will fit in your backyard or not. A large screen, such as the GOLDORO Outdoor Projector Screen, not only needs a high-resolution digital projector and matching sound systems but also plenty of space. As we mentioned earlier, you should place the screen one and a half times its size away from the seats. So the size of your yard should determine the size of the screen.
Viewing Angle: If you have had the misfortune of sitting to the far left or far right of a projector screen and watched a blur of colors and shapes, you would know the importance of the viewing angle. Your project screen should offer you a 180-degree viewing angle. That means people at the sides should have the same viewing clarity and picture quality as those sitting dead center.
Light Reflection: Also known as "gain," this quality describes how much light the screen reflects back at the viewers. If the screen has a 1.0 gain, that means the screen surface reflects all the light it receives from the projector, which results in a good quality picture. A good outdoor projector screen such as Elite Screens Manual B 100-INCH Manual Pull Down Projector Screen with 1.0 gain has vivid colors and a sharp picture. If the screen has less gain than 1.0, then it will reduce the picture quality.
Fixed vs. Inflated: Usually, you'll need to make a choice between a fixed screen and an inflated one. Fixed screens are suitable for small spaces and don't go above 120 inches in size. They are easy to set up, although they're more expensive than inflated ones. An inflated screen needs some preparation work and a blower to get it ready for viewing. That said, inflated screens are more portable and take less storage space than fixed ones.
Maintenance: You should think about how much maintenance the screen needs and how easy it is to clean it. This is especially true of outdoor screens that get a lot of dust and even rain. So the screen should be easy to fold, and it should repel stains and water. Most of the screens we reviewed here are made from either PVC or Lycra, which don't absorb water or stains. Make sure to wipe the screen after you use it to give it a long life.
FAQs
What is the best projector screen to watch movies outside?
For an outdoor projector screen, you'll need a portable one that doesn't give you a lot of hassle either setting up or maintaining. It should come with its own stand or tripod. Or, in the case of inflatable screens, it should have a built-in air blower. The screen should resist water and stains to make it easy to clean. It also needs to be stable and sturdy and not get blown away by the wind. You should also make sure the screen has a black back to prevent light infiltration.
What kind of material to look for in an outdoor projector screen?
You can either go with a projector screen made from Lycra or PVC. These materials are anti-wrinkle and have a better gain ratio than other materials. Keep in mind that the material of the screen plays a major role in the picture quality. Both Lycra and PVC screens tend to have higher gain, which translates into higher image quality. Also, screens made from silk or other textile-based fabrics don't have the same water- and stain-resistance as Lycra or PVC counterparts.
How big of a projector screen should I invest in?
The size of the projector screen matters if you happen to have a large outdoor space. A large screen not only gives you a better viewing experience but also makes it easy to accommodate a large number of viewers. On average, you will need a 100-inch screen for your small get-together. If you expect more people to attend, then a screen between 120 to 150 inches will do fine. Just make sure you have the space to seat that number of viewers comfortably.
The Last Word
After reviewing and comparing all of those projector screens, it became obvious that the Elite Screens Manual B 100-INCH Projector Screen deserves our editor's choice award. The 100-inch screen is easy to set up and keep wrinkle-free with the included L brackets. It is compatible with HD and UHD digital projectors and gives you a 180-degree viewing angle. That makes it easy for people sitting at the far sides of the screen to still get a good quality picture.
For our budget value, we chose the Mdbebbron 120 inch Projection Screen. Despite its low price tag, the 120-inch screen is still portable and lightweight. You can take it with you anywhere and set it up easily. The anti-crease material keeps the screen in good condition no matter how many times you fold and unfold it.
We also couldn't overlook the excellent qualities of the Vamvo Outdoor Indoor Projector Screen. It has a sturdy design which gives you more stability even if you place it in a windy place. The included side ropes keep the 120-inch screen smooth and taut. Overall, it's a good choice if you have some extra money to splurge on it.