15 Fruit Dip Recipes To Bring To The Neighborhood Block Party
Fresh cut fruit is delicious. The crisp bites and juicy flavors, there's really nothing better. Although, we found a way that those snacks can be even more delicious and indulgent. Add some fruit dip to the mix. Below, you'll find 15 fruit dip recipes that you'll want to share with everyone – and maybe even bring to the next neighborhood block party.
1. Orange Cream Fruit Dip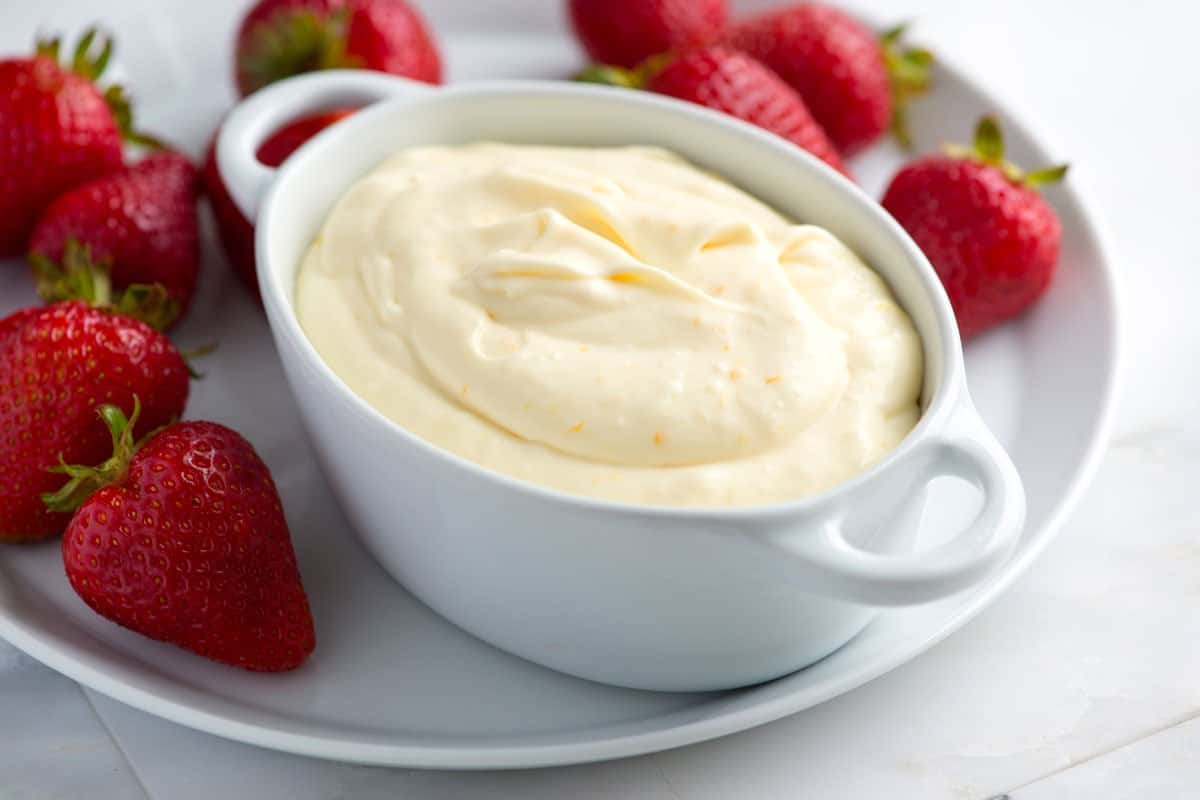 A bit of light, orange creaminess could be what sparks an afternoon snack that everyone will enjoy. Check out the recipe and details by visiting Inspired Taste. Strawberries and cantaloupes are out favorite dippers for this one.
2. Cream Cheese
If you don't know how already, check out Diethood to learn how to make some classic, cream cheese fruit dip. It's the perfect accompaniment for all of your favorite fresh fruits and one that will never disappoint. Grab the instructions after the jump.
3. 2-Ingredient
Here's a 2-ingredient fruit dip for when you're pinched for time. The kiddos can even learn how to whip this one up in a jiffy. Visit Cooking Classy for the details.
4. Brown Sugar
FiveHeartHome went with a brown sugar vision and churned it out within this dip. Add a bit of extra sweetness, and make dessert a little more guilt-free, by going with this recipe. It's another versatile dip that tastes great with all your fav fruits.
5. Lemon Cream Cheese
Dip Recipe Creations went with a lemon cream cheese recipe that we're swooning for. It's the perfect summertime treat and really brings about some fresh and revitalizing flavors. Your berries and melons will be even more delicious – every bite!
6. Fluffy
Mr. Food has a light and fluffy basic fruit dip for all of us to try out. Slice some apples and serve it up as an after-school snack or even pack it in the kiddos lunch! They'll look forward to this one everyday.
7. Strawberry
Oh Basil has a fruit dip recipe that's a must-try as well. This time, strawberry is the main flavor on the scene. And all kinds of berries go nicely with it.
8. Citrus
A bit of citrus added to your dip will make an even more summertime and refreshing taste. Check out this citrus-based recipe by following along at A Turtle's Life For Me.
9. Magarita
What about using a margarita as your inspiration behind your fruit dip? That's exactly what Recipe Girl did and we're living for the unique taste. This is a great one to surprise neighbors with!
10. Marshmallow
Like Mother, Like Daughter makes a marshmallow dip that is incredibly addictive. You'll be eating up all the fruit in the house trying to get more of this one. Fun fact: graham crackers are yummy dipped inside this as well.
11. Orange Creamsicle
For an even more dessert-oriented dip, is this orange creamsicle deliciousness from Six Sisters' Stuff. Serve this up at brunch or at your next "shower" celebration for something a little extra special on the tables.
12. Caramel
Deliciously Yum! will show you how to make a classic caramel dip for your fruit. This one is our favorite for fresh apple slices – and grapes are especially nice with it as well! Visit now for the details.
13. Healthy
Mandy's Recipe Box will let you in on the secret of creating a dip you won't feel bad about indulging in. This one is a healthy accompaniment to all your guilt-free fresh fruit you've got in the kitchen.
14. Lemon Honey
Lemons for Lulu will show you how to blend lemon and honey to make a sweet and creamy topping to your fruit salad. You don't even have to use this as a dip. Instead just smother your bowl of strawberries and melons with it!
15. Peach
And finally, for all of our peach lovers. We have this peach fruit dip recipe from Thirty Handmade Days making a splash. This one is a defininte winner with granny smith apples!