11 Best Craft Supplies – Ready For Any Project With These Essentials (Reviews) of 2023
Having the best craft supplies in your inventory would be handy, especially if you want to try out unmatched ideas at the convenience of your home. Kids too love to stay creative and make the most out of their playtime, so having the elementary tools around would not only be useful for personal DIY projects but also help nurture your little ones as they grow older.
Whether you're an avid crafter or just starting out, the most impeccable way to skyrocket your enthusiasm for curating green ideas is by keeping the most essential supplies that would help build your projects right from scratch.
Best Craft Supplies Reviews
In this guide, we took the time to create a list of the most functional supplies that every crafter needs the most if they want to materialize pending ideas in their wish list. Read on to have a fine print of the must-have tools you want to keep under your roof for kids' wild ideas and personal projects.
The Cricut Explore Air 2 is a refined cutting machine for making custom stickers that you could use in home decor projects. It comes with a couple of other tools to help you cut a wide range of materials, such as adhesive foils, vinyl, and faux leather. If you find trying home decor ideas quite engaging, then you can't miss having this cutting tool among your craft supplies. You can use the set of scissor tools that come together with the Explore Air 2 model to enhance the level of precision when making cuts. To scale their durability, Cricut tools are made out of sturdy material and are covered with rubber to enhance the grip. The toolset also includes some adhesive vinyl rolls with different bright colors, which you can use to perfect your cutting skills.
View price on Amazon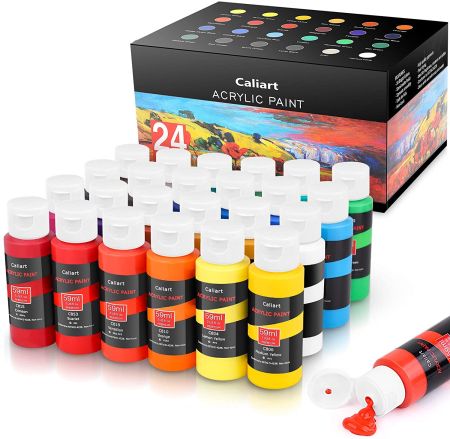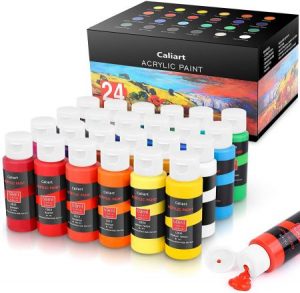 Adding a set of acrylic paint to your craft supplies' list would be such a solid idea if you especially want to learn the basics of this painting genre. The paint kit is made of 24 bright colors with enough density to keep your projects from fading any sooner. Kids, students, or adults who are aspiring to be artists can use this acrylic paint set if they're looking for water-based shades that appear steady and are non-toxic.
Since giving color and opacity to your paintings will depend on how the pigments are structured, this acrylic set is made of a dry-fast formula that lets the painter add another layer of coat or clean up any flaws using soap and water. You can use this acrylic paint set on a piece of canvas fabric, metal, ceramics, plastic, or walls.
View price on Amazon
Whether it's for a birthday card, your kid's school project, or drawing, having a cardstock in your craft supply storage container would ease the entire workflow, mostly where a few trials and errors are involved. Quite a solid number of your projects will come through strongly, more precisely if you're using quality paper.
I find it much easier working with the cardstock starter kit from this brand when making some hand-crafted birthday cards since the texture of the paper is easy to fold. Besides printing or folding, this type of paper can handle stamping, embossing, and hole punching. Whatever creative ideas you have in mind, keeping a cardstock that would help you achieve the specialty printing needs is something worth investing in.
View price on Amazon
We did some tiny digging and discovered that a glue gun is somewhat among the best craft supplies every crafter needs to own—and here's why—most other hacks don't always work, especially deepening on the gravity of the project you're working on. One mind-blowing feature you'll probably adore about the Gorilla Temp Mini Hot Glue Gun Kit is its nozzle which is designed particularly for precision. It's long and applies glue quite evenly on whatever pieces of the project you're looking to bind together. The gun works seamlessly with mini-sized glue sticks and only needs the power of up to 12 watts.
All you need to do for safety is use a power source that outputs about 120 volts. It also comes with a cord that's 4.5' feet—giving you room to access an outlet that's slightly far from your workstation. What you'll also like most about this glue gun is its signature feature that allows you to calibrate the temperature level, so it can range between 374°F on the high end and 311°Ffor the low setting.
View price on Amazon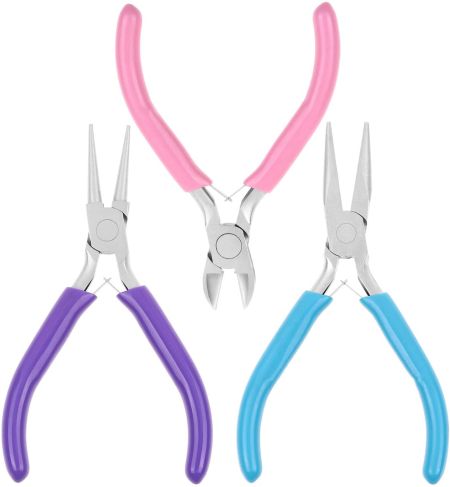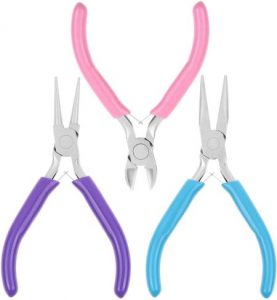 A pair of pliers might ostensibly seem like a basic tool that doesn't need too much pondering upon when it comes to making a buying decision. But what you might not be clued up on is there are pliers in the market designed for varying kinds of craftwork. Buying the Shyneck Jewelry Pliers would be such a bargain since it's a 3-pack, and each has its own set of duties.
One is for wire wrapping, while the other is a needle-nose type. You also get round nose pliers inside the pack, which is mostly used by jewelers and artisans looking to shape up DIY crafts that mostly require bending of wires. The Shyneck pliers are coated with oil to keep them from rusting, so the only maintenance they need before storage is some lubricant and dusting off. They have stellar ergonomics, and the handles are covered with a rubber material to enhance grip while working on your craft projects.
View price on Amazon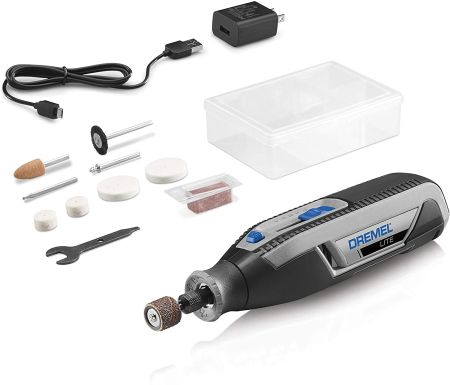 Some craft ideas tend to go a little overboard when it comes to tools—think woodworking or jewelry crafts. And apart from craft projects, there are tons of home improvement errands that will need some light-duty engraving, trimming, or carving. The Dremel Lite Rotary tool kit is perfect for beginners looking to engrave a name on a piece of metal or do sanding work on wood without stretching their budget or using excess power.
For optimal efficiency, you can adjust the speed while working on different kinds of craft activities. This Dremel tool is compatible with a line of other accessories in the same brand and comes with a USB charging port. And to make handling a lot easier, the tool is fabricated with a rubber material that allows you to hold the tool with more grip.
View price on Amazon
It's needless to say that a pair of scissors isa basic tool every household with interests in DIY craft projects would need to have. But you want to roll out versatile ideas and trim them up with precision, then want to use a multi-role pair of scissors. And if we're to go by that feature, then theiBayam multipurpose scissors would tactfully fit the bill.
It's perfect for sewing works, trimming thick fabric materials, cutting different patterns, and light office crafts. Each pack comes with 3 pairs that have sharp-edged blades designed to give finer cuttings. To level up their durability, the iBayam scissors are made of stainless steel, which makes them sturdier enough to last up to 100,000 cuts. The handles are fabricated with rubber to enhance the grip while working on your craft projects.
View price on Amazon
Let's face it—trimming any kind of craft paper can be such a pain in the neck, especially when you're trusting your guts that making symmetrical cuts would be feasible only with a pair of scissors. Pushing your craft expeditions beyond the bare rudiments would highly likely require you to have a paper trimmer, especially if trimming scrapbook pages, photos, or other specialty materials is your most sought-after area of interest in the realm of homemade crafts.
And the sweeping feature that makes the FiskarsSureCut Deluxe craft paper trimmer our best choice compared to other trimmer options is its whimsical efficiency to beat the learning curve that hurts so many beginners. The other selling point making this model grab a spot among the must-have craft suppliers is its patented blade that makes cuts with perfection and rigor. What's more tuneful for the typical crafter is the rubber coating on the blade to make handling a loteasier.
View price on Amazon
One of the most upsetting things about mid-range laminators is they jam quite often when the temperature levels around the laminating pouch rise and melt the roller. The Scotch Brand Pro Thermal Laminator bends the odds to make itself useful to adept crafters and starters alike. Compared to most other brands, the price for this laminator matches its efficiency and capacity to operate without snags. Its stellar "Never-Jam" technology is designed to block misfeed, which most often causes damage to the laminating roller.
It's a handy tool for crafters who regularly handle documents, want to make their photos tear-proof, or preserve memories such as birthday cards and letters. If the inactivity period exceeds 1 hour, the Scotch Brand Pro auto-shuts itself to conserve power, so owning one of these would be an inch forward towards going green. At the push of a button, you can switch this device on or off and calibrate the pouch settings to suit the thickness of the pouch you're working with.
View price on Amazon
The Darice Permanent Adhesive Roller is perfect for scrapbooking and applying different kinds of adhesives on a smooth surface. It's a 6-pack glue tape that helps stick craft items together permanently. You can also use the roller to apply sand paints. It's safe for photos too. This adhesive roller offers a comfortable grip, doesn't leave any mess, and can be used for gift wrapping.
It can also work on a range of other surfaces, and the dispensers are refillable. Every crafter needs to keep this tool in their inventory, especially if they only want to use acid-free adhesive glue. The Darice Adhesive Roller is an ideal tool for binding, soft materials without leaving wrinkles or taking forever to dry up.
View price on Amazon
A set of brushes designed for acrylics in your catalog would help gear towards becoming savvier around this painting genre. The Soucolor Acrylic paint brushes work superbly if you're painting on paper or canvas fabric. One exceptional feature about brushes from this brand is the fibers don't fall off easily compared to other choices in the market. These synthetic brushes are also ideal for watercolor painting, and the set comes with 20 pieces made of soft fibers with different dimensions.
The ferrules on these brushes are made of nickel metal to keep them from fragility when pressure is applied while painting. They're easy to clean and have a radiant aesthetic that brings inspiration to creative crafters looking to try out new acrylic or watercolor painting ideas.
View price on Amazon
---
Final Thoughts
So, you want to be a little craftier than you already are and own the best craft supplies? Well, owning these tools would be worth every buck since everything you'd need to create handmade items at the comfort of your home will plausibly be within reach. Don't miss sharing this post, and leave your thoughts in the comment section below.