10 Best Detail Paint Brushes for Painting Enthusiasts
If we're honest, we've been painting for as long as we can remember. We quite literally started learning how to craft and make things at such a young age that we don't remember a time when we didn't know how to paint and love doing it on a regular basis. That probably accounts for the fact that we actually still adore painting to this very day, so much so that we try to incorporate it into our daily routine whenever we possibly can.
Because we actively paint so often and get so much joy out of it, we don't mind investing in new tools and materials for our art here and there; it's worth it.
Editor's Choice
Detail Art Brushes
Color Coordinated Tips
What are the best detail paintbrushes?
Lately, we've been working mostly on learning how to refine our small details and add the tiniest hand-painted features to our art in a way that's impactful. We've been having a bit of trouble, however, because none of the brushes we currently own are quite small enough to get the finesse we're really trying to achieve. That's why we've been on the lookout for a new set of little detail brushes!
Like we do with anything, we decided to sit down and do some research before we selected a pack to buy. It just makes us feel better knowing a little more about a product before we spend money on it! By the time we'd made our final choice, we had realized we'd basically compiled a list of other quality options, too, so we figured we might as well share them for other painting enthusiasts to see and consider.
Check out these 10 fantastic detail paintbrushes and paintbrush sets that will help you get the fine details that you're really aiming for!
When you said you were looking for brushes that will help you with the fine details, did youreally mean it? Well, if you're on the hunt for brushes that are essentially tiny, but you still want a variety of points, textures, sizes, and shapes for effect? Then we think you might find just what you're looking for right off the bat, thanks to this pack from Nicpro!
This pack provides you with 15 fine liner brushes made with synthetic hair that's specifically designed not to split or shed, thereby giving you more careful precision. In fact, because the bristles are synthetic, these brushes are actually useful for all kinds of things besides just regular painting, including face painting and makeup, model making, and nail art. We really appreciate their ergonomic triangular handles, which were designed for a little extra comfort in concentrated work.
View price on Amazon
Did we really catch your attention when it comes to diverse fine liner brush sets, but you're looking for a quality level that's a little more on the professional side and can be stored nice and easily right from the purchase? Then we have a sneaking suspicion that you might get along a little better with something like this kit of 15 offered by Artecho.
For the quality and diversity that this kit offers you, its price is shockingly affordable! The brushes come in a little tube with a lid that makes them easy to keep clean and organized, rather than scattered and getting lost. The bristles are made of nylon in all designs, and the shapes you receive include round and flat tips, liner, spot, and angled spot liner.
View price on Amazon
Have you always been a slightly more visual learner, especially when it comes to art, so you find things like using colors to code and organize your information and things very helpful? In that case, we think you just might be the perfect person to give this next finer line set of brushes from Lunae Arts a try!
This bundle, which gives you a cylindrical carrying case, actually comes with color-coded handle tips that help you keep things very clear indeed. The colors denote the category of brush tip, letting you inspect the right ones for the specific length and kind you'd like within that category, rather than having to search all 15 of them until you find the right one. The handles are also ergonomically designed for comfort, which makes using the brushes even more enjoyable.
View price on Amazon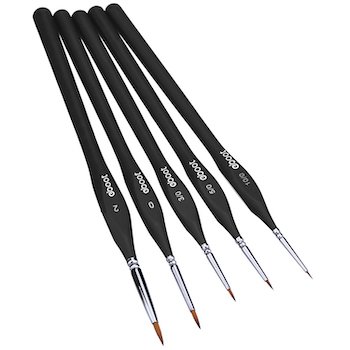 Are you actually the kind of artist who already has a decent range of brushes, but you are looking to fill some gaps in the size range where you could use a few more finely pointed tips, even though you want to keep things simple and practical? Then maybe you'd get along better with this high-quality pack of five from eBoot!
This pack of five brushes might be sold at the same price point as some packs of 15, but the overall price is still so reasonable that we don't mind one-bit thanks to their good quality. These handles, though made of wood just like most other packs you've seen, are painted and coated with a thin, light rubber finish that makes them easy to grip without inhibiting their flexibility.
View price on Amazon
Even though you're totally interested in getting fine liner brushes specifically, are you also a beginner who is still building your overall brush kit, so you don't mind the idea of purchasing a pack that comes withslightly larger options as well? In that case, we think you might appreciate whatHeartybay has to offer!
On top of having one of the largest size ranges we're showing you, this set is alsoshockingly affordable at only $5 for all ten brushes! This is not, however, an indication of their quality. The brushes are well constructed with standard materials, bearing strongly sealed nylon bristles for anti-shedding and light wooden handles. They don't have that ergonomic shape that's so popular, but sometimes it's nice to have a brush to work with that's a little more classic.
View price on Amazon
Did you really like what the option above had to offer, but you're just not sure you need all ten brushes that you saw there since you do already have a small collection? Then maybe you'd rather purchase something withHeartybay's customizable 6-pack option, letting you choose the six brush sizes and shapes that you want to receive rather than just going with what's pre-selected for you.
This packis a little more expensive, but that's partially due to the customizability of the option and also partially due to the fact that these models are a step up in their professional collections. The bristles are non-shedding, and the handles are designed to be light and non-chipping, while the ferrules that hold the bristles in place were formulated to avoid rusting even with lots of use.
View price on Amazon
Have you been scrolling through our list and thinking about how much you actuallylove the ergonomic paintbrush design that features a triangular-like piece near the top because its suits the way you hold your brushes, and you like the extra stability it gives you? Then we think you'll really enjoy the fact that this same piece on this set of fine liner brushes fromDaco is actually slightly bigger and, therefore easier to grip than what you've seen so far!
Beyond the grip, these quality brushes are pretty on part with everything else you've seen so far. They feature a range of shapes and sizes at the top that let you try all kinds of fine detail techniques. They're also made of light wood at the handle and nylon at the bristles, with rounded metal ferrules that are non-rust for longevity.
View price on Amazon
Rather than being a canvas artist or a portrait painter, are you actually a model-making enthusiast who has been looking for very finely tipped brushes specifically for the purposes of painting your models by hand? Then we think you'll enjoy the way MyArtscape formulated this pack for that express purpose!
Of course, most fine liner paintbrushes are diverse enough to be used for a variety of things, but it never hurts to purchase the tool that was specifically created for the job, if you ask us. These brushes are made from sturdy birchwood that still gives you a touch of flexibility, and their nylon bristles have been tapered down to one of the finest points we came across in our entire search.
View price on Amazon
Do you actually tend to travel with your art a little bit so, even though your emphasis and priority are absolutely on the actual quality and performance of your fine liner brushes, you're also not opposed to buying a set that comes with a better, more portable and durable case than just the cardboard cylinders you've seen so far? Then we'd definitely urge you to take a look at this option from Crafts & Colors!
Besides the impressive fact that you can get all 15 of these quality brushesand their zipping canvas case for only $10, we're most impressed with the fact that no quality is lost in attempts to reduce the price. These brushes' light wooden handles and non-shedding nylon bristles are perfectly on part with the other options you've seen, but this time you can keep them nice and organized thanks to the elastic slots on each side of the case, keeping them nicely in place even on the go.
View price on Amazon
Have youtotally caught your attention now that we've started talking about quality brush sets that come with cases, but you're working with a slightly higher budget, and you don't mind investing a touch more money to guarantee the satisfaction that a more typical industry price sometimes brings? Then maybe you'd feel more reassured purchasing these brushes offered by Virtuous Arts!
The lovely zipping case that these brushes come in features elasticized pockets for your handles to slide into rather than just elastic strips. This makes it quite simple and feasible to add other brushes that you already own into the collection since the case is roomy enough to do so without being unnecessarily large. Once again, you're getting HQ wooden handles and nylon bristles that are well anchored in non-rust ferrules to avoid shedding.
View price on Amazon
---
Conclusion
Do you know another DIY lover, painter, and art enthusiast who has been thinking about investing in a new set of detailing brushes but who always likes to do their research before purchasing, just like you do? Share this post with them, so they have all kinds of options and information to work with!