The Best 9 Glue Guns to Buy in 2023 For Easy DIY Projects
As avid crafters, we'realways on the lookout for the best tools and supplies for making all of the different kinds of DIY projects we do a little easier. Recently, we broke our latest in a long line of bad quality dollar store glue guns, and we decided that it's time to invest in a better quality version that will last us a little longer and not give us such a risk of burning our house down every time we craft.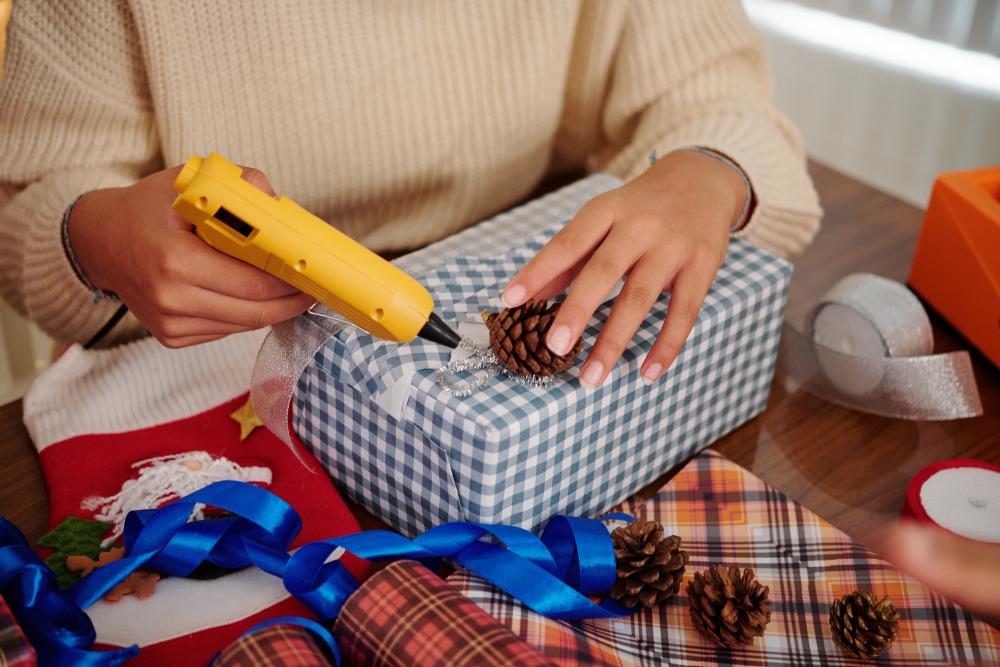 We took to the internet to really investigate our options and make sure we pick the one that's best for us, bookmarking the links we thought were best.
Best Glue Guns
We know that glue guns are an absolute staple in the crafting world, so we figured we might as well share the list we came up with! If you're in the market for an awesome glue gun as well, take a look at what we found.
Are you the kind of straightforward person and DIY enthusiast who likes to keep your tools and process pretty basic while you let your creativity flourish? Then perhaps this very first option that we came across by TOPELEK will be the best one for you!
Besides being extremely reasonably priced, this glue gun has a lot of draw in that it comes with a bonus pack of glue sticks, making the order just plain convenient. Sure, it's the kind and size of glue gun that you can refill with essentially any average hot glue stick from a regular crafting store, but it's never a bad thing to get 30 extras right there with your new tool! This model also heats up nice and fast, keeps a nicely constant temperature, and has a convenient metal kickstand to keep it upright.
Pros
Good price.
Heats up fairly quickly.
Cons
You have to push the glue stick a bit.
View price on Amazon
Are you the kind of crafter who works in a big space, moves all over the room, and is never sitting still? Then we'd be willing to bet that you hate being tethered to one wall by the cord of your glue gun! That's why we'd suggest looking at this cordless glue gun, also from TOPELEK.
This particular cordless design is especially convenient because it's got an admirable battery life. The charging cord is also convenient because it connects with an average USB cord, making it simple to match with if the cord is ever lost or damaged. The glue gun also comes with 10 hot glue sticks all ready to go!
Pros
USB charging, battery lasts for up to two hours.
Features a built-in stand.
Cons
Takes quite a bit to warm up.
View price on Amazon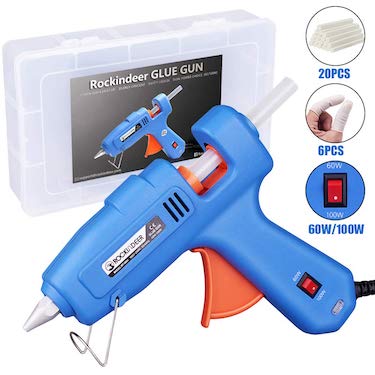 Are you the kind of organized person who likes to keep all of your crafting tools and supplies stored away nice and neatly, with everything having its own place? Then you, like us, would probably love the idea of getting a good quality, full-sized glue gun that comes with its own carrying case!
Even if you're not actually carrying your glue gun anywhere, a case certainly makes it easier to store by keeping the cord contained and making the tool easier to, say, stack on a shelf. This glue gun also comes with 20 hot glue sticks, and the case has room for storing those together with the tool as well. This particular model is also quick heating and has an actual on and off switch, which some people prefer the kind of glue gun that simply heats when you plug it in.
Pros
Also comes with 20 glue sticks.
Heats up in a couple of minutes.
Cons
The stand isn't too large, so glue may leak.
View price on Amazon
Are you definitely very interested in the idea of getting a full sized glue gun with a carrying case but that's not the only thing you're interested in? Well, if you've always found that your auto-plug models get a little too hot for some of the crafts you make then we think you might prefer this design from Tavda Tech instead!
This particular model of glue gun actually hastwo heat settings instead of one, letting you heat things up very hot to get a more liquified adhesive or cool it down just a touch so that the glue still melts but might not actually meltthrough the material you're working with, for example. We also love the way this case comes with pockets for hot glue sticks and a zipper, rather than just being a hard plastic craft case.
Pros
Comes with a case and 10 glue sticks.
Only takes a couple of minutes to heat up.
Cons
The glue gets clogged sometimes, so make sure to clean it out.
View price on Amazon
If you're the kind of enthusiastic crafter who loves to use your tools unconventionally than their original or usual purpose like we do then we're sure you also know just how much fun making actual shapes, designs, or embellishments with hot glue and a glue gun can be. That's why we thought this kit deal from Manelord was such a neat idea.
The glue gun itself is a good quality piece and comparable with the other options you've seen on this list. It's single heat, but it heats quickly and has an on-off switch for safety. Rather than sending you the standard clear hot glue sticks that you saw before, however, this company provides you with metallic gold and solid black hot glue instead!
Pros
Comes with 10 colored glue sticks.
Features its own power switch.
Cons
It's difficult to control the glue flow.
View price on Amazon
Have wereally caught your attention with this whole idea of colored glue guns and crafting with hot glue in new, creative ways but now you can't help wondering whether you might prefer a whole range of colors, rather than just two? Then we'd definitely suggest checking out what Karveden has to offer!
Rather than being the standard full size you're probably used to, this particular glue gun is miniature in size, making it a little easier to maneuver if you're doing things like making pretty glue patterns. Additionally, this particular kit offers you not just a huge and exciting range of colors, but also hot glue sticks that are sparkly!
Pros
Features 60 glue sticks in many colors.
Features a power switch.
Cons
Make sure to push the glue stick if the feeder gets stuck a bit.
View price on Amazon
Perhaps you're actually looking for a glue gun that gets a littlehotter than some of the models you've used before because you're working on a crafting project made of materials that need very hot and very liquified glue to actually stick? Then we think you might get along a little better with something like this high temperature design from TOPELEK.
This particular glue gun is full sized rather than miniature, but with an ergonomic handle that's intended to make squeezing the trigger easier on the joints. This design also has dual power settings that let you increase or decrease the heat levels in order to get a different texture of glue.
Pros
It has a power regulation switch – between 60W and 100W.
Heats up in about 3-5 minutes.
Cons
If you don't pick the right heat setting, the glue can drip too much.
View price on Amazon
Are you actually a crafter on the go, attending friends houses or a studio of some kind to do a lot of your work? Then we have a feeling you might get along a little better with a glue gun that has a carrying case with a handle, just like this model from Sergia!
This particular glue gun actually comes as a part of a whole kit with more features, rather than just a carrying case. It's got a heat mat for setting the glue on between applications, a pair of heat resistant gloves so you don't burn your fingers while you work, and three little metal tools that come in handy for repairing the gun should anything go wrong. It also, of course, includes a bundle of hot glue sticks as well.
Pros
Comes with 20 glue sticks and a great case.
Features a power switch between 60 and 100W.
Cons
Great for smaller projects.
View price on Amazon
Are you still totally enamored with the idea of getting a glue gun with some hot glue sticks and a base but you're torn between wanting something that looks a little flashier just for fun and something that really works because you craft so hard that you can be a little hard on your things? Then we think you'll be rather pleased to hear that Liumai has both in one place!
This full sized and easy to hold glue gun comes in an awesomely bright pink that makes crafting just about anything a little more fun. It's also made from an extremely durable plastic that's got great resistance to external damage, but that's also very heat resistant, preventing the model itself from wearing out quite as fast as some other designs we've seen.
Pros
Comes with a massive case and 30 glue sticks.
Works with wood, plastic, carton, and loads other DIY materials.
Cons
The kickstand is a bit unleveled.
View price on Amazon
Conclusion
Do you know another crafting or DIY enthusiast who has been hoping to invest in a new glue gun but feels like they could use a little bit of guidance? Share this list with them so they have all kinds of information and guidance to help them pick!