In our house, our bedroom is one of the spaces that we love crafting the most for. Because it's entirely our own, it's the spot that we feel the most happy filling with whatever we want and however we wanted to make it, to our heart's content! There's something very satisfying about knowing that the walls of our room are covered in our very own art. That's why we're always on the lookout for awesome new homemade decor projects that we like the look of but haven't tried before!
1. Rustic X's and O's wall art
Is your room already filled with that particular mix of rustic and industrial elements that make it feel at once old fashioned and cozy, as though you've reclaimed most of your pieces? Well, especially if you're looking for a simple way to work with wood or metal for the first time, then we think you might really appreciate the way Beckham and Belle created this rustic X's and O's wall art!
2. Fabric mounted and framed pressed flowers
Are you feeling very enthusiast indeed about the idea of making something that looks quite vintage or old fashioned despite being freshly made by your own hands, but you're just not sure heavy things like wood and metal are the kinds of things you want to work with? Well, if you've ever enjoyed the process of pressing flowers, then we think you might prefer the way this lovely, pretty pressed flower and framed fabric art outlined in detail on Design Love Fest looks!
3. Moon phases copper garland
Have you always been the kind of person who adores metallics in their personal fashion and decor, so you're always on the lookout for new ways to incorporate things like gold, silver, and copper, into your aesthetic? In that case, we think you just might be the perfect person to try out the way Jest Cafe made this stunning copper garland that is shaped all the way across like the different phases of the moon.
4. Giant hexagon confetti art
Well, we know these hexagons might not actually be giant compared to some DIY wall art pieces, but they're pretty darn big as far as confetti goes! We love the way Tara Dennis added a metallic finish to their room a little bit differently by covering an entire canvas in alternating confetti shapes laid together like a mosaic.
5. Stunningly simple fired ink art
If you've never tried ink art before, especially the fired kind, then we're very sorry to tell you that you've been missing out on something very fun and completely stunning! To fix that, we'd definitely suggest taking a look at how It's Always Autumn made these lovely fired ink art paintings, creating breathtakingly colourful swirling patterns and framing them.
6. Popsicle stick shadow box for mini plants
Perhaps you're the kind of crafter who would almost always rather build something with a bit of structure to it? Well, we're not builders ourselves in terms of, say, woodworking of furniture, but we definitely know the satisfaction of making something practical with your bare hands and then seeing it in use after. That's why we liked the idea of making these awesome hexagon shaped shelves featured on Make and Do Crew so much! They're not very big, but they're perfect for putting small ornaments or little potted plants on.
7. Simple framed twig wall art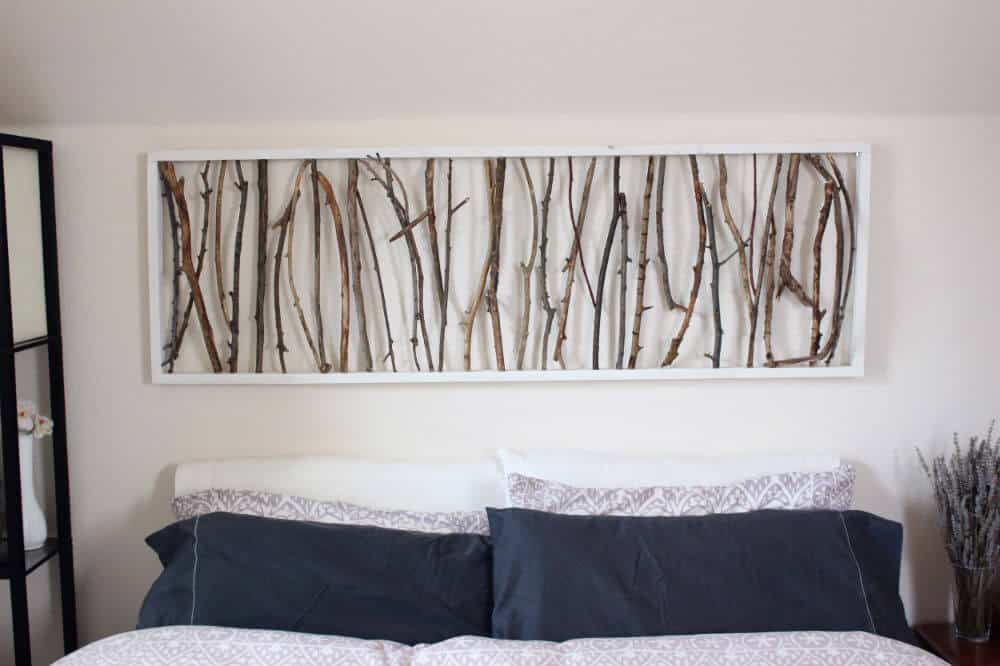 Are you very interested indeed in the idea of incorporating some kind of natural element into your home decor scheme, so you've been looking for something involving actual pieces of nature? Well, we're pleased to tell you that your patience has paid off! Take a look at the tutorial on Emorie Kidder Designs to see how this awesomely wide framed and mounted twig art was made.
8. DIY "floating" flowers and leaves
Just in case you were actually a super huge fan of the idea of making bedroom wall art from pressed flowers but you're not particularly attached to the idea of making yours look old fashioned, here's another similar but differently styled suggestion for your consideration! Check out how Love Maegan pressed their leaves and flowers and encased them entirely in glass to look like they're floating instead!
9. Simple marbled painting
Did we really catch your attention with the idea of making stunning, swirling paintings of your own creation but you're more used to dealing with acrylic paints and you'd rather learn a new way of using those rather than trying to master the technique for a whole new kind of paint all together right now? In that case, we think you might get along a little better with something like this wonderfully marbled multi-coloured canvas project outlined in nice, clear detail on The 2 Seasons!
10. Rustic wood and twine headboard art
Just in case you're still not over the idea of making something wooden and rustic because that's the kind of aesthetic you've already got going and you'd quite like to stick with it, here's a beautiful piece of art that can either attach to your wall or to your headboard like Funky Junk Interiors did here! Their tutorial shows you how to make some pretty rope word art on the background of an upcycled piece from a wooden barn shutter.
11. Easy paper wall dahlias
Are you actually still thinking about how much you love the idea of decorating your bedroom walls in some kind of floral theme but the pressed flower ideas you've seen so far just don't make quite as much of a statement as you'd like? In that case, we think you might get along much better indeed with these easy rolled paper dahlias outlined step by surprisingly simple step on Pretty Pear Bride!
12. Lace doily flower art
Just in case you're still looking for something floral but you're also a huge fan of making things with mixed or slightly unconventional materials, here's a fantastic idea from Crafts Unleashed that will help you make some textured canvas art! We love the way they used paper doilies and actual twigs to create their image, giving the whole thing a sense of unique detail.
13. Washi tape skyline headboard decoration
Has your sense of personal and home decor always been a little more minimalist than most, so you're actually looking for something with a little bit less detail than a lot of what you've come across? Well, if you're also a city dweller who loves the urban skyline, then we think you just might be the perfect person to give this awesome outlined headboard alternative featured in useful detail on Nicest Things a try!
14. Cut out and layered paper leaf scrolls
Are you the kind of DIY enthusiast who has always found beauty in the very simplest kinds of crafts, like cutting and folding shapes into paper, but you're always looking for more and more unique ways to do it that aren't quite as easy a they sound? In that case, we think this stunning paper scroll hanging with the negative space and 3D textured elements of leaves cut into the first layer so the back layer shows through might be right up your alley! Get the full instructions on Oh Oh Deco.
15. Painted cut out canvas tutorial
Just in case you loved the basic idea of creating some cutout art but you can't help thinking you'd rather let the true negative space show through without a background colour behind it, here's an awesome alternative made with a simple block painted canvas! DIY Agnes walks you step by step through their process for making this pretty tree silhouette.
Have you made other types of wall art before that you were very happy with indeed and actually still have on display in your bedroom but that you don't see here on our list? Tell us all about what you created and how you did it or link us to photos of your finished work in the comments section!