17 Alternative Spaghetti Dinners To Try Out With The Fam
It seems like everyone loves a great bowl of spaghetti. It's friendly on the budget and kid-safe too. But what about mixing up the flavors and foregoing the traditional marina and meatballs? We've scoured the blogosphere and found 17 alternative spaghetti dinners to try out with the fam. Introduce fun and delicious new ingredients in a really low stakes way. Check them out below!
1. Three-Cheese
Over at Delish, you'll find a way to go with the cheesiest of ideas. This three-cheese spaghetti recipe will hit the spot all the way around the table. You can even think about adding some grilled chicken to top it off.
2. Garlic Parm
For a dish that has less of a "scare" factor for the kids, try this plainer but just as flavorful option. Found at The Diary of a Real Housewife, learn how to whip together this 5-ingredients spaghetti dish. It's filled with parm and garlic, which is never a bad idea.
3. Montery Chicken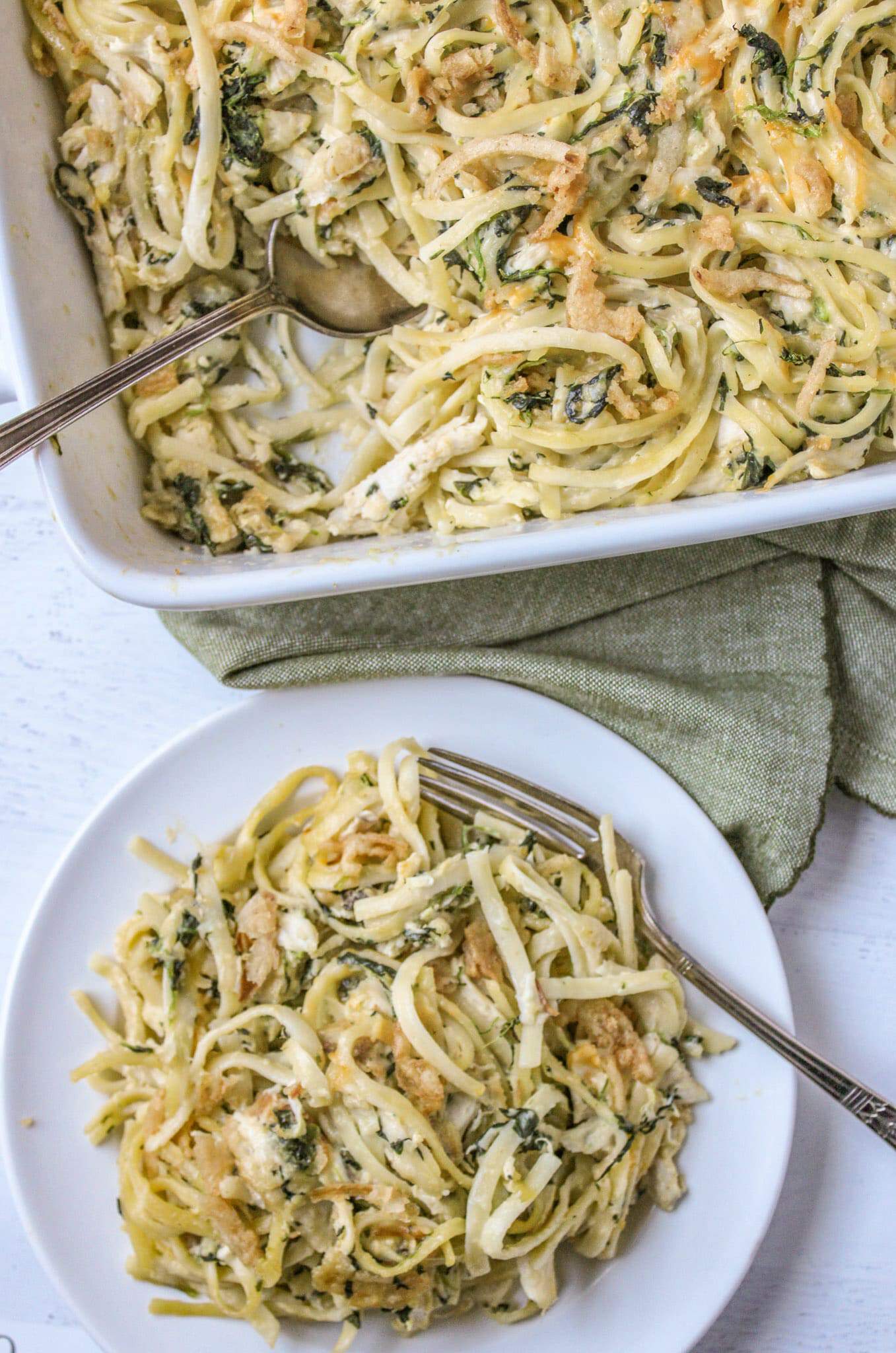 This spaghetti dinner has some chicken involved and some Monterey vibes. New South Charm introduced us to a dish with spinach and crispy fried onions at the forefront of flavor. Add a bit of extra cheese on top, because you can never have enough cheese, of course.
4. Cowboy
Cowboy spaghetti is a really fun time and can be made in iron skillet. Melissa's Southern Style Kitchen will give you the step-by-step directions. And it's sneakily packed with protein!
5. Pizza Baked
Check out Whitney Bond for a slight twist on the classic recipe but one that will thrill everyone in the house. This is pizza meets spaghetti. And all you have to do is bake the ingredients to make it extra crisp on top and cheesy too.
6. Mexican
Yes, you can even put a Mexican twist onto your at-home spaghetti dinner. Some spice, beef, and toppings you'd see on taco night too – they all come together in a delicious bowl full of satisfaction. Grab the recipe at Gonna Want Seconds.
7. Crack Chicken
It's got cheese. It's got chicken. It's got bacon too. It has everything you'd want in a homemade comfort dish. Check out how to make some crack chicken spaghetti (because everyone will most definitely want seconds) at Yummly.
8. Tomato, Spinach, and Chicken
We're loving this combination to top off your spaghetti. Some veggies and chicken too, this dish has a combination of family-friendly and good-for-you ingredients we all love. Check it out at Lovely Culinary.
9. Roasted Garlic with Chicken Meatballs
This is just another great recipe to love and salivate after. Top off your pasta with lots of roasted garlic and chicken meatballs for a healthier version of the great. Grab the details by visiting out friends at Pinch of Yum.
10. Ground Beef Carbonara
We have something special at Tornadough Alli for you. If you're already a fan of carbonara, then you'll want to snatch up this version. It's made with beef, so it's another family-friendly protein option and doesn't take too long in the kitchen either.
11. Mushroom and Garlic Roasted Tomato Spaghetti Carbonara
Spices in My DNA added in the veggies here. And they're hidden within the garlicy flavors and additions of bacon. And don't forget to top with some extra parmesan.
12. Buffalo Chicken
If you're a big fan of heat, then you'll want to check out this alternative spaghetti recipe from Plain Chicken. A hint of chicken and a bout of cheese and buffalo sauce make this a family-favorite. Serve it up with a light, summer salad on the side.
13. Steak & Pesto
Some families really love steak and others have more sophisticated palate and enjoy some pesto. This dish combines both and can be found by hopping over to Real Simple. It's a great date night meal at home.
14. Lemon Shrimp
A lighter recipe can be found at Salt & Lavender. With a bit of shrimp and lemon, you'll have the perfect summer dinner dish at your fingertips. And it's one that the family will find a bit more indulgent and special too.
15. Japanese Wasabi & Shrimp
Seonkyoung Longest put an Asian flair on their spaghetti dinner dish. Some spicy wasabi and shrimp top off this masterpiece quite nicely. It has a lighter flair than what we're used to with pasta dishes as well.
16. Rotel Chicken
Okay, we have another spaghetti filled with scrumptious chicken and this time it includes another popular kitchen staple. Adding a can of Rotel to the mix will provide a delicious kick! Grab the recipe at Let's Dish Recipe.
17. Cheesy Chicken
Cheese and chicken is always family-friendly as well. The Country Cook will walk you through all the guidelines and you'll be satisfied with an easy prep and cook time. And everyone else will be satisfied at the table too.