21 DIY Barn Door Projects For An Easy Home Transformation
Are you looking to add an extra bit of rustic charm to your house? Whether you want to switch our some doors or want to begin a revamp of your current space, we've got several projects that could help in the final vision. Check out these 21 DIY barn door projects that will help with an easy home transformation and sprinkle some warm, country vibes inside
1. Modern
House Seven made a sweet a simple barn door-styled sliding piece that not only jazzes up their space but divides up their living areas as well. Hop on over and check out the tutorial now!
2. Console
You can even take the idea of a sliding barn door and create something on a smaller scale. Visit Ana White to learn how to bring the style to your rustic TV console.
3. Chevron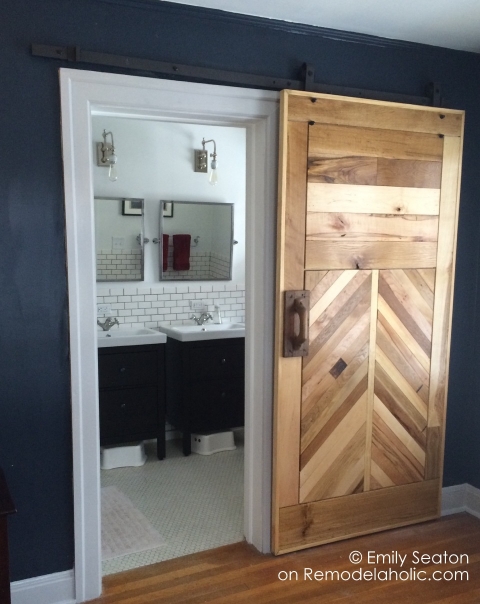 Remodelaholic made a barn door-esque piece with a chic and country-flavored chevron style we're loving. It presents rustic style in a more contemporary way.
4. Bathrooms
Check out this bathroom barn door project brought to you by Shades of Blue Interiors. It's distressed with a vintage style that we're swooning over!
5. Contemporary
Paper Daisy Design took the idea of a sliding barn door and turned it into something much more contemporary. Follow the link, take the jump and check it out for yourself!
6. Reclaimed
Reclaimed wood from a barn could be your key to the best accent for your home. All you need is a simple tutorial to take your vision from idea to reality. via
7. Distressed
The Handmade Home shows us how to install an expressive, distressed barn door inside your home. Of course, you can do a neutral or a color depending on your overall style and vision.
8. Double
Infarrantly Creative created a double door style that's perfect for porches, laundry rooms and even larger closets. Follow the link and grab all the details.
9. Two-Tone
If you're looking for a fun mix of rustic and modern, then you'll want to hop on over to Vintage Revivals and check out this snazzy design idea. A two-tone, barn door-inspired slider could be the topping to your guest bedroom.
10. Minimal
A Beautiful Mess also has a more contemporary design to peek at and learn from . Just hop on over and grab a look at the tutorial.
11. Chic
We;re absolutely in love with these chic, barn door sliders that accent this rustic-inspired living room. Grab the directions at Thrifty and Chic – of course you could always dip them in a darker neutral shade or pop of color!
12. Pallet
Lehman Lane grabbed some pallets and made a barn door accent from scratch! Follow along and get your hands dirty by the weekend.
13. Futuristic
Pretty Providence made a more futuristic design by getting inspired by all the barn doors we see "sliding" around rustic homes. If you want something more modern, check this one out now!
14. Fireplace
Designer Trapped took the idea of a sliding barn door and got really inventive and creative! Their fireplace screen took the same initiative.
15. Headboard
Of course an old barn door could also be turned into a headboard for the master bedroom! Gather around at Lil Luna and learn how now.
16. Accent
Sometimes just an accent is all you need. Run to Radiance took an old barn door and added texture and contrast to this space with ease.
17. French
The Space Between took some reclaimed barn wood and turn them into French doors that roll! And this sweet and feminine style can be recreated right at home with your own two hands.
18. Tin
You could even take some barn wood and turn it into a two-tone door by pairing it with some wood. What a fun accent this would be for any room! (via)
19. Kitchen
Find it Make it Love it used their barn door in the kitchen! With a bit of beautiful, yellow paint it became brand new and a beautiful contrast to the room.
20. Pantry
Porch turned their pantry door into a barn-inspired piece on wheels. Save space and create a better, more modern flow to your home.
21. Simple
And finally, here's a super simple, DIY barn door project that works for any space of the house. Just add wheels if you need them! (via)