15 Unique Bark Dessert Recipes
If you're anything like us when it comes to desserts, then you're probably all up to speed on which sweets and treats are the trendiest thing in homemade good and baking right now. We're sure you all remember the cronut phase or the time the world went crazy over waffle ice cream sandwiches! Recently, however, we've noticed a resurgence in the popularity of "bark" recipes, and in ever more unique flavours than before! If you've never had bark desserts, then you're in for a treat the first time you try these crunchy, sweet delectables.
Check out this list of the 15 most delicious and intriguing bark recipes we could from all across the Internet!
1. Birthday cake bark
Are you responsible for the treats at a friend or family member's birthday party, but the party is a surprise and you won't be able to sneak a whole cake in without being noticed? Make smaller birthday cake flavoured treats instead! On the menu, make sure you include this delicious and super festive looking birthday cake bark from Wine and Glue!
2. S'mores bark
Not all bark desserts look the same! Depending on the ingredients, some barks are a little bumpier and full of goodies than others. This S'mores recipe by Mom Endeavors, for example, is chalk full of graham crackers and marshmallows, all stuck together with drizzled chocolate. It tastes just like real S'mores and has a satisfying crunch!
3. Galaxy bark
Are your kids learning about space in school right now? Have they become as obsessed with Star Wars Rogue One as ours have? Then this galaxy space bark is the perfect snack to make with them! It might look a little weird to people with less adventurous appetites, but we assure you that, because it's really just made with differently coloured confectioners chocolate and star shaped sprinkles, it's completely delicious! Life With The Crust Cut Off shows you how to melt the chocolate down and get things swirling to look like the milky way.
4. Mint Oreo bark
Have you made bark of different kinds with your kids before and realized that they like the kind that combines two treats in one place best? That makes complete sense to us! Our favourite bark for combining treats is this one from Wine and Glue that's made with a blend of fresh tasting mint chocolate and crunchy crushed Oreo cookie pieces.
5. Samoa bark
Some bark recipes are so decadent that they're practically a whole bar, simply made thinner! We're huge fans of the way so many great ingredients can be packed into one dessert. Samoa bark is particularly rich and delicious because it includes chocolate, shortbread cookies, caramel, and coconut. Check out these simple steps for combining it all on
6. Pumpkin spice latte bark
Fall is technically over, but that doesn't mean you can't still enjoy seasonal flavours leftover from autumn on into the holidays and beyond! The pumpkin spice latte fanaticism, for example, lasts well beyond October and November, and we're pretty happy about that, but we like to find other ways to enjoy pumpkin spice too. If you're as obsessed with the flavour as we are, then you simply must check out this pumpkin spice bark recipe on The Kitchen Prep Blog.
7. Easter marshmallow bark
Do you, or perhaps your kids, have an affinity for fun looking novelty foods full of bright colours and contrasting textures or flavours? Then we're pretty sure you'll be at least a little bit intrigued by this colourful Easter marshmallow bark idea from Butter With a Side of Bread! As if chocolate dipped marshmallows weren't enough, this bark is even topped with fun coloured sprinkles.
8. Peanut butter truffle bark
Perhaps when you think of "sweet" treats, your brain goes to a more rich tasting place than the sugary sweetness of marshmallows? We love the combination of chocolate and peanut butter most, if we really think about it. This truffle bark combines those with caramel chips and pecans for the ultimate decadence. Check out how it's made on The Gunny Sack.
9. Cherry Garcia chocolate bark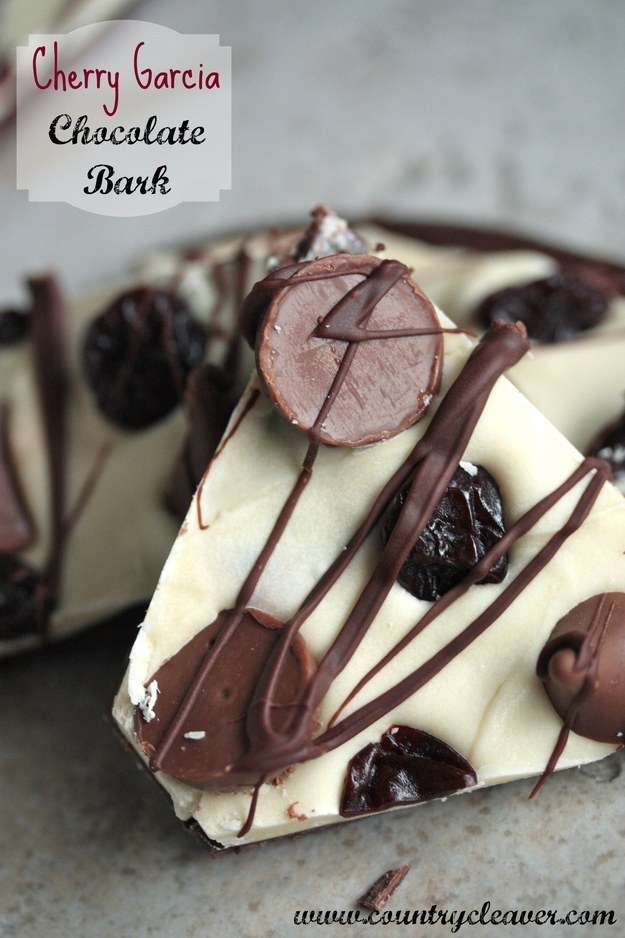 In our family, it's always been a holiday tradition to put a communal box of delicious chocolate cherries under the tree. They're not from or for anyone specifically, but the entire family eats them as they please over the course of Christmas day. Just because it's not quite Christmas yet, however, doesn't mean you have to resist that delicious chocolate cherry taste! Indulging in it also doesn't mean you have to sneak into that box of chocolates early. Try making and sharing this cherry garcia chocolate bark by Country Cleaver instead!
Cookie dough bark
Have you always loved dipping your spoon into the cookie dough before the cookies are baked, even though everyone says you're not supposed to? Well, here's one way to enjoy that great cookie dough taste in a more legitimate way (or we think so, at least)! Wine and Glue essentially suggests just dipping it right in some chocolate and calling it a day.
10. White toasted almond bark with sea salt
The View from Great Island guides you through the process of making a delicious bark that appeals to people with unique tastes in chocolate! If you prefer white chocolate or chocolate with a little bit of salt to balance the sweetness, then this bark recipe is practically made for you. It's also got almonds, for a little extra flavour and texture!
11. Rolo pretzel bark
Have you always loved the taste of chocolate caramel Rolos but you've also always kind of wished they had a little bit of crunch to them? Perhaps you've even imagined how good a light salt element would be in there as well. Lucky for us, A Sparkle of Genius has found a delicious way to make all of those candy dreams happen- with this Rolo pretzel bark recipe!
12. Rocky road chocolate bark
Rolos aren't the only brand name chocolate bar or treat flavour you can mimic at home! We also once had Rocky Road bark at a party and it basically blew our minds. We spent weeks trying to find the right recipe after that and we tried a few but they just weren't the same. Then, some months later, we stumbled across this recipe from Brown Eyed Baker that was the perfect combination of chocolate, marshmallow, and peanuts and all our problems were solved!
13. Chocolate pomegranate ginger bark
Have you always loved chocolate that contains fruit over most other types of candy bar? We, for example, have always had a soft spot for chocolate with orange, raspberry, or strawberry, but we'd never tried pomegranate in chocolate before until we tried this exact bark recipe by Vanilla Crunch. It's the perfect blend between rich chocolate and a burst of fruit.
14. Brownie batter bark
As if the idea of chocolate, chocolate chips, and a bit of icing wasn't good enough, this recipe has actually replaced regular chocolate with brownie batter for an extra fudgy texture and an especially decadent taste. Cookies and Cups shows you how to make the perfect batter and combine it with complementary ingredients and layers that will make your mouth water.
15. Milk chocolate potato chip bark
When it comes to novelty recipes, there are always a few within that category that are even more novelty than others. This recipe from The Kitchen Prep Blog, for example, takes the cake when it comes to bark! It's sweet and salty, it's crunchy, and it's a slightly strange taste combination that you might not think of right away when you first consider bark so, if you ask us, it's perfect. That's all because it contains potato chips!
Do you know someone who's just as obsessed with unique dessert barks as we are? Share this post with them for a little bit of inspiration!