Healthy Banana Baked Oatmeal With Berries Recipe
Banana Berry Baked Oatmeal is a make-ahead breakfast recipe that will have you eating a great breakfast all week. It is full of juicy berries and oats that form into a breakfast cake!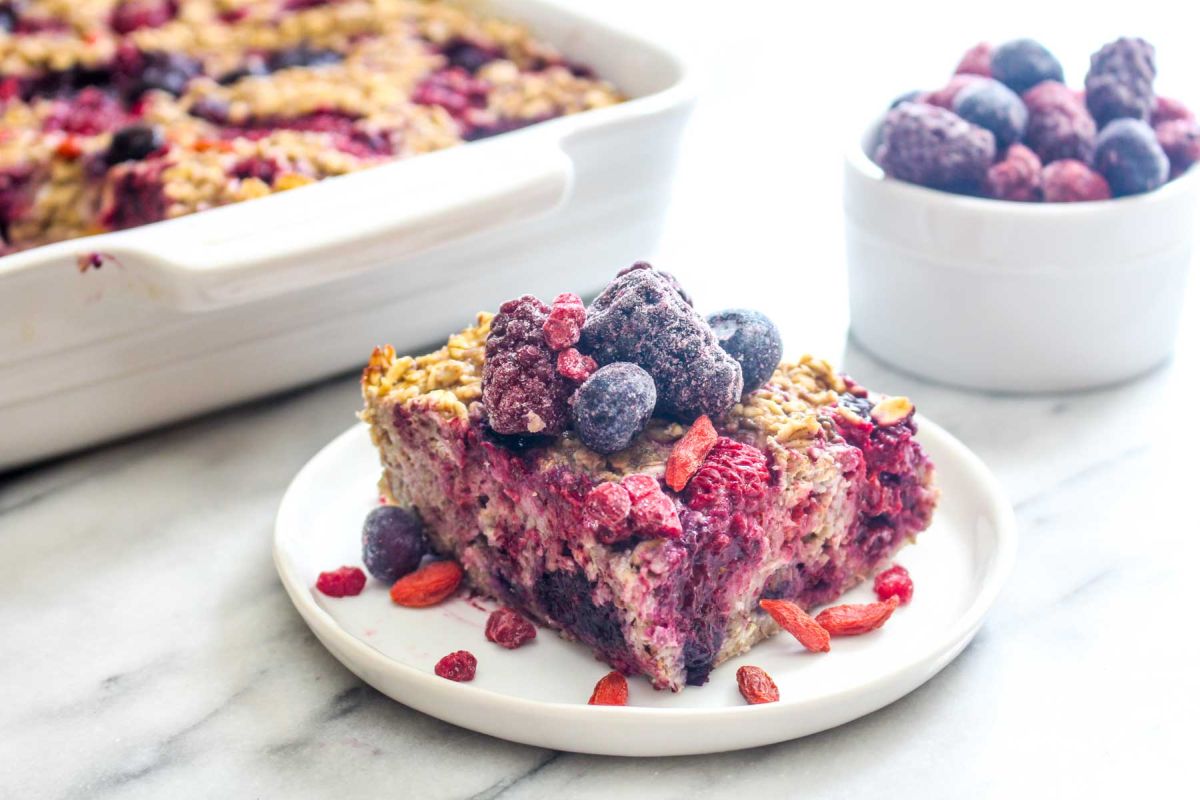 This Banana Berry Baked Oatmeal is like eating a cake/bread pudding/cobbler for breakfast but feeling GOOD about it.
The oatmeal soaks in all the liquid to form a cake-like texture. The berries soften and release their juices adding enough moisture to create the texture of a bread pudding while also giving that first juicy berry cooler feel.
Who doesn't want to wake up to this for breakfast?
This Healthy Banana Bread Oatmeal is also FAST and EASY.
The ingredients needed for this recipe are basic, and you might already have them all on hand. We use frozen berries for the convenience factor, but feel free to swap in fresh.
This Banana Berry Baked Oatmeal takes 10 minutes to throw together. You just stir together the dry, whisk the wet ingredients, and fold in the berries. Then it goes into the oven, and all you have to do is sit back and wait for, what will be, your new favorite breakfast.
Once the Banana Bread Baked Oatmeal is baked, you can eat it right away while its warm and gooey, and then store the leftovers in the fridge for easy breakfasts all week long. Just reheat and eat, or slice off a square and munch as you go.
I could sing the praises of this Banana Berry Baked Oatmeal all day long. Like how it is sweetened with only natural sweeteners, how the oats add loads of fiber and protein, or how the breakfast is so filling and satisfying that you won't need to reach for that mid-morning snack, but today, it is all about the berries.
Goji berries are an exotic addition to this recipe. If you can't find the berries, you can leave them out and the oatmeal will still be every bit as delicious. But, if you can track them down, they add a great texture and lots of nutrition.
Goji berries are a superfood that can help the body handle stress. They are also surprisingly high in protein, and are a superstar at boosting the immune system. Goji berries also boast the ability to increase feelings of well-being (they are called the "happy berry!"), aid in weight loss, and support healthy eye sight.
Raspberries are loaded with antioxidants that reduce inflammation and aging. They boost your mood, memory, and immune system. Like goji berries, raspberries can also aid in weight loss and maintenance. They are a high nutrient, low calorie snack – they come in at just one calorie a berry!
Ingredients you'll need for Banana Baked Oatmeal:
2 bananas
1 1/2 cup almond milk OR soy milk
1/4 cup maple syrup, plus more for topping
1 teaspoon vanilla extract
4 cups rolled oats
1/4 cup ground flax seeds
1/2 teaspoon cinnamon
1/4 teaspoon salt
1 cup frozen (or fresh) mixed berries, divided
2 tablespoons dried goji berries
Directions to prepare a healthy breakfast banana baked oatmeal:
Preheat the oven to 350 degrees. Spray a 9×9 baking dish with nonstick spray.
In a bowl, mash the bananas until they are smooth. Set aside.
In another bowl, whisk together the milk, maple syrup, and vanilla extract. Whisk in the mashed banana and set aside.
In another bowl, whisk together the rolled oats, ground flaxseed, cinnamon and salt.
Add the wet ingredients into the dry and stir to combine.
Fold in all of the goji berries and 3/4 cup of the frozen berries.
Add the dough to the baking dish and smooth the top out with a spatula. Sprinkle on the remaining berries.
Bake for 45 minutes, or until the center of the baked oatmeal has set. Serve.