Beautiful Baby Shower Dessert Tables To Recreate
For those hosting a party to celebrate a newly arriving bundle of joy, we have bouts of delicious inspiration to share with you today. One of the best part of a celebration are the sweets and aligning a table with a variety of those sugary bites can be a lot of fun and a great way to deck out the festivities. Below we've gathered a bunch of baby shower dessert tables you can recreate at home for your own event – and there are styles to suit a variety of visions!
1. Blue & White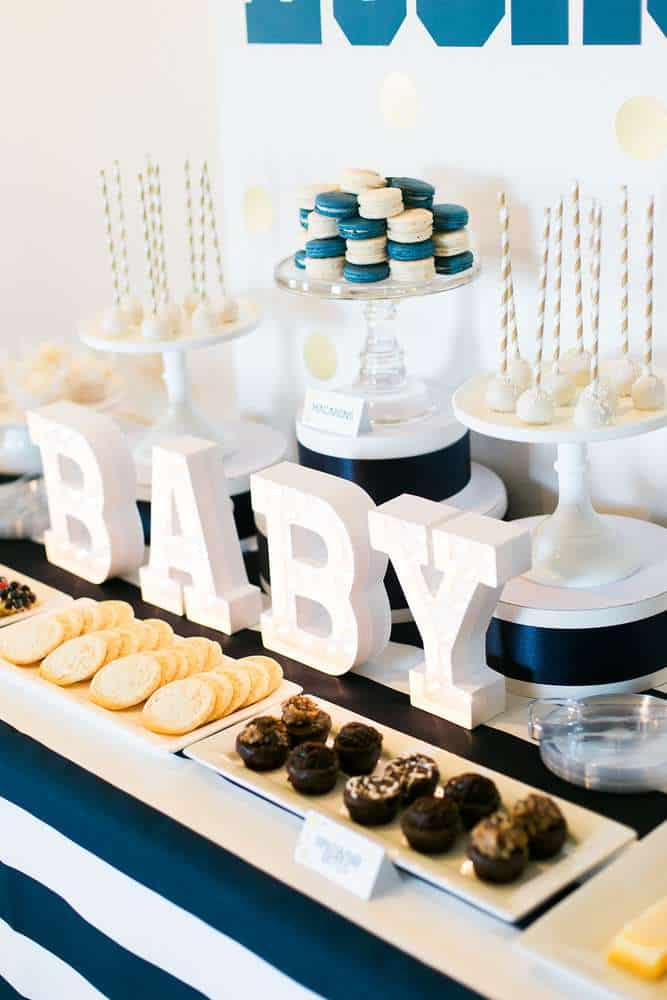 Catch My Party starts us off with some navy and white inspiration. This set-up works beautifully for a nautical-themed celebration or one for those that like a minimal style. Use golden accents to add glam – like with sprinkles or sugary toppings on all the sweets.
2. To the Moon & Back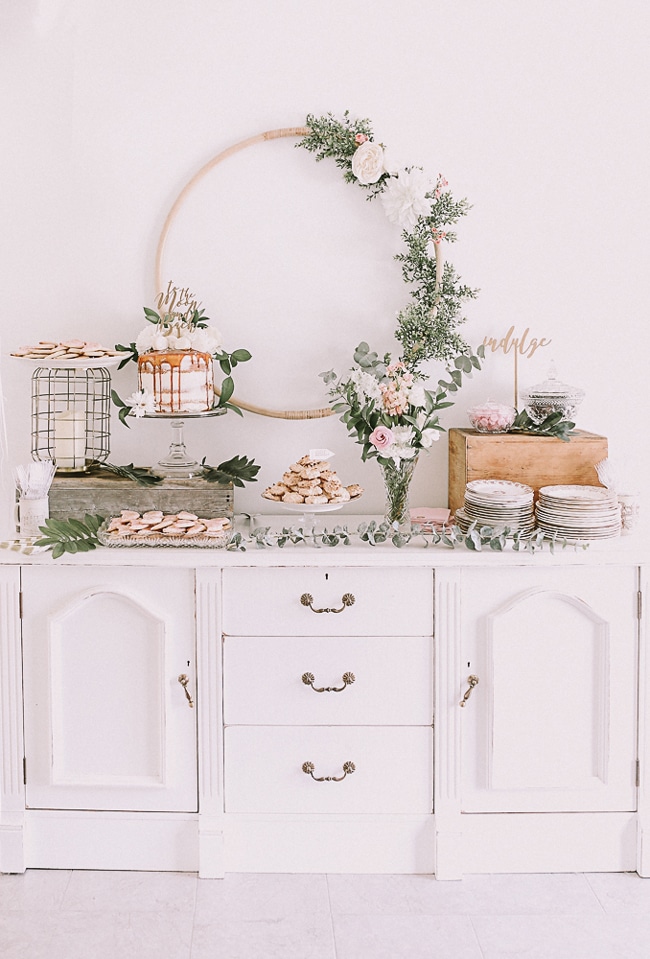 How charming is this little set-up from Pretty My Party? We love the organic, vintage feel that the style brings about. But we love the themed sweets even more, beautiful toppers on the cake, and there are even sugared moon cookies to munch on too.
3. Donuts
You could always just go full donut theme. Not only does this make for some pretty cute decor ideas but in terms of desserts – there's just one way to go. Check out more inspo at Baby Shower Ideas.
4. Classic
The Fabulous Moms Guide brings us a more traditional peek at a baby shower dessert table. There are onside and bottle cookies, small cupcakes, macaroons, and pink trim on all the edibles. It's a classic way to celebrate a baby on the way.
5. Airplanes
How adorable is this spread? If you're thinking of doing an airplane-themed shower or even if you decide to do trains, cars, or boats, this is an amazing tablescape to grab inspiration from. Thanks for the ideas The Quintessential Cake!
6. Rustic Style
Rustic style is in and that goes double for nursery transformations and the celebrations that stock them too. Anders Ruff Custom Designs gives us some beautiful inspiration on creating a dessert table with a bit of that in mind. The cotton, the natural tones, and even how the sweets have a touch of that rusticism in their creation.
7. Nautical
And Baby Showers Inc. gives us a quaint and beautiful nautical-inspired dessert table. Cookies, mini cupcakes, blue and silver candies to grab, and individualized desserts round out the creation. What really strikes our fancy is the framed artwork and lifesaver that adds to the those.
8. Floral
Themes don't have to be much more than just a vision you have in mind in terms of style. Smash Cake gave us this stunning floral dessert table that we grabbed for future inspo. We love the greens, the eucalyptus, and the florals that highlight all the sweetness.
9. All Cupcakes
Other times, your theme may be food inspired – as we saw with the donuts above. This time, we've grabbed some cupcakes and ran with it. Just check out this peek at a Petite Sweets Detroit table – fill it up with all the parents-to-be's favorite flavors.
10. Twinkle Little Star
We have another sky-inspired dessert table up for taking notes on. This spread from candeecouture.com is filled with glam and artistic appeal. The cotton makes the sweets look as though they're floating among the clouds; isn't it charming?
11. Forest
Forest themes can be fun too. And the way this space from Zee & Elle is set up gives off a stunning, modern style. The greens, the blacks from dark chocolate treats, and the tiered layers make it an invited table for guests to enjoy too.
12. Bumblebee
Martha Stewart gave us this idea for a table covered in bumblebees. We love how they're flying over the table, don't you – with a cake at center stage? Fill the rest of this space up with extra-special sweets to finish off the look.
13. Beauty & the Beast
Living Lesh is clearly a fan of Disney magic and used that as inspiration for this gorgeous creation. The cookies, the cake, and the roses that accent it all – it pays such beautiful homage to the classic, animated fairy-tale. And you could do this with any of your favorite films!
14. Modern Greenery
Sometimes a color is all you need to carry a theme. And this modern, green creaMwokaji Cakery