Cute Table Menu Ideas for Your Wedding
When it comes to organizing a wedding, a large portion of the organizational process revolves around food. What kinds of snacks and appetizers will you serve, and how will you serve them? Will you have a formal, family style dinner or  a casual, fun buffet? Let's be honest- the food is a huge part of the night for the guests too! You'll tell your guests what their food options are in advance, and you'll probably have them select their dinner before the big night as well, but most couples and wedding planners still like to leave the night's menu for each person on the table to remind them of their options. The menus are, of course, just another opportunity for a little more DIY in your wedding!
Check out these 15 classy, fun, or adorable wedding menu options that you can save a bit in your wedding budget for my making yourself!
1. Screen printed napkin menus
You have to give each of your guests a napkin anyways, so why not make them dual purpose? Your napkin can also serve as the table menu for peach person! We love this idea of printing the main courses in large writing and the side dishes smaller in between. Check it out in more detail on
2. Menu printed wedding place mats
Here's another dual purpose idea for you! Each guest will be getting a place mat already, so you might as well make good use of that space! We love the idea of printing the menu across the front of the place mat so that guests know what to expect as soon as they sit down! Check the idea out again on AP Design Co.
3. Vintage style newspaper menus
Have you decided on a beautiful vintage theme for your wedding? Choose a year from the right era for the style you've chosen and model your table menu after a news paper from that year! Write a cute, silly article about your wedding as the "front cover story", including one of your engagement photos, and then print the menu down the side. See how bylittlegoddies did this one.
4. Stacking upcycled crates
Are you throwing a shabby chic wedding that's full of rustic charm? Upcycling is a great way to add some character to your aesthetic and decor in many different aspects of your wedding, right down to your dinner menu! Check out these upcycled crates featuring chalk menu items by Glen Allsop!
5. Clipboard menu
Brides.com suggests keeping it simple and clean! Print your menu on some crisp recycled paper as though it's been typed on a vintage typewriter and clip if to a clip board, setting one on each table. Guests can pass the board back and forth if people want a reminder of which side they ordered!
6. Reclaimed wooden sign
Are you doing the rustic wedding theme and setting and you like the idea of a reclaimed element, but you'd rather not have precariously piled crates? Grab a paint marker and write your menu on a clean, smooth slab of wood! Check out the idea in more detail on Wedding Chicks.
7. Cutting board and a card
Sometimes a simple printed card will do. That doesn't sound very fancy for a wedding, but the character comes in how you display it! We love the way Snippet and Ink chose to scatter menus throughout the room for people to see by leaning old, stylishly weather cutting boards on various tables and counters with the menu card tied around the handle on a string.
8. DIY menu wheel
Do you feel like getting really arts and crafty about making your menu? We like the sounds of that too! These little DIY wheel menus are a cute way to display your menu that makes looking at meal options almost like a game for your guests, and they're a lot of fun for you to make too! Check out the full instructions for making them on Design Sponge!
9. Bread sleeve menu
Martha Stewart Weddings suggests another great dual purpose idea to save you time, resources, and space! If you plan to serve bread at each table, print the menu on the bag that you place each loaf in. Each person can read the menu as they pass the bread around to cut themselves pieces.
10. "Cootie catcher" menu
Do you remember the days of folding paper into "cootie catchers" or "fortune tellers" in middle school? You'd write a funny fortune inside the folded sides and play the game with your friends or your crush. Hearken back to those good old days by making your wedding day menu a little folded cootie catcher on each plate, just like these ones by Oh Lovely Day.
11. Chicken wire and clothes pins hanging menu
Wedding Chicks has another idea for a cute rustic chic wedding aesthetic, just in case the ones you've seen already weren't quite your thing! Find an old wooden window frame, attach some chicken wire to the back so it shows where the glass would normally sit, and then use clothes pins to attach cards with your menu items written on them.
12. Window writing menu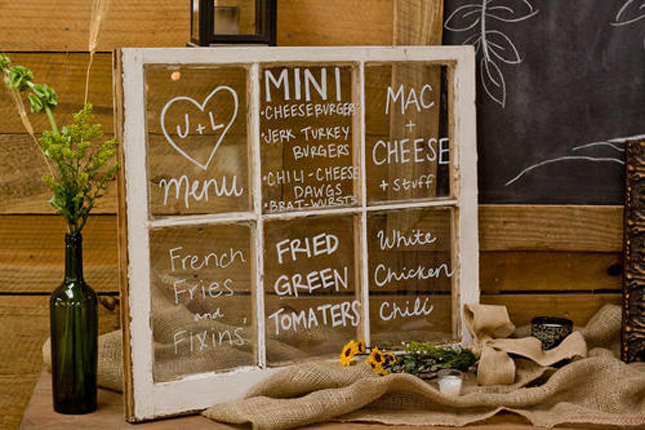 Do you love the window idea but you're not sure how you feel about the chicken wire idea? Find an old, stylishly weathered window frame that still has the glass and use window writers to write the menu items in each square! Get more details on Rustic Wedding Chic.
13. Hanging written mirror menu
Have you included gold in your colour scheme? Extend that in a nice metallic way into your dinner menu by writing it on the surface of a golden framed mirror! Set it up on an easel near the dinner room doorway or hang it from a study branch near the courtyard where the meal will take place. Bridal Guide shows you how it's done!
14. Painted pallet menu
We think it might be safe to say that we might include a way to upcycle pallets in almost every DIY list we make. Well, in keeping with that theme, here's another one for you: a wedding dinner menu! On each length of wood down the pallet, write an item on the left side and and a description of what the guests can expect with that on the right. See more details on Josh Snyder Photography.
15. Chalkboard paint plates menu
If you can get your hands on some beautifully decorative plates for a cheap price, grab enough to transform into a plate menu that dinner won't actually be served on, but that you'll still set out at each place setting before the meal arrives. Paint the centre of the plate with chalkboard paint and write the menu items there in chalk or white paint markers. See how Grey Likes Weddings made these ones!
Do you know someone who made their own wedding menus in a completely awesome way that you don't see here? Tell us all about how they did it in the comments section!