If there's any time of year that makes us feel motivated and ready to achieve things, it's back to school season! There's just something about seeing everyone get their supplies together and gather the things they'll need for learning that makes us feel like we're capable of just about anything too. That's why we're always helping our kids figure out awesome new DIY hacks to make back to school time easier, just like we used to do for ourselves when we were students! We might not be in school anymore, but we always have our eyes open for awesome crafty school hack ideas.
1. DIY EOS lip gloss highlighter
Highlighters are always a handy study tool to have around, but what if you're trying to establish a cuter, more cheerful supplies scheme this year in order to keep yourself feeling motivated to study this year? Well, if you're the kind of person who loves fun lip glosses and cute trinkets, we have a feeling you'll really enjoy the way Kimspired DIY turned an empty EOS lip gloss into a small, rounded highlighter!
2. DIY back to school survival kit
Do you actually have a friend or family member who is going back to school for the first time in a while (or maybe just after the summer) and you have a feeling they could use a light hand getting some of the basics together because you know they can be a little scattered in the classes department? Well, Mom Unleashed have labelled this awesome survival kit idea as being one that's fit for middle school but, honestly, we could have used these things in just about any year of study, and so could the current students we know!
3. Personalized back to school notebooks
Have you found yourself with a little bit of spare time before your classes start because you were slightly more organized than you thought you'd be in your school prep process, so now you're thinking about customizing some things? In that case, we'd absolutely suggest taking a look at how Momtastic made these fantastic notebooks by personalizing them with patterned fabric and paper!
4.  DIY homework caddy
Were you a pretty big fan of the compact, well put together school survival kit idea but the student in your life has more trouble stay focused on and prepared for homework than they do actual classes? Then perhaps you'd do them a better service by putting together this DIY, fully stocked homework caddy from Lemons, Lavender, and Laundry for them! Keep it on the corner of their desk so they can reach for whatever the need any time.
5. Back to school hanger stations
Perhaps your little students are generally pretty organized except when it comes to the things they need to grab and take with them as they're rushing out the door early in the morning? In that case, we think you'll appreciate the way House Envy turned their entryway mud room area into a bag hanger spot complete with baskets for each child and a mounted filer so they remember to grab the right homework or permission slips they'll need that day.
6. Homework station turn table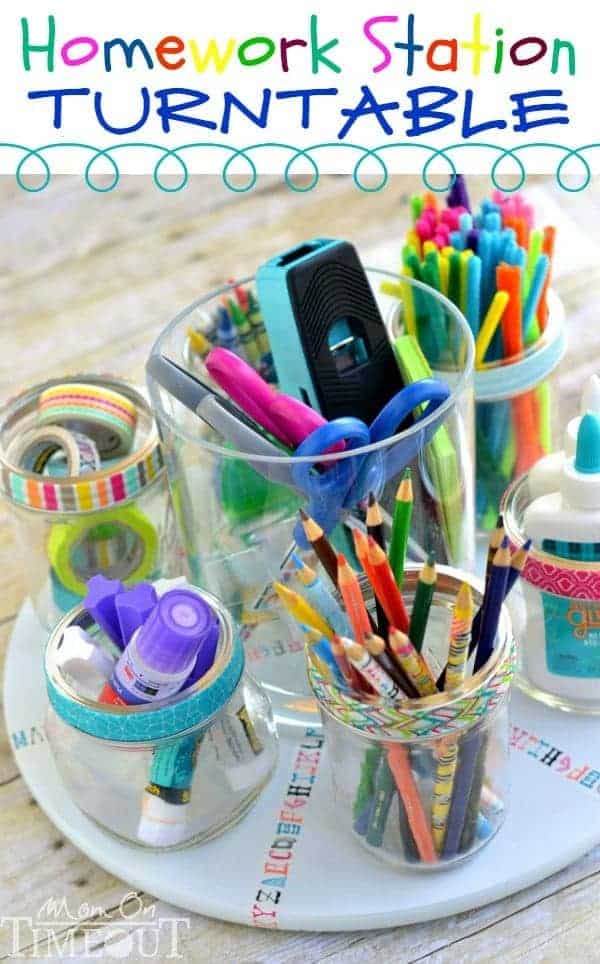 Were you a pretty big fan of the idea of making a homework supplies kit but your little students are still quite young and you think they'll be more likely to use it if there's some kind of neat novelty or interactive element to it? In that case, we'd absolutely suggest taking a look at how Mom on Time Out made this homework station turn table that you can place in the centre of the table between your kids where they can reach . out and turn it to get the things they need as they work.
7. Plastic drink bottle pencil case
If you're going to get creative with your back to school supplies, would you rather make something that will catch your classmates' eyes and perhaps let you do a little bit of upcycling, since that's your favourite kind of craft as of late? In that case, we'd definitely suggest taking a look at how Sara Beauty Corner turned an old plastic drink bottle into a very cool, eco-friendly pencil case complete with a zipper!
8. Foam cup math practice
Maybe you've actually been on the lookout for crafty, creative, and interactive ways to make homework, studying, and boring things like math help a little more fun at home? We find that helps our kids pay attention a little bit better too. That's why we loved this math equation activity made from stacked styrofoam cups that you can just turn! See how simple it is to make on Planning Playtime.
9. DIY school uniform hacks
Do your kids actually go to a school that requires them to wear uniforms, but the rules are lenient enough that they're allowed to practice a little bit of self expression when it comes to accessories or details? Well, if you're the kind of parent who loves sewing and embellishing, then we think this adorable tutorial from Cathie Filian was practically made for you! They show you how to add things like ribbons, ruffles, colour buttons, and so on to jazz things up in a subtle way that still adheres to dress code.
10.  DIY lipstick eraser
Were you actually a really big fan of the lip gloss highlighter as a concept and you'd really like to make something like that but you're just not sure you'll actually use it because you don't find yourself using highlighters very often? Then we have a feeling you'll get along a little better with this hilarious DIY lip chap craft that is actually an eraser inside! Get the full details for making one of your own on Crafty Panda.
11. DIY lunch box ice packs
If there was any single part of the back to school process you would take as much help with as you could, would you prefer to make the process of making and passing lunches as successful as possible? Then we think you'll appreciate the way My Kitchen Escapades made the concept of ice packs cheaper and more low maintenance for the whole year after one afternoon of making their very own packs from simple frozen sponges!
12. DIY duct tape lunch bag
Perhaps your kids are in need of new lunch bags but you hesitate to buy the same old store bought ones because you find that they just fall apart? Then maybe you'd prefer to try making them this year! We love the way this tutorial from Instructables outlines the process of making duct tape lunch bags step by step, and we also love how durable and easy to clean they are at the end of the day.
13.  No-sew reusable snack bag
Maybe part of your goal in using your DIY skills to your benefit this year's back to school process was to reduce your green impact on the environment as best you can? Well, one of the easiest places to make a start on that is in the lunch area! We've been trying to eliminate our use of plastic bags and these amazing, reusable, and simple to clean DIY snack bags from Made With Happy are a huge reason we've been successful.
14.  DIY dry erase chore chart
In our house, we find that back to school time also coordinates with the way hobbies, the need for chores, and the need for a little more discipline and around the house than we had during our wonderfully lazy summer months increases. Everyone's schedules just get so busy that we have to make sure we keep up! That's why we decided to try making an awesome dry erase chore board just like this one from Craving Some Creativity. We added homework hours to ours and our kids found it really effective.
15. Lunch making station hack
By this point, we're sure you're getting a clear picture that we're really not the biggest fan of making school lunches and are therefore always on the lookout for crafty ways to make it easier? In that case, we think this awesome snack station that makes it easy for kids to fill their own lunches quickly and easily will be right up your alley. Take a better look at WXYZ Detroit to see how this one was put together.
Do you know another crafty family or DIY enthusiast mom or student who loves using their skills to make the back to school season a little easier than usual? Share this post with them so they can discover even more ways to make that happen next time!