Every fall, we find that we miss the fresh summer breeze and the feeling of having our windows and doors thrown open. The moment it gets chillier and we have to close up the house again, we feel a little bit smothered for a few weeks. Even though we keep our house very clean and we know it smells pleasant, we find ourselves always worrying that it'll smell musty when guests come to visit. At the same time, however, we've never been big fans of store bought air fresheners because some of them contain ingredients that often trigger people's allergies and contribute to other health issues. That's why we started making our own!
In case you're also interested in making differently scented air fresheners yourself but you need a little bit of guidance, here are 15 great scents that we've tried before and would absolutely try again!
1. 4-ingredient DIY citrus air freshener
Citrus is a classic scent when it comes to cleaners because it's so refreshing. It's also a great scent, however, because lemon juice has its own natural antibacterial properties, meaning it's actually killing germs when you use it. That's why this natural DIY recipe is one of our go-tos! It's easy to make, pleasant to smell, and adds that extra bit of reassurance to your day that your house really is very clean. See how it's made on Live Simply.
2. Homemade air freshener with baking soda
Are you actually not the biggest fan of liquid and spray air fresheners because, no matter how natural they are, you don't like the idea of their residue and fallout getting on your furniture and your things? In that case, you might prefer a baking soda air freshener instead! Fresheners like this one from Top 10 Home Remedies are often scented (we love making ours with lavender essential oils just like this one here) and the powder absorbs strong smells and bacteria from the air. That's why you put it to sit out in a bowl or jar!
3. Scented wooden cubes air freshener
Wooden cubes might not sound like the first think you'd reach for when you want to make a room smell better, but you'd be surprised how effective this DIY method from North Story is! They teach you how to cut an especially absorbent kind of wood into cutes and soak it in a mixture containing your favourite essential oils so it holds the scent. Next, simply pile the cubes in a container (choose a decorative one if you want to set them out where they can be seen, since they do look pretty neat, after all) and let them give off their scent! You'll be surprised at how long they last.
4. Homemade gel air freshener
If you've ever been in a homewares store, you've probably seen these types of gel air fresheners before, but did you know that you can actually make them at home rather than buying them? We love that idea because then you have full control over the ingredients that you include and can customize the scent according to what you like best! In the meantime, this tutorial from Bitz n' Giggles teaches you how to make the basic gel part happen so that you can play with scents as you please.
5. Ginger and lemon kitchen air freshener
Perhaps you're still very fond of the idea of having lemon involved in your air freshener but you perhaps you'd enjoy having other scents involved as well, just for a bit of variation? Then here's another combination for you to consider! Popsugar suggests also adding cinnamon, a pin branch, and a tiny bit of vanilla extract, leaving them to soak in a jar so the scents mingle until you've got a fresh smelling spray for whenever you feel you need it.
6. Natural DIY cinnamon air freshener
Are you actually so in love with the scent of cinnamon that you'd rather let that scent stand out the most above all the others? Well, nothing says you have to combine your favourite smell with things that might dilute or take away from it. This scent jar from Birds and Blooms is a great blend that prioritizes cinnamon. We love the low maintenance method of the project; fill the mason jar and let it sit out on a table where the scents can disseminate freely!
7. Citrus and mint air freshener jars
Are you intrigued by the thought of these "fresh air" jars but you'd rather make a soak style mixture because then you can have fruit scents as well without the citrus slices simply going bad in the bottom of a jar? Then here's an alterative Birds and Blooms that shows you how to make exactly what you're looking for! We like the idea of combining lemons, limes, and oranges with mint so the room always smells fresh.
8. Gauze fabric covered air freshener
Are you leaning towards making a baking soda based recipe like the one we showed you previously, but you don't like the idea of leaving the jar or bowl without a top at all because you have curious pets who might knock it down? Then check out how Meatloaf and Melodrama covered theirs with a gauze or mesh cloth so that it does have a top, but not one that will stop the scents of the freshener and the smells of everyday life from making their way in and out of the baking soda mixture as needed.
9. Homemade deodorizing air freshener cakes
Are you the kind of thrifty crafter that would rather make a freshener for every room of your house at once so you can keep the whole place smelling nice from room to room, even in the winter when fresh air isn't really an option unless you want to be very cold? Then perhaps you'd be better off making these cakes from Soap Deli News! They're made with a similar mixture to the baking soda jars, but their tutorial shows you how to give the mixture a little more substance so it can be moulded into shaped cakes that you can leave wherever you feel necessary.
10. Homemade coloured gel air freshener
Were you a pretty big fan of the gel air freshener idea and you've made those before, so you already know what scents you like, but now you're looking to add a little something extra, since pretty fresheners can actually be part of your décor scheme? Well, we're pretty huge fans of colour, so this tutorial from Pretty Frugal Living that shows you how to make gel fresheners in all different colours is a favourite of ours! It's an easy one to follow in case you like to add simple little pops of colour to your home at every opportunity as well.
11. Pumpkin candle air fresheners
Are you the kind of crafter who loves finding seasonal projects and makes new versions of your favourite home essentials to suit the season every time the holiday changes? In that case, here's an awesome idea for fall! Hello Glow shows you not only how to make a citrus gel candle that will make the room smell great, but also how to make it in the bottom half of a cut pumpkin for it fits the Halloween and fall time décor you've got happening around the rest of your home.
12. Homemade rice air freshener
Were you intrigued by the idea of a scent soaked air freshener that you can just leave for as long as you need, but you were hoping to make it today and you just don't have any baking soda right now? Then check out how The Homemade Experiment made a similar thing using rice instead! Their tutorial shows you how to soak uncooked rice in an essential oil mixture so that it works like a diffuser if you leave it in a pretty bowl.
13. DIY natural terra cotta air freshener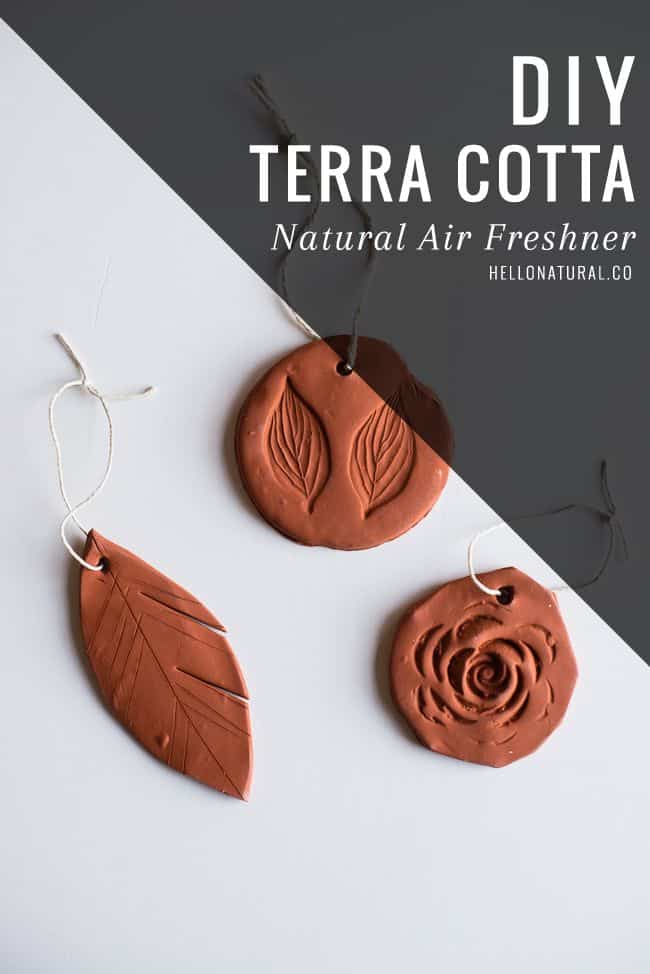 Would you rather make a design or shape that you can customize completely on your own so you can make some decorative hanging pieces but still keep your place fresh? In that case, we definitely think you should take a look at this tutorial from Hello Glow! They show you how to mix the terra cotta clay, scent it with essential oils, and mould it or engrave it in different decorative patterns.
14. Felted pom pom car air freshener
Are you a yarn and textiles worker primarily when you craft and do DIY, so any time you branch out, you still like to involve woolen materials in some way at every opportunity? In that case, we have a feeling you're going to enjoy this felted wool car air freshener! Designer Trapped in a Lawyer's Body shows you how to felt spherical beads, soak them in an essential oils mixture, and hang them from your review mirror so your car smells pleasant all the time.
15. Homemade rattan reed diffuser sticks
We've bought branded ratten reed sticks and essential oil mixes from the store before and thoroughly enjoyed their air freshening effect, but we really do prefer making things ourselves whenever it's at all possible. That's why we were so determined to make our own reed diffuser! Imagine how excited we were, then, when we came across this tutorial from The Natural Penguin. They guide you through the process of choosing a container, customizing it, mixing your oils and scents, and placing just the right number of reeds to get that perfectly fresh effect.
Do you know someone who is completely obsessed with fragrant, refreshing air freshener ideas but who has been trying to move away from conventional store bought ones for health reasons? Share this post with them instead to give them lots of natural alternatives!