Fancy DIY Water Bottle Designs
In our family, everyone is very active. That means that we're all always carrying around water bottles in order to try and keep ourselves well hydrated throughout the day. We've been very cognizant lately, however, of the kind of harmful impact constantly using disposable plastic bottles of water and throwing them away can have on the environment, even if you put them in your blue recycling box. That's why we swapped the whole family to a series of refillable, reusable bottles that they can carry with them instead! When we first bought them, however, our kids immediately informed us that they weren't "fun looking" enough so, being the DIY enthusiasts we are, we immediately started looking up fun tutorials that would teach us how to customize the water bottles in creative ways.
Just in case you're also looking for a little bit of guidance in the water bottle decorating department, here ae 15 of the very best ideas we found, complete with instructions on how to make your very own versions!
1. Sticker layered water bottles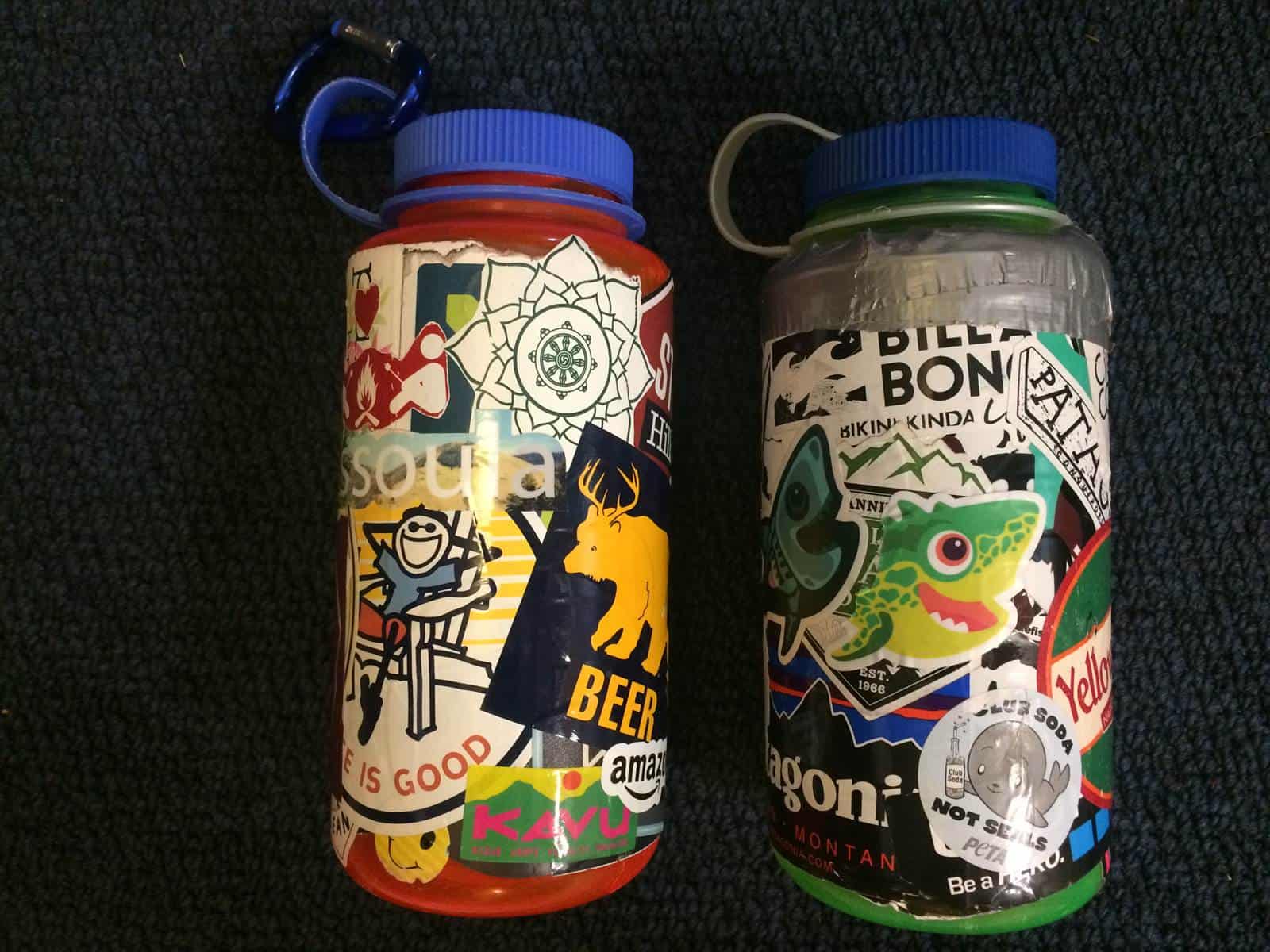 Have your kids always collected stickers, loving the colours and pictures they come with, but they haven't always used them for anything or kept them in sticker books? Well, maybe it's time to put those to good use now instead! We love the way The Odyssey Online started with a few stickers as the base and layered them like a mosaic over each other until the whole bottle is covered in awesome characters and shapes.
2. Painted stencil water bottle DIY
Have you ever used all purpose paint on a water bottle before, or have you been hesitant because you think the paint will just chip and scratch off when you scrub the water bottle in the dishes? Well, Passing Fancy has a technique that might help you with that! They show you how to use a durable all purpose enamel paint to create any hand painted designs you please or, if you prefer very neat, evenly sized letters and numbers, try it with a stencil like they do in the tutorial!
3. DIY water bottle labels
Are you actually resorting to disposable plastic water bottles for once because you're having a big party for the kids and you want to make sure everyone has a drink that's not sugary to balance out all the party food they're about to have? That's a pretty good reason to hand out bottles as long as you're willing to recycle them after, but since you're not keeping them at the end, why not customize them for the occasion specifically? We like the way Creative Ramblings designed and printed party labels themed after the movie Frozen.
4. Cut vinyl water bottle decals
Are you a huge fan of vinyl cut projects because you're the proud owner of a Cricut machine that you just absolutely love using? Well, then you'll love to hear that you can absolutely use your Cricut machine to create water bottle designs that are personalized to you and your family! Suburban Wife, City Life shows you how it's done, complete with shapes and names.