These 15 4th of July Cakes Will Top Off Your Summer BBQ
Independence Day is right around the corner and it's time to start thinking about the menu! Whether you're hosting a block party for the neighborhood or having a simple BBQ with the fam, you'll want something sweet while you watch the fireworks in the distance. And these 15 4th of July cakes below will top everything off just right. Let's have a peek at the red, white, and blue sweetness!
1. Fruit Flag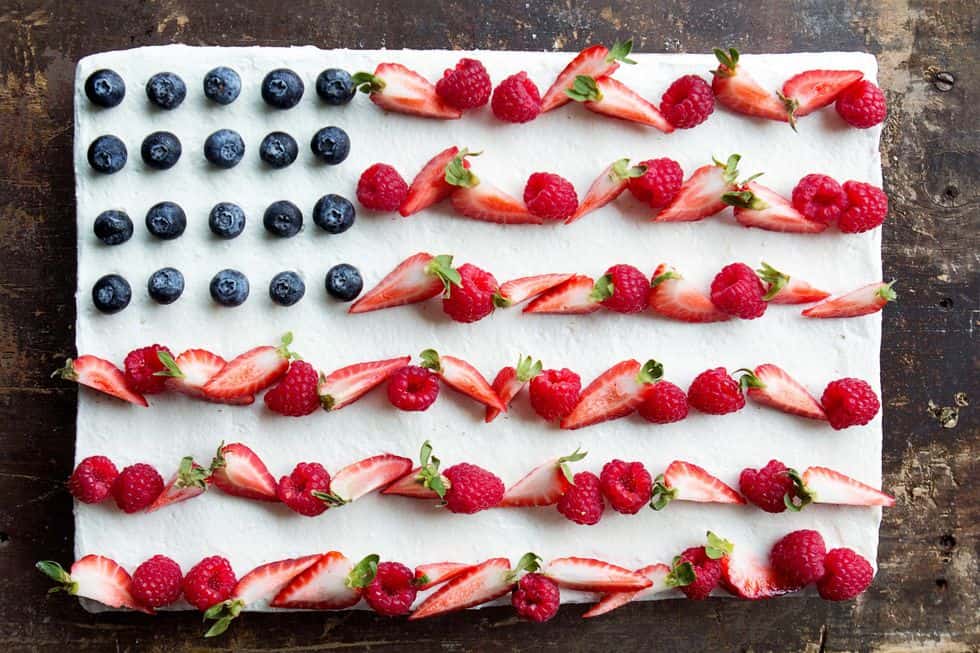 Create a sheet cake that resembled the flag … using fresh fruit! This is a delicious summertime treat that will top off your neighborhood potluck with style. Check out all of the details for this one by visiting Delish.
2. Red, White, & Blue
Here's a simple red, white, and blue layer cake that you'll be able to whip up in a jiffy. Check out the recipe by visiting The Gunny Sack. And don't forget the sprinkles, the kiddos will want you to help decorate after the icing goes on.
3. 4th of July Bundt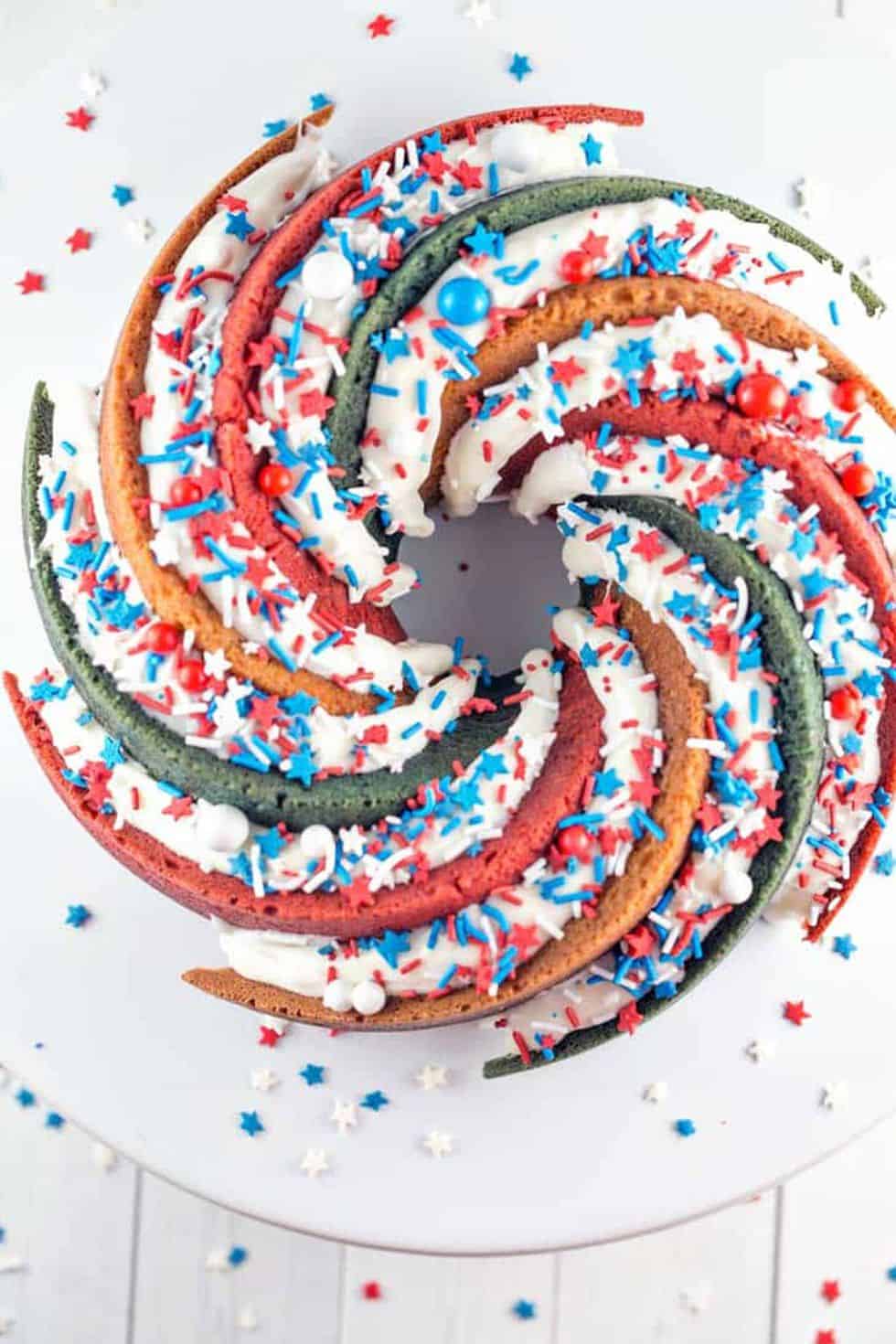 You could always go a little crazy with a bundt cake. This layered beauty from Bunsen Burner Bakery is both delicious and festive. And it's such a fun design that it'll make the dessert table look even more ready for the 4th!
4. The 4th Roll
If you're a fan of cake rolls, then you'll really love this one from Taste and Tell. It's got a patriotic edge and it's not too hard to whip together in an afternoon. The colors are perfect for the celebration!
5. America Poke Cake
Poke cakes are oh so yummy. They're sweet, they're moist, and when topped with fresh fruits, perfect for summertime too. Visit Betty Crocker for all of the know-how behind this dessert.
6. Sparkler Cake
Bring in some extra special festivity with this "sparkler" cake from Sprinkle Some Fun. It's got color, it's got style, and it's got a lot of delicious flavor too. If you love French vanilla, you'll love this one! And you can even make it a "camo" surprise inside!
7.  Zinger Cake
If you're already a fan of zinger cakes then you'll want to learn how to make this red, white, and blue one too. Check out the details at Home. Made. Interest. And if you don't know what a zinger cake is, how does coconut and marshmallow sound to you?
8. Striped Cheesecake Cake
Recipe Girl has another striped cake that you'll want to take a peek at. Check out the recipe and tutorial after the jump. The sprinkles are a must there too!
9. Firecracker Cupcakes
Mom Endeavors went the cupcake route with their 4th of July menu. These cupcakes are yummy and are topped with edible firecrackers! Grab the kiddos and have them help you out!
10. American Flag Cake
This recipe from Food52 takes a classic layer cake to an entirely different level. Here you'll be able to cut right into an American flag. Visit now and grab the details.
11. Patriotic Cookie Cake
Dinner At The Zoo went with cookies as their inspiration. This is a great alternative to a classic cake, and it's one that everyone will want seconds of. Use chocolate chips or patriotic M&M's – or both!
12. M&M Flag Cake
Two Sisters Crafting used M&M's for their 4th of July cake creation as well. In fact, it's completely covered in it! Slice into this candied-beauty and have all the kids in the neighborhood pumped to take a bite.
13. Angel Food Cake with Berries
Blahnik Baker went with a layered angel food cake that paid homage to the season as well. Layered with berries and coconut whipped cream, it's a light and delicious treat for the summer months. Grab the 411 after the jump.
14. Independence Trifle
Trifles could be a great way to serve up dessert for your block party this Independence Day. It combines all of our favorites, pudding, fruit and cake too. Grab it at Skinny Taste.
15. Buttercream Stars & Stripes
Finally, visit Erin Bakes to learn how to make this buttercream beauty. If you want to play around with icing a little bit, then this is the cake to try your hands at. The texture is so pretty!