15 DIY 4th of July Decorations For Your Home
Get creative this weekend and give the house a red, white, and blue makeover. Just in time to celebrate in style, we've gathered 15 DIY 4th of July decorations for your home. Grab the kiddos and get a little messy. These are all quick and easy-to-follow tutorials that will add just the right amount of festivity to your space.
1. Fake Sparklers
Brit + Co showed us how to make some pretty, "fake" sparklers and we snatched up the genius idea in about .01 seconds. This is the perfect way to celebrate with the kiddos or if you want to nix the danger of a real fire.
2. Red, White, & Blue Windsock
Windsocks will make your porch or patio so much more fun for the summertime. And if made with a bout of red, white, and blue, you'll be ready for Independence Day and all the festivities. Check out this tutorial at Hey Let's Make Stuff.
3. Patriotic Flower Pot
Even your flower pots could hold a bit of patriotism. Check out how to turn some simple pots into flag-inspired pieces by visiting Lolly Jane. Then line your front steps with them!
4. Painted Lawn Stars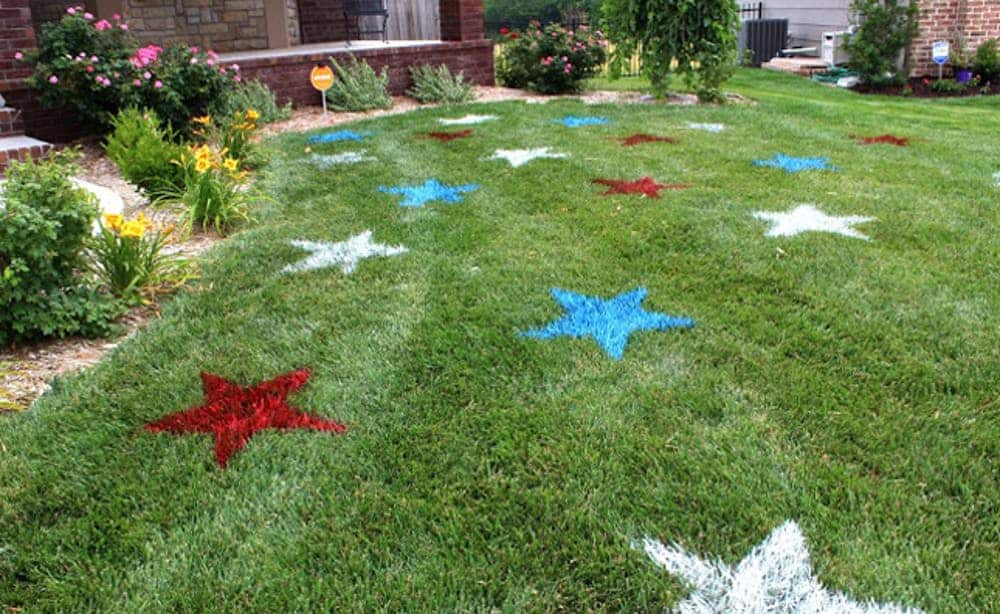 You could always just decorate the lawn, especially if you're having the neighbors over for some fun. Grab the details behind this innovative idea by visiting The Concrete Cottage.
5. Flag Lanterns
Thrifty Decor Chick turned some mason jars into Independence Day-inspired lanterns. This is an easy tutorial to spend an afternoon doing and getting ready for the celebration. You can even hire some friends or kiddos to help you out.
6. Recycled Bottle Centerpiece
At the Picket Fence teaches us to not throw away out our bottles. Instead, recycle them! You can create a beautiful, patriotic centerpiece by started with them first.
7. String Lights
You can even create some of your own string lights for the front or back porch! It's the perfect way to add some light once the sun goes down. Grab all of the details by following along at eHow.
8. Brave Wall Art
You may even want to decorate inside of the house. This could be a really fun way to add some wall art to the home. We found this easy idea while visiting That's What Che Said.
9. Pinwheel Wreath
Wreaths are a must. Try visiting this tutorial at Blooming Homestead to learn how to whip one up for yourself. You could always make more than one to cover the back door as well!
10. USA Sign
If you're into rustic style, you may want to check out this idea found at Houseful of Homemade. Made from wood and a little paint, you could easily put this in or outside the house for extra festivity.
11. Firecracker Favors
If you're having a party, why not add some favors to the mix? They'll be able to decorate the tables and your guest will walk away with some candy as well. Learn how to make these sweet-filled firecrackers over at Good Housekeeping.
12. Pallet Flag
The Magic Brush created a large, American flag out of wooden pieces. If you have access to or have some extra laying around the garage, put those pallets to good use and turn them into something for the front porch!
13. Hot Dog Boats
Even the food for the evening could be dressed to impressed President Washington. Learn how to make some fun hot dog boats over at Asthetic Nest. Of course, they can be used for other food as well; tacos, desserts, and more!
14. Burlap Banner
See Vanessa Craft grabbed some burlap and created a fun little banner out of it. We love this rustic idea and all of the ways you can use it. On the banister, mantles, or even outside on the porch, it'll add a bit of something special.
15. American Flag Backdrop
And finally, visit Brit + Co again and learn how to whip up one of these gorgeous American flag backdrops. It's a great way to bring some photo ops into the space and dress the house for the celebration!