15 Free Cross Stitching Patterns for Babies
When it comes to making hand crafted wares for new parents and their precious new babies, there are countless kinds of DIY things you can make. Some people knit blankets and booties while others sew adorable onesies. Lately, however, we've been obsessed with the idea of baby cross stitching. Needlework has long been a highly valued handicraft that not everyone is capable of, so anyone who receives your cross stitched gifts will undoubtedly consider them a work of art. Even if you're a near beginner and the patterns you're stitching aren't overly complicated, the level of love and effort you put into the piece will be more than evident!
To get you started, check out these 15 adorable baby cross stitching patterns that make perfect shower gifts.
1. Wrinkled baby feet pattern
This simple pattern from Handmade Adelaide Baby shows you how to emulate, in embroidery floss, one of every parent's favourite features of their newborn baby; their wrinkly little feet! Besides the cute image, this pattern also outlines how to do a simple bit of text that really brings the piece together.
2. Bear and blankie pattern
What's better than a stitched pattern of an adorable little teddy bear? Why, a teddy bear snuggling his very own little blankie, of course! This fuzzy friend by Abzerd makes a stunning decorative gift for the parents of a new baby of any sex or gender.
3. Vintage clothing cross stitch details
Embroidery cloth isn't the only thing you can cross stitch pretty little patterns into! This vintage pattern from a book that was first published in 1916, for example, was originally intended for newborn clothing as a lovely embroidered detail for plainer garments. Many skilled hand stitchers also put it on bonnets and bedding pieces. No matter where you decide to embroider your pretty floral frames, Sentimental Baby has the pattern to help you make them happen.
4. Baby Ariel and Flounder
When it comes to characters and incorporating them into your crafts, are you a Disney fan first and foremost? Then we have a feeling you're going to love this simple colour blocked pattern from My Cross Stitch Patterns! We can't get over how cute their version of baby Ariel and baby Flounder look compared to their older selves in the original Disney cartoon.
5. Giraffe and singing bird
Do you love the idea of creating a cute little cartoon but you're not sure you want to choose a franchised character? Then perhaps a little animal illustration is more your style instead! We're pretty smitten with this adorable giraffe and his bird friend featured on Daily Cross Stitch.
6. Simple baby name with flowers
Maybe you'd rather have some text involved in the pattern you embroider rather than just images or cartoons? Well, just because you want your patter to be text-heavy doesn't mean you have to make it plain! We love the way Tiny Modernist guides you through not just embroidering a name but also surrounding it with adorable, whimsical flowers.
7. "Comforted With Love" Precious Moments pattern
Do you remember the Precious Moments drawings and figurines from the 1990s and early 2000s? Their big cartoon eyes an sweet little faces were very trendy when it came to baby décor and trinket gifts. Well, believe it or not, Precious Moments things have been making a comeback, and we're pretty happy about it! We think a simple cross stitching project is the perfect way to introduce new parents to the drawings and maybe even stir up some memories from their own childhoods. Get the full pattern on Cross Stitch Patterns.
8. Vintage cross stitch lettering
Did you love the idea of creating a stunning embroidered piece using a vintage pattern but you'd rather create a word or a name than a floral image? Then check out these detailed little letters from a French book published in 1922. Sentimental Baby has them for you on their page!
9. Noah's Ark pattern
If you're going to put a lot of effort into embroidering an image, would you rather have it be one that's a little more classic and linked to stories you've heard since childhood? Then Noah's Ark is a fantastic theme for you. The idea of stitching all those little animals might be intimidating at first, but we don't think you'll have much trouble with this pattern from Drap Cushions.
10. Baby carriage and birdie pattern
Maybe you just like the idea of stitching vintage patterns but you're not actually too bothered with whether or not they're actually from vintage books or whether they just look vintage in the way they're styled? Then we think you'll love this beautifully designed baby stroller with a little bird outlined on Cross Stitch Patterns.
11. Vintage falling chicks pattern
Are you still intrigued by the idea of stitching old French patterns from vintage books like the ones found on Sentimental Baby but you're not sure letters or little floral frames are quite what you want to complete? Then maybe these funny little birds are a better choice! You can repeat their little line, teetering and falling and getting back up, as many times as you please on whatever your embroidery piece of choice is!
12. Baby Batman pattern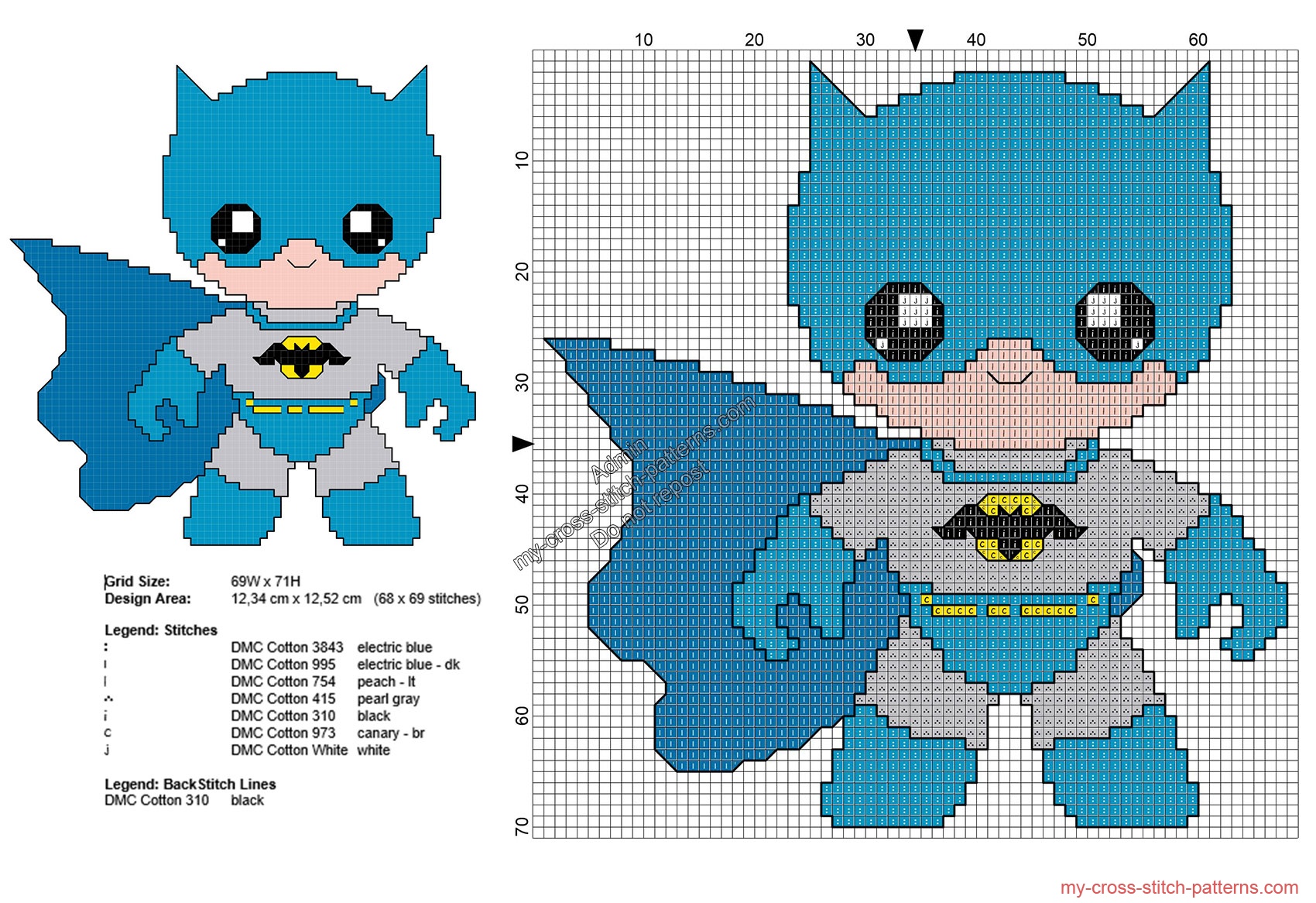 Are you still thinking about how adorable baby versions of classic cartoon characters look but you'd rather embroider something that's perfect for a little boy? Well, you can't get much more perfect than Batman! We're crazy about this super cute baby Batman pattern from My Cross Stitch Patterns that would look great stitched on a blanket or even just onto an embroidery cloth backing in a little frame.
13. Little teddy bear letters
Perhaps you're still thinking about what you'd write in letters to welcome a new baby to its family but you're rather something a little more fun and novelty than the vintage looking letters we've shown you so far? Then we think these little teddy bears tumbling through the alphabet might be more your style! Find out how they're done on Thrifty Fun.
14. Ring Around the Rosie vintage pattern
Are you so into the idea of cross stitching a vintage pattern that you'd actually like to take on something a little more intricate that might be a little more challenging? Then why not embroider something that involves a whole scene? We can't get over how cute this Ring Around the Rosie inspired image from an early 1900s French pattern book is. You can find it in its entirety on Sentimental Baby.
15. Hello Nature giraffe pattern
Are the parents whose baby you're cross stitching for huge nature enthusiasts and total outdoorsy people who spend a lot of their time hiking and enjoying the great wilderness around them? Then chances are good that their baby will be raised for a great appreciation of outdoor activities too! This nature themed giraffe pattern, then, makes the perfect gift. See it all on Alex Stitches!
Do you know a fellow cross stitching enthusiast with loved ones who are expecting? Share this post with them so they can try their hand at a few new patterns during baby shower season!