Personalize Your Wrapping Paper With These 25 DIY Designs
Instead of grabbing some plain and drab paper from the store, decorate your friends' and family members' gifts in a special way. From embellishments to hand-drawn elements there are tons of ways to make your presents for others pop. Personalize your wrapping paper with these 25 DIY designs and ideas!
1. Paint-Splattered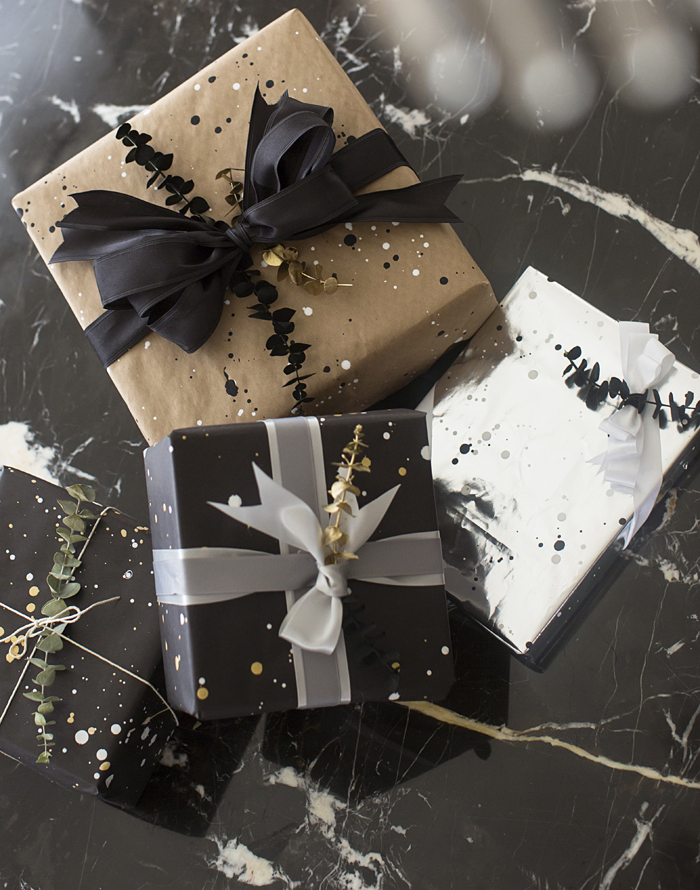 Song of Style has some gorgeous paint splattered wrapping paper that was done completely by hand! We're swooning over it and can't wait to try out this idea for ourselves!
2. Bubble Print
Over at Hello DIY you'll find out how to recreate this funky, bubble print for all kinds of gifts – from holiday to birthday this quirky look will work!
3. Chevron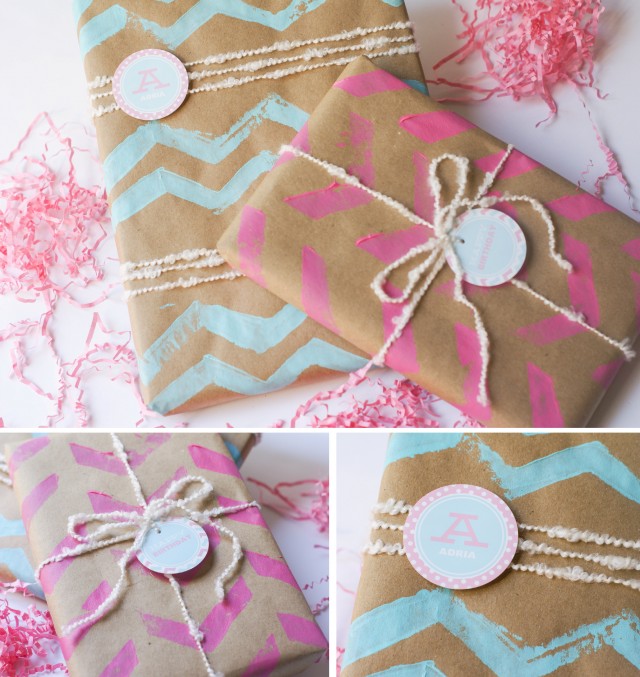 You can even make some of your own chevron-printed wrapping paper with help from Ander's Ruff. Lots of colors, a bit of embellishments and name tags come in handy too!
4. Painted Dots
Check out these gift envelopes that were adorned with golden polka dots. Fellow Fellow gives us the easy scoop on how to recreate these at home.
5. Stars
Heather …. From Scratch shows us how to make one of these festive beauties. Full of stars and lots of fun putting them together, these are great for birthdays or even graduation celebrations.
6.Hand Stamped
Create some handmade stamps and then design your own wrapping paper! Use kraft papers or construction paper as your base and allow Cotton and Flax to guide you.
7. Martha Stewart Stencil
Check out this awesome DIY with the help of Martha Stewart stencils. A Night Owl gives us the this great tutorial on how to use them right.
8. Map
A Beautiful Mess created this pretty little gift with the help of some maps! This is perfect for personalizing specific presents based on hometowns, travel plans and the like.
9. Fringe Garland
A bit of fringe garland could make the biggest difference on your package. Embellish, adorn and design with this idea from A Beautiful Mess.
10. Potato Stamps
You can even get help from potatoes in making those beautiful wrapping paper bits. Brit + Co has all of the details and directions on trying this at home.
11. Little Mice
Learn how to wrap your gifts like little mice over at Handmade Charlotte. They're adorable, they're innovative and super memorable too.
12. Pom-Poms
The Paper Mama made these adorable pom-pom cuties that are perfect for any time of the year from Christmas to birthdays! All you need is some glue to get started.
13. Doilies
Over at Creme De La Craft you'll learn how to design your own wrapping paper with the help of doilies! This idea will make such a unique and beautiful way to show you care.
14. Watermelon
You're going to fall in love with this DIY wrapping paper design from Alice & Lois. It's perfect for spring or summertime birthdays, don't you think?
15. Wrap.Me
If you visit Fall For DIY, you'll find out how to use Wrap.Me. This is a spot where you can have your wrapping paper completely customized in an easy, peasy way.
16. Spray-Painted
How does spray-painted gift wrap sound? Get to work created some gorgeous colors and ombre effects with the help from Oh So Beautiful Paper.
17. Ball Stamps
Have you ever thought about using tennis balls or golf balls as stamps for your paper? Well, do what Oh Happy Day did and use them … because you can create this!
18. Confetti
Why not make your entire present, one huge piece of confetti? Check out minieco for all the details involved in this special wrapping paper design.
19. Geo-Print
If you're into more modern designs then you may want to check out this chic and contemporary idea from bastisRIKE. It's simple but packs a punch!
20. Fruit
The House That Lars Built has a bunch of fun ways to wrap your goodies. And they all involve fruit! Check out the details and start experimenting now!
21. Tools
Visit Oh Happy Day again to watch how different tools can transform your wrapping paper as well. From paint brushes to a spray bottle, it's so much fun to see!
22. Free Painted
Check out this free-hand painted wrapping paper design from Handmade Charlotte that we are absolutely swooning over. Use this as inspiration for creating some of your own unique prints.
23. Pixel Weave
Brit + Co gives us another funky idea in the form of pixels! Learn how to wrap your loved ones' gifts in a way that makes them so beautiful they won't want to ruin it!
24. Washi Tape
Check out this washi tape and feather embellished package from A Beautiful Mess. We love the unique combination and how much more thoughtful the gift becomes this way.
25. Sponge Dots
Check out these sponge-made polka dots! Shimmer up those kraft paper rolls that you have with this easy idea, even novice crafters will get right. (via claireabellamakes)