21 White Elephant Gift Ideas For Making The Most Memorable Exchange Yet!
White elephants parties can be so much fun for a group of gal pals, work friends or even the kids' sports team at school. Grab a gift, gather round and start duking it out for the best one – or the most hilarious! And if you decide to DIY your present, there are hundreds of pieces of inspiration floating around for you to try. Here we have 21 white elephant gift ideas for making the most memorable exchange yet! So, let's have a peek!
1. Chill Pills
Over at the Thinking Closet, you'll find this great idea for "chill pills" made right at home. Fill up a jar with your favorite candy and use the free file to download the label.
2. Bathroom Spray
Not only is this one easy to DIY but it's funny and functional too! Learn how to concoct this creation over at Happy Money Saver and wrap it up tight.
3. Gingerbeard
Are you any good with some yarn? If so, why not make a ginger-colored beard for the gang to fight over? Check out this DIY at Secondsister Suaviloquy.
4. AA Batteries
To really cause a stir and grab a few chuckles, you'll want to take this idea from Make It Love It. Some AA batteries with a silly label will be the hit of the party.
5. Stash Book
Check out this rad "stash" book from PopSugar. Keep your secrets or important "stuff" locked away and hidden. This is such a unique gift to give away!
6. Cupcake Decorating Kit
Too Much Time made this fab cupcake decorating kit that will be one of the most innovative and fun gifts to put together. And you can bet that your friends will fight over it too!
7. Painted Towels
Check out these fun and silly painted towels from Addicted 2 DIY! They're super easy to make for all kinds of crafters and they're functional for people too.
8. Star Wars Switch Cover
mmmcrafts took Star Wars to a whole new level. Check out the "light" and "dark" side with this snazzy switch cover that can easily be DIYed.
9.  Whole Lotta Nothing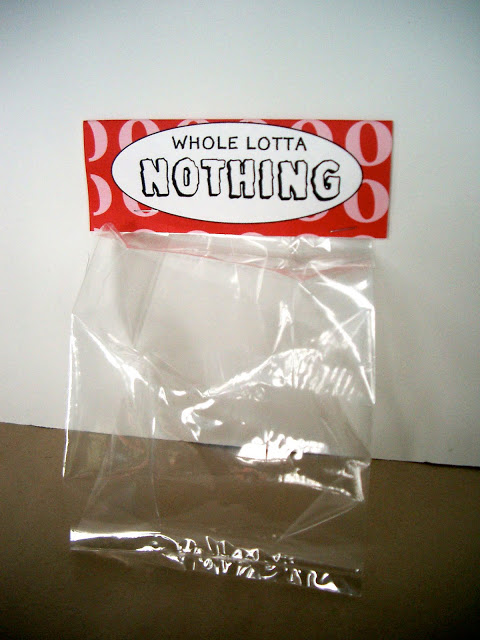 Can't Stop Making Things made this hilarious and super easy white elephant gift idea that will have your friends and family giggling. Just grab a label and a plastic bag!
10. Donut Pillow
Check out this adorable donut pillow over at A Beautiful Mess. If you know how to sew than this sweet treat will be right up your alley!
11. Dino Serving Dish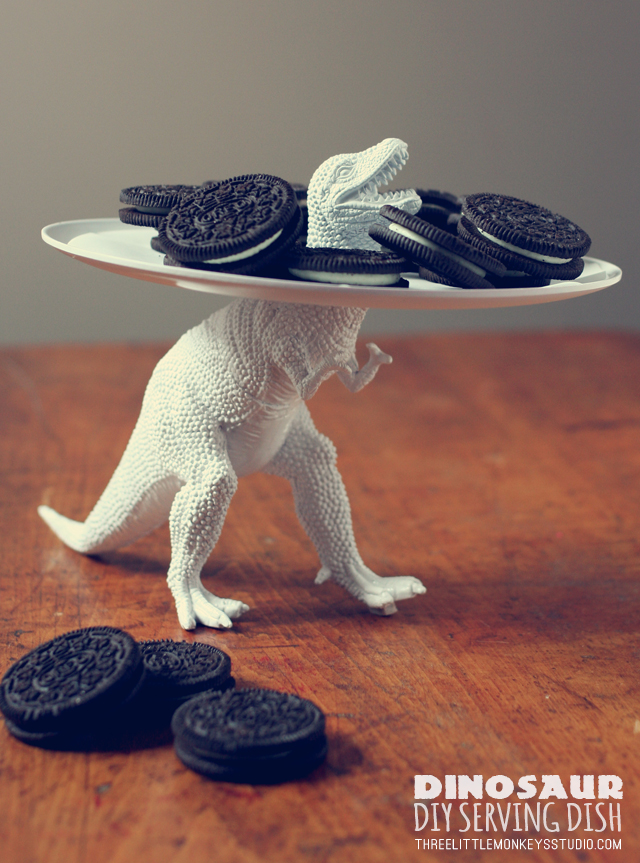 Over at Three Little Monkeys you'll find out how to make this hilarious dino serving dish that anyone at the party will want to unwrap – and then fight and steal to go home with!
12. Heart Keychain
For something both functional and sweet for your loved ones to unwrap, DIY a heart keychain with the help of …love Maegan. You can always personalize the color!
13. Fruit Koozies
Sugar & Cloth is making us all smile with these DIY fruit doozies. Who wouldn't want one of these jolly little dresses for our favorite beverages.
14. Sharpie Mug
Sharpie mugs are always a fun and easy idea for gift exchanges. And you can literally personalize and design them in any way you'd like .. just like this cat idea from Haley Ann.
15. Flamingo Wall Hooks
Aww, Sam did something extra special for organizing and displaying her jewelry and we found it just a quirky and fun gift to DIY and use at a White Elephant swap!
16. Leather Piggy Bank
We're loving this "grown-up" piggy bank made of leather. Check out the idea at Lovely Indeed but know that whoever receives this will surely get a kick out of it and love the work you put in it too!
17. Rhinestone Tissue Box
The Crafted Life took a tissue box to an entirely new level of style for everyday household items. Add some rhinestones and then give it away in one memorable event!
18. Tiny Unicorn Pinata
A Subtle Revelry made this tiny unicorn piñata and it was hard not to feature such a joyful gift on the list! Smiles all around and candy inside will make this quite the fun choice.
19. Glitter Capsules
For those that love a bit of glitter in their life, make these sparkly pills for someone to enjoy and get a kick out of. A Bubbly Life has all the details.
20. Sundae Kit
Similar to the cupcake decorating below, Family Bites made this snazzy sundae kit that will too be a hit of the white elephant swap. And be so much fun to put together.
21. In Case Of Emergency
Here's another great idea from Make It Love It. In case of emergency, break the glass and stuff your face with your favorite candy! Chocolate is probably the best choice for this one.