Wedding Hairstyles You and Your Guests Will Love
Becoming a bride is one of the most memorable experiences of your life. Your wedding day will also be one of the most photographed days you'll ever experience! That's art of the reason it's so important to most brides to look their absolute best. Between the dress, the makeup, and the hair, you might feel like there's a lot to worry about, but your wedding hair doesn't have to be crazy and complicated!
Check out these simple but glamorous wedding hair styles that you could even do yourself.
1. The twisted bun
Whether you place it low on your head or high, twisting your hair into a bunch that showcases the way you twisted the ponytail looks simply elegant but still detailed.(Source: Once Wed)
2. The cinnamon roll updo
Thick, coarse hair looks gorgeous in styles that feature shape and body. This updo lets the hair's volume shine through and keeps the eye interested without being distracting.(Source: Cocoa Fab)
3. Hollywood waves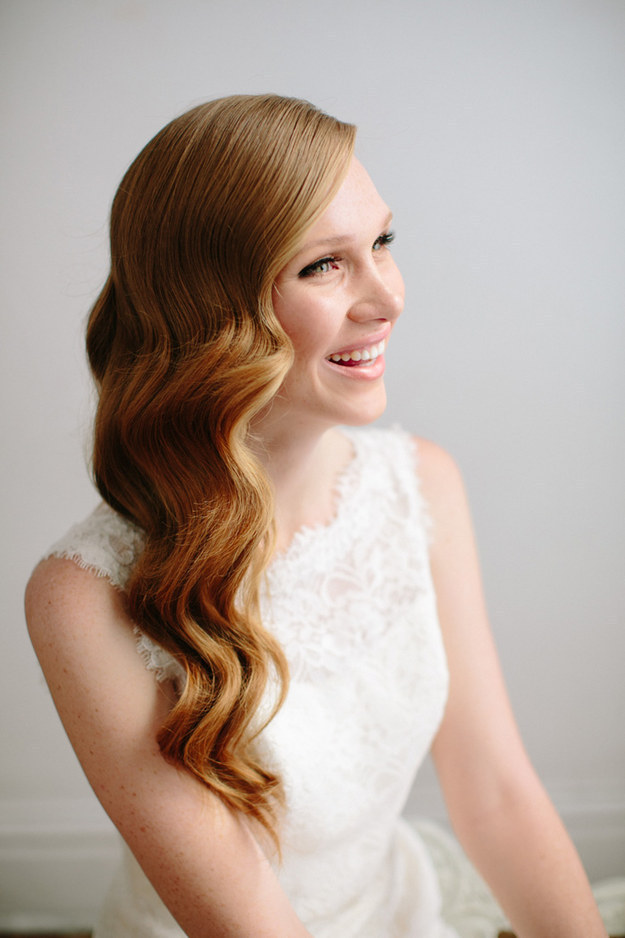 Long, sleek, straight hair looks classic and glamorous in these smooth, vintage-looking waves.(Source: Grey Likes Weddings)
4. The twist and tuck braid
braids might look intricate, especially when they're layered in different directions, but they're actually quite easy once you've mastered French or Dutch braiding techniques! Tuck the end of the braid under and up to create a gorgeous updo.(Source: Hair Romance)
5. The heart bun
This style takes the idea of "romantic hair" quite literally! The shape is simple to create but the effect it has is a big one.(Source: The Beauty Department)
6. The half-up bun
This simple style looks gorgeous in its most basic form, but it's especially pretty with loose curls at the bottom of the hair and a light, simple flower crown framing the face.(Source: Etsy Bridal Beauty)
7. The hair bow
A sleek hair bow turns your hair into a decorative piece on its own, rather than a style that needs further decoration. It's also very easy to do!(Source: 100 Layer Cake)
8. The romantic fishtail braid
A voluminous fishtail braid looks whimsical and detailed, like something a Disney princess might wear! Pull the loops of the braid out slightly to loosen it up stylishly.(Source: E-Beauty Blog)
9. The waterfall braid
Waterfall braids look especially detailed in wavy hair. Placing the braid just under the crown of the head makes it look especially nice when your veil is pinned on at the back.(Source: Twist Me Pretty)
10. The looped fishtail
Fishtails are already a beautiful style on their own, but they're especially pretty and detailed looking when they're looped upwards to contrast against smooth, pulled back hair.(Source: Gina Michele)
11. The Kate Middleton
Do you idolize the style of Princess Kate? Her hair can be recreated very easily! Some volume on top, a sleek, wide bun, and a neat braid across the middle are all you need.(Source: Ma Nouvelle Mode)
12. The quick and easy hair twist
Are you looking for something a little more unconventional? These overlapping twists are easy and quick to do, but stunning to look at.(Source: Cinthia Truong)
13. The low knotted bun
Tying your hair in knots might not sound very formal or glamorous, but the final product is just that! You'll be surprised how classy this knotted style looks.(Source: The Freckled Fox)
14. The sleek rolled tuck
Particularly if you create a couple of cute pin curls on top for detail, this sleek, tucked under bun looks demure and classic without coming off as plain.(Source: Makeup.com)
15. The twist and pin
This style is similar in appearance to the cinnamon roll style from above, but for straighter, finer hair! Rather than relying on natural volume and texture, you can create the shape by twisting the hair into shape.(Source: Hair Romance)
Do you know a bride-to-be who's convinced that she can handle her own bridal hair? Share this post with her so she can get ideas and start practicing!