15 Inspiring DIY Ways to Upcycle and Reuse Globes
When it comes to repurposing things around our house and creating unique upcycling projects, we're intent on the fact that anything can be transformed into something new. Whether that new thing is practical or purely decorative, we're always left with a huge feeling of satisfaction that we've given something a new lease on life. That's why, when we found an old globe in the garage while we were cleaning it our last week, we took it as a crafting opportunity rather than just throwing it out or donating it! It took us quite a while to decide what we actually wanted to do with it, though, because we were plain and simply not prepared for just how many awesome possibilities there are out there when it comes to globe upcycling ideas!
Just in case you're as interested in the idea of repurposing an awesome standing globe as we were, if not more, here are some of the very coolest designs and tutorials we found in our search that we ad a lot of trouble passing up.
1. Half globe pendant light
Are you the kind of avid traveler who makes their wanderlust known, so all your friends and family are aware of your love for globe trotting and love hearing about your adventures? Then we think it only makes sense to incorporate some kind of map or globe theme right into your main decor scheme! That's why we think making something like this half globe pendant light shade featured on Oregon Live is such a good idea. Perhaps you can even use the other half to make a matching light across the room or in another spot in the house!
2. Pretty spring globe
Are you actually quite a big fan of the idea of having a globe in your home that still looks like a globe but you think you'd prefer to make it a little more impressive, natural looking, and embellished to suit your home decor a little better than the classic colours and mapping? Then we definitely think you should take a look at how Sister's Suitcase used faux moss and flowers to give their own standing globe a serene, meadow inspired aesthetic.
3. Wood mounted globe wall art
Are you actually quite interested in including a globe in your decor scheme but your place is small and you simply don't have enough surfaces to put a regular standing globe anywhere? Then we think perhaps you might get along a little bette with this awesome halved and mounted globe art outlined step by step on Blitsy! They show you how to build a sort of frame using repurposed pallet wood, as well as how to use collage lettering, decoupage techniques, and game pieces to add an inspirational quote in order to finish the whole project off.
4. Layered, patterned cut out circles globe
Have you actually always liked the simple shapes of the standard, traditional style globe whether you're really a fan of the mapping across the surface or not, so you're wondering whether there might be a way to turn yours into spherical art rather than just a map of the world? Then we have a feeling you might be the perfect person to give this awesome layered circles project featured on Hydrangea Hippo a try. They used coloured and patterned scrapbooking paper or card stock.
5. Repurposed globe cloche
Have you actually set your heart on the idea of making the halved pendant light shade we showed you earlier on our list but you're just not sure what to do with the other half yet, even though you're convinced that making a second light probably isn't the direction you want to go in? Then we'd like to present an alternative idea for your consideration! Perhaps it's because we're writing in this summer and we're avid patio hosts who could actually really use one of these right now, but we're completely taken with this half globe DIY cloche idea featured on Dukes & Duchesses.
6. DIY 3D globe clock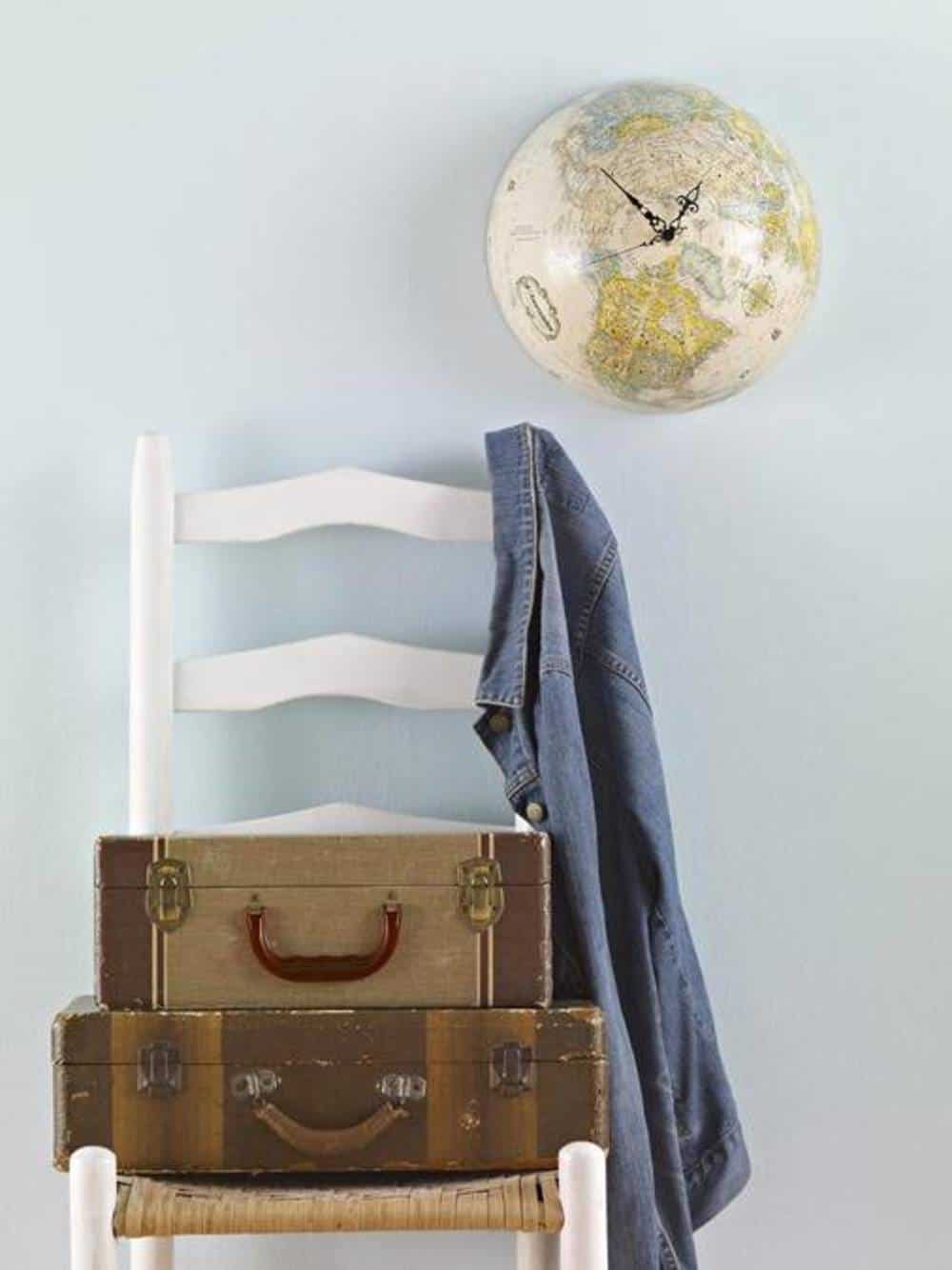 Are you still thinking about what to do with one half of your globe because you already chose one half-globe project but you haven't liked any of the others enough just yet? Well, don't worry, because your options aren't all run out just yet! Perhaps you'd consider making this awesome half-globe wall clock outlined step by step on Better Home and Gardens instead of a cloche or a pendant light. You could add numbers if you preferred, but we quite enjoy this position timed vintage looking globe the way it is.
7. Easy ombre painted globe
Are you actually still caught on the idea we presented earlier of mostly enjoying the shape of the globe rather than the actual map itself, but you just weren't quite convinced by the layered cut outs idea we showed you earlier on our list? Then here's another idea for your consideration that's a little simpler and a little more comfortable! We love the way The V Spot created an ombre effect that fades through light to dark shades of their favourite colour. We also think this design would look great no matter what colour you chose!
8. DIY custom wanderlust globe
Have you actually been trying to instil your own love of traveling in your kids by teaching them the key places around the world, but right now you're just working on continents and you're finding that all the markings and cities on your regular globe are distracting them from remembering the basic shapes of each part of the world? Then maybe this wanderlust globe outlined on Pretty Little Details is the best idea for you! They suggest painting the continents a much brighter contrast colour than the background and labelling them, or letting your kids label them.
9. Decoupaged sheet music globe
Besides traveling and crafting, are you absolutely obsessed with music? Well, that's a lot of favourite things to combine in one place, but we promise you that there's actually a way to do it that is both fun and wonderfully decorative! We love the way Cutesy Crafts painted over their globe, cut out the shapes of the continents from old sheet music, and decoupaged them on the surface where the original continents used to be.
10. Eclectic decoupaged globe
Are you actually quite interested indeed in the idea of combining your decoupage skills with your globe decorating goals but don't actually want to get rid of the original map all together? In that case, why not just decorate right around the continents themselves? We love the way Persia Lou cut out shapes and designs from around the world and stuck them on appropriately. We love the idea of doing this one with our kids to give them an opportunity to learn about different countries and things that come from there.
11. "Adventure awaits" painted globe
Have you actually come across a beautiful vintage inspired looking glove that you love the colours and design of (but that you're still not adverse to customizing) but you can't decide between some of the painting and quote techniques you've seen so far? Then maybe you should try out a design that hits somewhere between all of them! We love the way Chris Loves Julia painted an inspiring travel quote on the surface of their globe in pretty cursive.
12. DIY black and gold globe
Were you a huge fan of the previous idea where we showed you how to black out the oceans and paint the continents on in a solid and pretty contrasting colour, but you're just not sure you like the idea of writing the continent names back on, even though you like the way their gold lettering looks? Then perhaps you can skip the lettering but just keep the gold! Love and Renovations painted their land shapes on with metallic gold paint that stands out in a very classy way against the black of the background.
13. "Love" globe with negative space letters
Are you quite enamoured indeed with the idea of both painting over the bulk of the globe and with the idea of adding a quote in neat lettering, but you're actually not entirely sure you want to lose the map print all together? Well, thanks to Mountain Modern Life, there actually is a way to combine all of those crafting desires in one place! Check out how they painted their globe white over some stuck down printed letters, carefully peeling them up once the paint is dried to reveal your quote in negative space letters that let the map print show through.
14. Death Star globe
We've been talking a whole lot about using your globe as an opportunity to combine travel, crafting, and anything else you might really enjoy, but we haven't given you any options for awesome pop cultural references yet! Well, it's time for the Star Wars fans to step forward because Wheelehouse has the coolest option for you so far! They show you how to paint your globe black and shadow draw the Death Star, but we're particularly fond of the fact that, if you paint your black base in chalkboard paint, you can actually swap the details you draw on, just in case you need a break from the Star Wars theme (not that we could ever see that happening, of course).
15. Upcycled globe lamp
Have you actually been scrolling through this entire list and looking at each option but still finding yourself thinking about the first concept we showed you that involved making a light, but you can't help wondering whether there are actually other kinds of lights you can make? Well, we're happy to report that, thanks to Crafts Unleashed, there's a full globe desk lamp version for you to try out as well! We love the way this project leaves the entire globe in tact but still adds a little something, giving you the best of both worlds and a new practical thing to use.
Do you know a fellow crafter or DIY enthusiast who is also a travel lover with a total sense of wanderlust, just like us? Share this post with them to give them all kinds of new, creative ways to merge the two things they love most!