15 Cross-Stitch Patterns To Try Your Hand At
Whether you're a beginner or a veteran in the needlework world, we've found some adorable project for you to get excited about. We're swooning over these charming ideas and think you will be too. Here are 15 cross-stitch patterns to try your hand at! None of them are too complicated, instead they're full of personality and will definitely induce some smiles. Give them away at DIY gifts or use them to spruce up some nooks crannies of your home!
1. Family Portrait
Martha Stewart shows us how to make our very own family portrait – cross-stitch style! From the dog to the dad, you can learn how to fit everyone in the family inside your homemade creation. A fun, DIY gift idea or as a way to test your cross-stitching skills, this is such a charming way to explore the craft.
2. Pink Ombre Hearts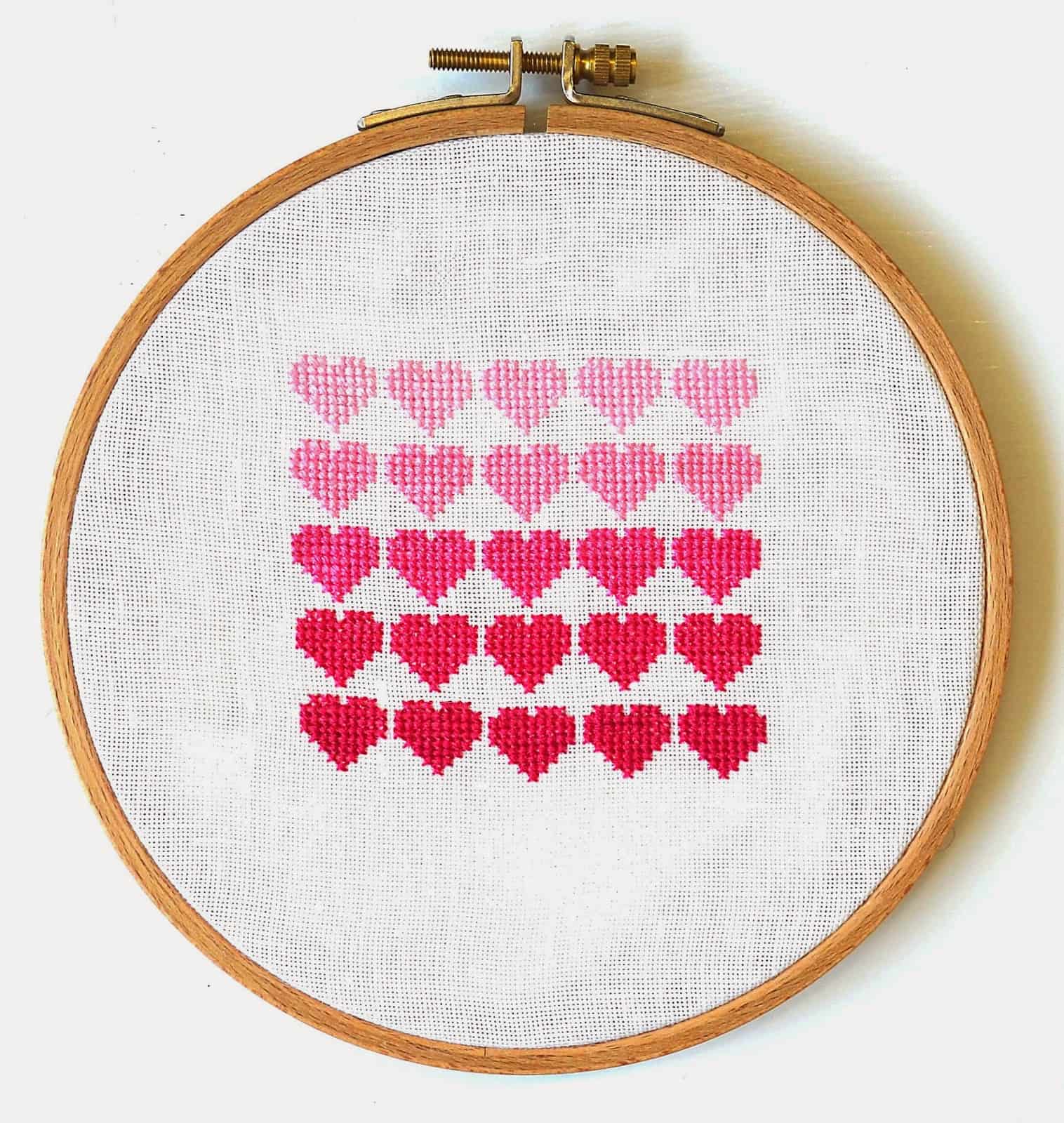 These pink ombre hearts from Sew French are just so adorable too! Perfect as a way to jazz up some corners in time for Valentine's Day or just add a pop of color to the guest bathroom, this is just another easy tutorial to follow and hone your skills. If you're a novice cross-stitch, this is definitely one to try your hand at.
3. Tiny Cat
We immediately fell in love with this adorable, tiny cat over at Oh Plesiosaur. If you have an affinity for adorable DIYs then this project will certainly pull at your heartstrings. Use this as a gift for your little one or even your best friend.
4. Nautical Print
Etsy has this nautical pattern for sale if you feel like adding a bit of seaside whimsy to your guest bathroom or craft room. This too is also a great project for something testing out their cross-stitching skills and putting their new knowledge to work. It definitely adds a cozy, beachy flavor to the walls too.
5. Handwritten Initial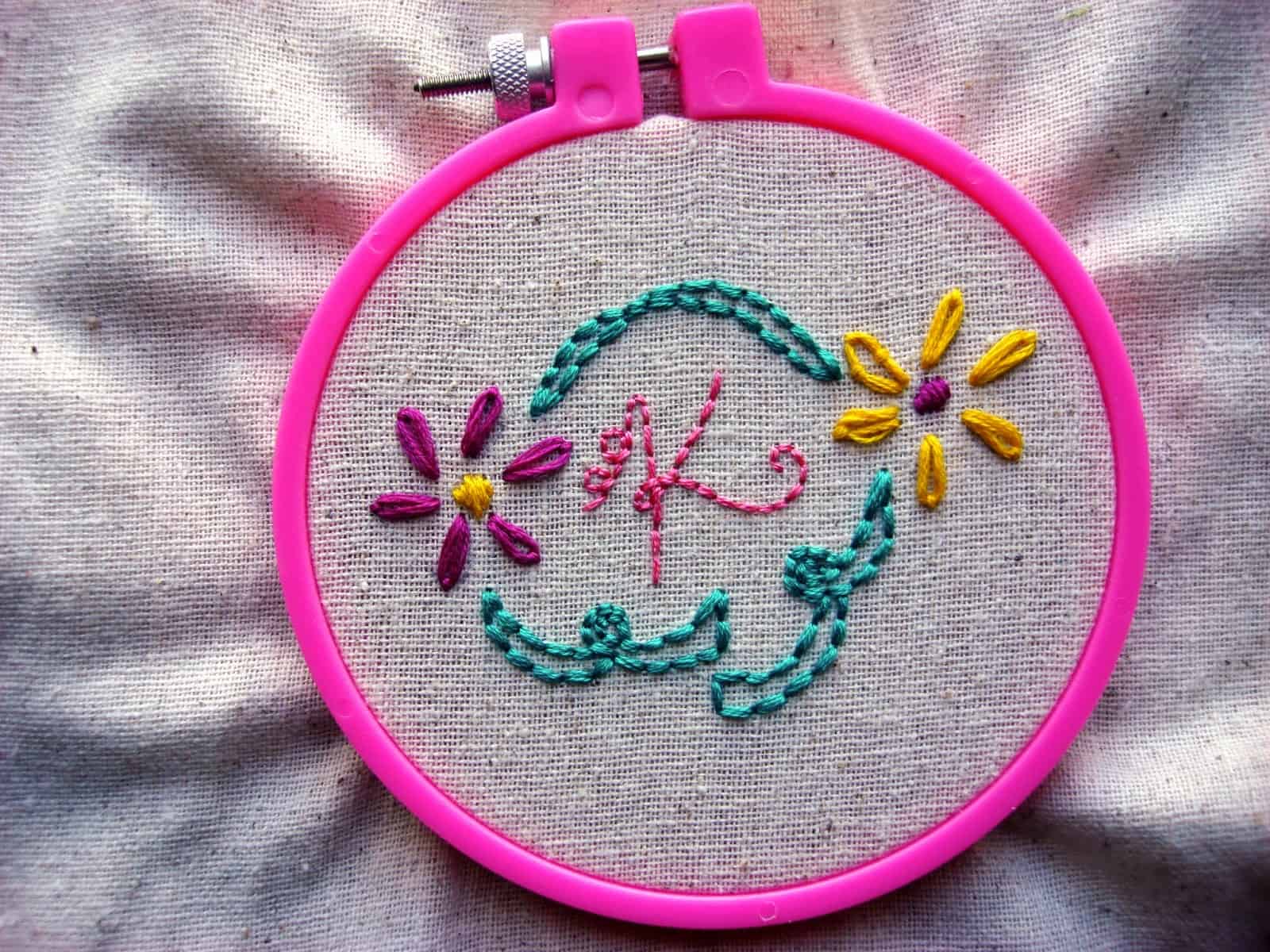 Feeling stitch went personal with her project. A great way to jazz up a kid's bedroom or even a project to complete before decorating a dorm room, an initial topped with some florals is both funky and sweet. We love the color pairings here too!
6. Let's Picnic
Take your cross-stitching to the park! Lovely Indeed has this fabulous project up their sleeve and we can't wait to try it out. Use their pattern to completely your very own, personalized picnic blanket.
7. Floral Bouquet
Down Grapevine Lane went with a more traditional pattern but one that's extra pretty too. Perfect for the craft room or in addition to other charming patterns in a gallery on the wall, take the leap and grab all of the details. It's perfect for those with a bit more experience in this department.
8. Pumpkin Barn
Over at Country Living, you'll find this neat little pattern to fashion your fall decorating behind. With a bout of pumpkins it's the perfect addition to your rustic, country-flavored home décor. But this one you get to make yourself!
9. Sew What?!
Give yourself a giggle along with a cute piece from DIY Network! Along with a giggle though, you'll get a cute project to highlight the craft room that you work in. It's a simple pattern to follow and you'll have a lot of fun with the finished product.
10. Oversized Work
You could always go the XL route like they did over at Design Sponge. You get the vintage flavor of  a classic cross-stitch with the stylings of the most trendy pieces of wall art. Hop on over and check out the details now!
11. Little Bunny
How about a little bunny to invite spring in with? Visit Martha Stewart to learn how to make your woodland creature come to life on the hoop. You could even dress it in some powder blues or blush pinks if you wanted to stray from the neutral tone.
12. Spring Canvas
Adventures of a Creative Girl went and cross-stitched a canvas! We love this larger than life style and its innovation. It makes for the perfect, funky addition to a mantle or bedroom.
13. Be Nice
DIY Network had this quirky pattern up their sleeve as well. Place this in the foyer and give your guests a chuckle as they walk through the door. It's also a rather simple pattern to follow as well, so it's another great way to stretch your skills.
14. Mailbox
We're loving this charming little mailbox pattern we found at Country Living too. It's got a springtime vibe that's perfect for sprinkling around the house when March starts to call. Follow the link and catch all the details now.
15. Pom Pom Fresh
Damask Love leaves us with an extra-adorable cross-stitch project and pattern we've fallen in love with. You can practice your cross-stitching on a tote bag too and make something usable! Great for DIY gifts or just something special for yourself, try it out after the jump.