Warm Knitted Boot Cuff Patterns for Fall
Cold weather hasn't quite arrived yet, but we've reached the point in the summer where the nights have started cooling off, even though the days are still sunny and warm. Even though you might still be enjoying the beach, perhaps it's time to start thinking about stylish ways to get ready for fall! What are the best ways to prepare? Using your DIY skills, of course!
Knitters have an advantage when it comes to fall weather because they're used to making cozy things. Lately, one of the most stylish knitted accents you'll see around is a set of cuffed boot toppers. We've picked out 15 of our favourite knitting patterns for boot cuffs that will make you feel stylish and a little extra toasty this winter!
1. The Hurricane boot cuff liner by Knit Grit
These twisted toppers look amazing with high boots because the pattern shows well across your knees and thighs when you wear them high on your legs. If you want to wear them lower, however, they're also long enough for you to roll down!
 
Between the intricate cabled pattern, twisting and turning up your leg, and the option to add a cute wooden button, we're in love with this aptly named cuff. Despite looking quite fancy, it's a fairly easy pattern and good for learning how to cable.
In the fall, we're big fans of wearing layers, layers, and more layers! These boot cuffs are perfect for you if you feel the same way. They're attached in one piece but they look like two sets of long socks overlapped. We love this colour combination!
Sometimes simple knitted stripes are a classic that's just too good to resist. Pick colours you love, or different shades of your favourite colour, and get knitting! These ones are great for folding over the tops of your boots because the different colours will show!
5. Basic boot cuffs by Lewis Knits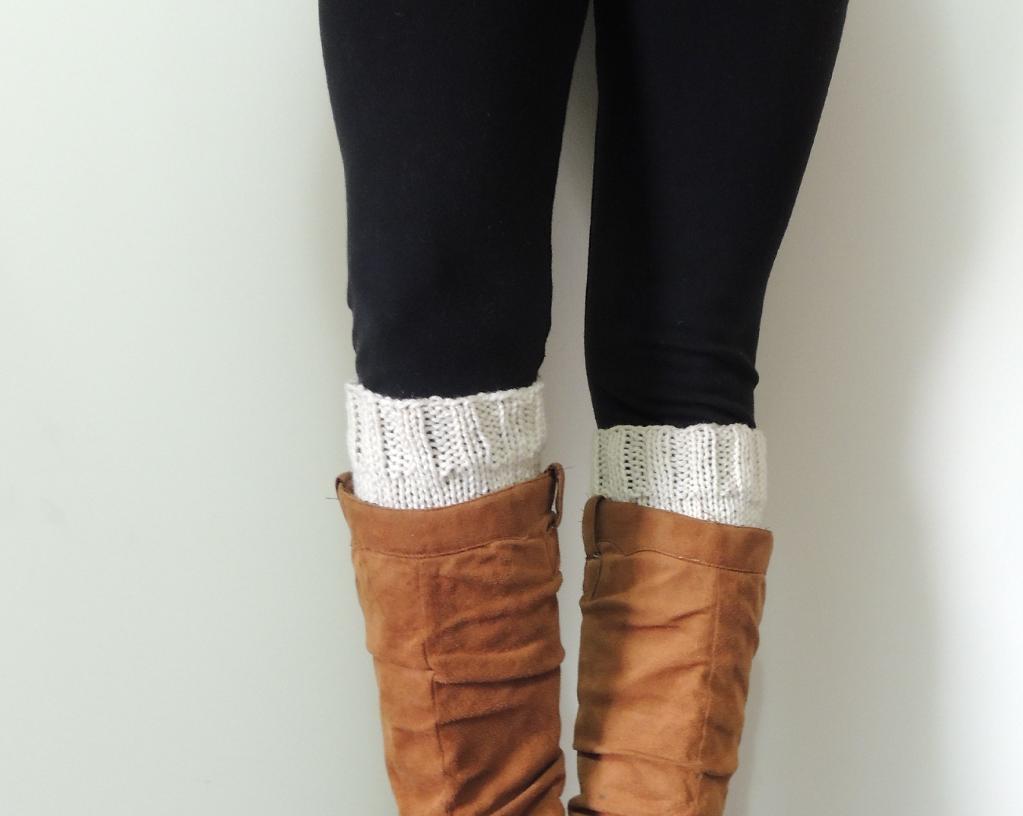 Maybe you just want a simple knitted knee sock look without any complicated patterns or colours? This easy pattern is designed to look like you are, in fact, wearing very high socks but without having to put your feet in so that your boots become tighter or too hot.
6. Sunflower boot cuffs by Flor de Iris
Of course, you can switch up the colours in just about any knitting pattern you do, but we love the way this deep brown and yellow contrast together, and also how they'll look against a pair of deep, chocolate brown boots.
Do you ever have those days where you just want to power knit? It's a satisfying feeling to start and complete a whole project in just an hour, and if you're quite good at knitting, you'll have no problem doing just that!
These covers are a great for boots that are tighter and higher because they're neat, thin, and don't have to be folded to look adorable.
9. Wavy Cable boot toppers by nickersr
Do you like the ideas of cables but you're looking for something a little more unique than the average vertical cable that you've seen in most of these patterns? Here's a horizontal version instead!
Besides featuring adorable buttons on the sides, these little boot cuffs are knit in seed stitch, which looks delicate and intricate despite being quite simple to master. Use the buttons as a chance to customize the design!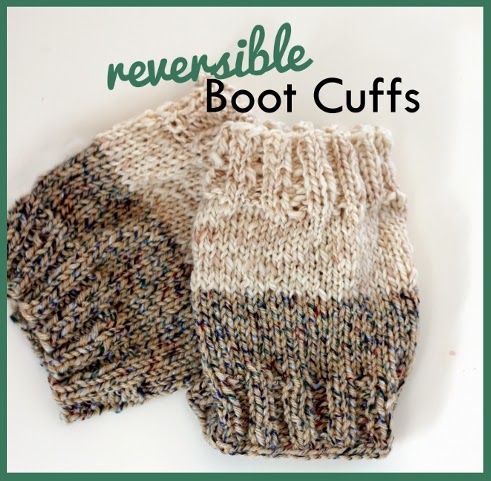 What's better than one pair of boot cuffs? Getting two pairs when it felt like you only knit one! This design shows you how to switch colours so that each end looks like the top of another colour of cuff. Wear them with one end up one day, and the other colour up the next!
12. Thick Cable knit boot cuff by Homespun Living
Do you love cables but you're a bigger fan of knitting big, chunky patterns rather than smoother or more delicate ones? Then these oversized cables are definitely the one for you! They'll also feel extra warm and cozy when you wear them.
Why not use your homemade boot cuffs as an opportunity to make a statement? This pattern will help you do just that by creating an eye catching checkerboard pattern in whatever colours you choose!
14. Boot cuffs and hand warmers by Kristin Ziska
Are you a big fan of balance in an outfit? Well, this pattern has you covered as far as your hands and feet go! Besides showing you how to make a cute pair of boot cuffs, you'll also be guided through the process of making yourself toasty little hand covers!
Cables are always cute, but these tiny little cables are even cuter! We love how the pattern contrasts cables with a few simple columns of ribbing for balance.
Do you know someone who loves knitting new fall accessories for themselves and all their friends each year? Share this post with them for some new ideas this year!