15 Vegan Lemon Bars To Satisfy That Sweet Tooth
Buttery shortbread, creamy and tart curd, maybe even a sprinkle of powdered sugar; what do all these delicious tastes have in common? Well, you need them to create the most perfect of summertime treats. And if you are the type to nix the eggs and go without animal byproduct – then these recipes are in more perfect for your palette.
Delicious Vegan Lemon Bars
Check out these 15 vegan lemon bars that will most certainly be satisfying your sweet tooth ice a batch is whipped up.
1. Classic Vegan Lemon Bars
We start off our journey with this classic lemon bar recipe – the only twist is the vegan element! You can top this off with raspberry drizzle, fresh-cut fruits or a shaking of powdered sugar to really leave your mark. They work nicely as an accompaniment to afternoon tea as well.
"They have a creamy lemon top layer with my favourite almond biscuit base, a combination that does not disappoint!" – Amy Le Creations
2. Eggless Lemon Bars
We found some more eggless lemon bars. They are a bit less creamy and more gelatin in texture. But that's is why they are so fun. They remind us of some of the best fruit candies but without the worry of any animals involved!
"The secret to our eggless lemon filling is simply full fat coconut milk to replace the richness of eggs, the same zippy lemon juice, and a thickening agent." – Buttered Veg
3. Vegan Meyer Lemon Bars
Then we have these vegan Meyer lemon bars that have been cut to absolute perfection. They are definitely one of the denser and richer of bars on the menu, but that just makes them satisfy a true sweet tooth in an even more meaningful way. You'll need to grab some coconut for these ones too.
"Creamy, rich, tangy and delicious vegan lemon bars. Have them for dessert or as a snack. They are a treat you'll fall in love with!" – May I Have that Recipe?
4. Creamy Lemon Curd Bars
Creamy lemon curd is involved in these bright squares as well. In fact, it may even be one of the zestier of recipes on this menu. They also had the idea to drizzle some blueberry syrup on top for a perfect finisher, and we're all about that idea!
"The lemon curd is creamy and smooth, just like you want it to be!These dessert bars are a sweet treat that are easy to make and a real crowd favorite." –Namely Marly
5. Easy Eggless Lemon Bars
And if you are looking for a bar with a unique twist to its topping, check these out! You will only need 7 ingredients to make them come to life and a fresh slice of lemon on top does them well. The goal here is to really include FRESH lemons in their making.
"They are the perfect spring-y dessert or snack. Especially when you need an extra dose of vitamins.These Eggless Lemon Bars are sweet, tart and lemony, just what you want in a lemon bar." –Mommy's Home Cooking
6.Vegan Lemon Bars with Shortbread Crust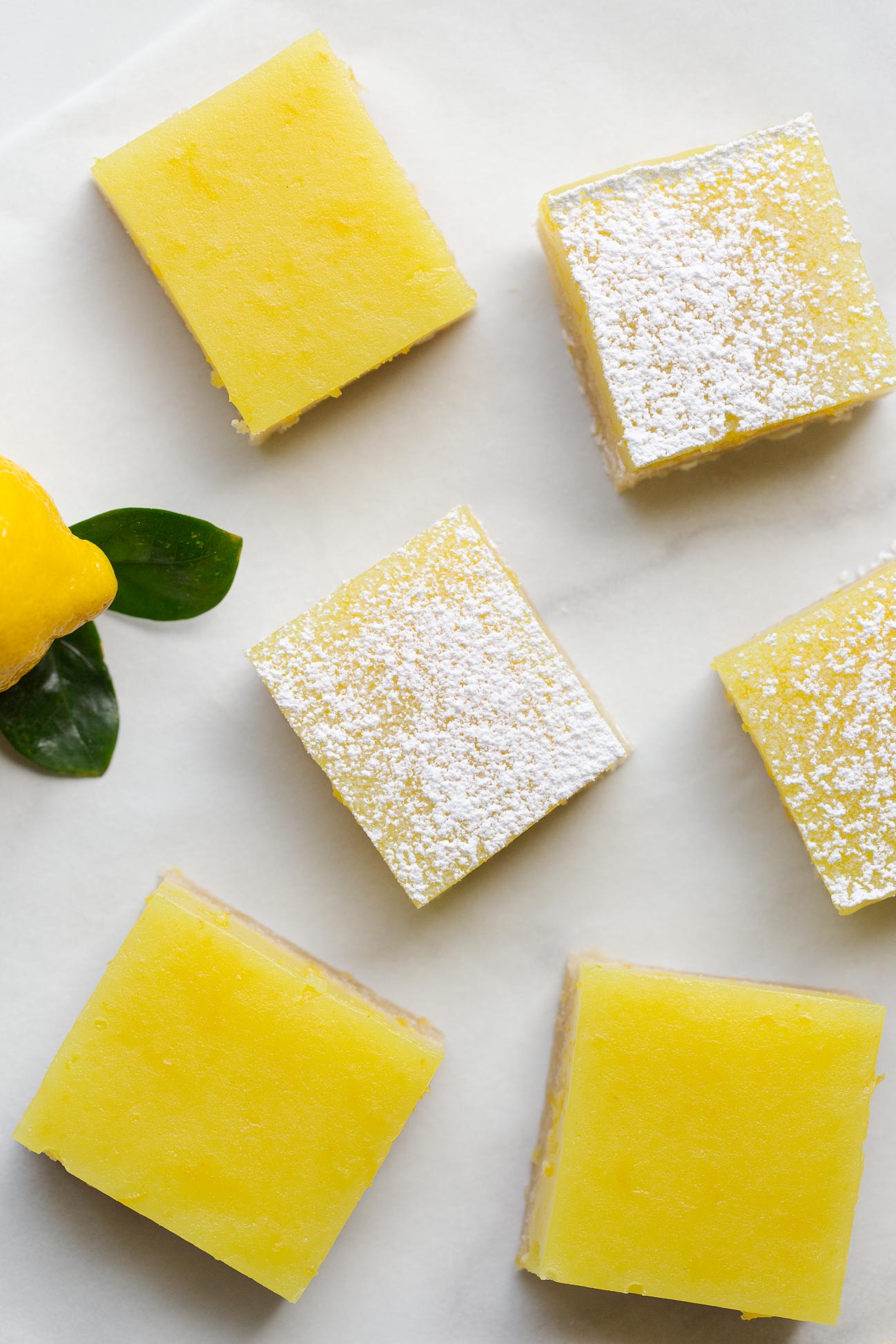 Shortbread crust never tasted better than on these vegan lemon bars. The recipe is easy to follow, they only take 45 minutes to bake, and you will love grazing on these all week long. And a dollop of almond milk whipped cream on top will go a long way.
"These vegan lemon bars have a simple shortbread crust and a tangy-sweet lemon layer topped with a dusting of powdered sugar." – I LOVE VEGAN
7. Gluten-Free Vegan Lemon Bars
Now we have some lemon bars that are certified vegan and gluten-free too! You will easily fall in love with the shortbread crust (honestly, this is a must when it comes to any type of lemon bar). And no, they do not "taste" like a typical vegan recipe.
"These Vegan Lemon Bars are a dessert dream come true! Made with shortbread crust and loaded with divine lemon flavour, you'll never guess that they are vegan!" –Jessica in the Kitchen
8. Healthy Vegan Lemon Bars
Yes, desserts can have a healthy spin as well. These lemon bars are yummy and completely guilt-free too. Yes, and they are gluten-free as well. They match so many different kinds of diets while satisfying every single taste bud.
"The chef and functional nutritionist has created an entirely vegan and entirely healthy version of the lemon bar that is sure to make you question why you ever needed milk and sugar in the first place." – her
9. More Vegan Lemon Bars
Don't worry, we aren't done yet. We have more vegan lemon bar recipes to try! We are a fan of this recipe because the ingredients are simple but the lemon is still bursting with full, natural flavor.
"Classic lemon bars are made with a shortbread crust. This one is a bit lighter and fluffier than your typical shortbread crust, and I think it's perfect for a light and springy dessert like these lemon bars." – Connoisseurus Veg
10. Tangy Vegan Lemon Bars
If you love lemon because of its tang, then stop right here. This is the recipe you need if you are on the hunt for the most tangy and vivacious of lemon bars. The best bars tastes like the best version of your favorite pie – and this one does it for us.
"Tangy sweet and wonderfully lemony vegan lemon bars with a shortbread crust and a filling that tastes like lemon meringue pie, minus the meringue." –Loving It Vegan
11. 8-Ingredient Vegan Lemon Bars
All you need are eight ingredients to start baking in the kitchen. I mean, who doesn't love a recipe that includes so little ingredients and ones that we either already have or trust enough to go out of the way and buy? Just don't skimp out on the powdered sugar on top (get the kiddos to do the dusting!).
"The most incredible Vegan Lemon Bars, made with just 8 ingredients and lots of tangy lemon flavor! The buttery shortbread crust is absolutely perfect." –Nora Cooks
12. Raw Paleo Vegan Lemon Bars
For those that like to keep things super natural (and raw), you'll want to take a look at this recipe. It is creamy, it is vegan, and it's still full of delicious lemon flavor. They are even nut-free for those with allergies!
"Creamy vegan lemon bars… simple and delicious, with no refined sugar & NO crazy ingredients." –Chocolate Covered Katie
13. Sweet & Tangy Lemon Bars
Lemon is a fun flavor because it is both sweet and tangy at the same time – just like these bars. We love the balance and the fun of this fruit! And we love it even more when it's accompanied by a crumbly shortbread crust like this.
"Made with buttery vegan shortbread, tangy lemon curd, and topped with a dusting of powdered sugar, these are a lemon lover's dream!" – The Hidden Veggies
14. 9-Ingredient Vegan Lemon Bars
We have another simple recipe – this time with just 9 ingredients – that we are loving as well. You don't have to worry about sky rocketing calories with this one either because the inclusions are not terrible on you – nor will they make you feel guilty for the indulgence.
"These Vegan Lemon Bars are a refreshingly tart & sweet dessert! A healthier take on the classic, they're made with only 9 healthy ingredients + Sugar-Free." – From My Bowl
15. Lustful Vegan Lemon Bars
And finally, these vegan lemon bars are so good that they're nearly lustful for onlookers! The fact that this has so much fresh zest involved is so satisfying. The flavor is truly full of naturalness and real ingredients.
"I'm a filling girl at heart. The crust is simply a vehicle to get as much filling from plate to mouth without making a mess of whatever I'm wearing." – Pickles & Honey