15 Ways to Upcycle Old Magazines
If you're like us, you probably have a stack on magazines taller than yourself piled up in at least one room of your house. It's hard to justify throwing so much paper out, but keeping piles of magazines takes up a lot of space. Have you ever considered repurposing your old magazines so they're put to good use?
Check out these awesome ideas for upcycling magazine pages into all sorts of awesome DIY projects!
1. Rolled gradient wall art
Create a gorgeous colour gradient from rolled strips of magazine paper. Alternating the thickness in the centre of each roll gives you an awesome effect!(Source: World Inside Pictures)
2. Magazine page envelopes
Why sent invitations to your next dinner in plain paper envelopes when you can choose pictures, colours, and designs?(Source: Hey Wanderer)
3. Magazine storage basket
Folding and gluing at all the skills you need to make this super handy little basket. Place it by the door to hold your keys and change!(Source: The Gilded Hare)
4. Paper flowers
Whether you're using them to decorate your scrapbook of the wall behind your desk, these little paper flowers are completely adorable.(Source: The Pink Doormat)
5. Rolled pages picture frame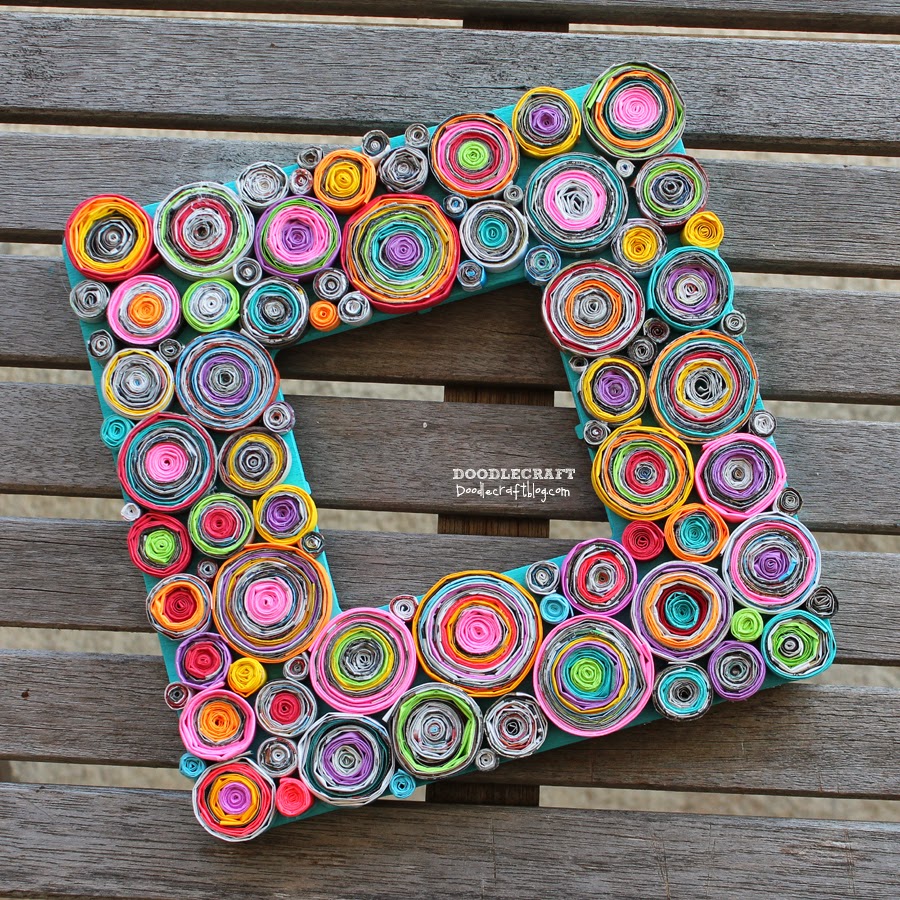 Have you mastered that rolling technique from previous projects on this list? Choose brightly coloured pages to make yourself an awesome magazine picture frame!(Source: Doodlecraft)
6. Decorative rolled page mirror
Building very thin rolls of magazine paper around the outside edge of a circular mirror creates a gorgeous sunburst effect.(Source: Green Your Decor)
7. Rolled wall art
Cutting rolled pages into different lengths is a great way to create pictures and images for wall art on a canvas or wooden backing.(Source: Brit + Co.)
8. Woven magazine coasters
These coasters are the perfect easy DIY for big parties or unexpected company; easy and super cheap to make!(Source: Apartment Therapy)
9. Rolled magazine clutch
Turn the cover of an issue of your favourite magazine into an awesome accessory!(Source: Darby Smart)
9. Magazine page shoes
Okay, so this tutorial really teaches you how to make shoes with comic books (and we think that's awesome), but what if comic books aren't really your style? Recreate this look with pages from your favourite magazines instead!(Source: All Day Chic)
10. Quote canvas art
Using different clippings from magazines lets you create bright, colourful quote art that you can customize however you like!(Source: Six 2 Eleven)
11. Paper beads
Magazine paper is the perfect material for making paper beads because it's already bright and colourful!(Source: Salt Tree)
12. Hanging door wreath
Wreaths aren't just for Christmas! Magazine pages folded into petals will help you create a bright wreath that's perfect for spring.(Source: Addicted 2 Decorating)
13. Magazine gift bag
Did you forget to buy a nice decorative bag for an upcoming birthday? Transform a plain one or a paper shopping bag using pretty pictures and well laid-out pages from a magazine!(Source: Life With Crazy Rachel)
14. Decorative butterfly chain
Whether you make it into a baby mobile or a set of decorative curtains, this magazine page butterfly chain is delicate and looks pretty hanging just about anywhere.(Source: Dezignable)
15. Magazine stack stool
Not every DIY magazine project involves rolling, cutting, and pasting! If you've got a pillow, old belts, and a low stool or piece or wood, this stacked magazine school is a great way to upcycle magazines in a very different way.(Source: Inhabitat)
Do you know someone whose apartment is being overtaken by their magazine collection? Share this post with them to help them find a solution for their clutter!