When it comes to adding storage to our home, we find that we just can't get enough shelving. Whether it's a simple setup to put decor on or something more sturdy that we'll actually keep more practical things on top of, we find that shelving is something we need, but we still always like it better when we've made it ourselves with some kind of creative twist rather than just buying and installing a set from the store! That's why we've had our eyes peeled so well lately for all kinds of different DIY shelving options.
Just in case you love the idea of making DIY wall shelves for your home just as much as we do, if not more, here are 15 of the very best ideas, designs, and tutorials that we've come across so far in our search for inspiration and guidance!
1. Mod paint bucket shelves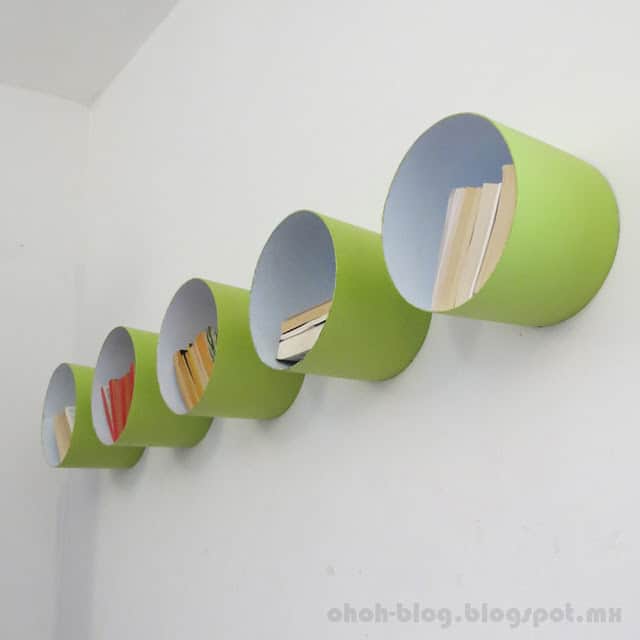 Have you actually decided that your house could use a little bit of a mod makeover and now you're trying to find simple, subtle ways that you can add curved lines and colour pops to your home's details? In that case, we think you'll get a real kick out of the way Oh oh Deco made this set of awesome cylindrical shelves to put their books in! Their tutorial shows you how to make it happen using paint buckets.
2. Slanted wood shelf
Perhaps the space you have available for some extra shelving is good in terms of length because it's got a lot of vertical room but you're just not sure that a lot of the ideas you've seen so far in your searches would work because you need more than once shelf and mounting several to that wall won't work width wise? Well, particularly if you love the way clean wood adds a sort of rustic aesthetic to a space then we have a feeling you'll get along quite well with this fantastic slanted wood shelf by Scandifoodie that gives you several surfaces to set things on all the way down.
3. Distressed wood and metal bracket floating shelves
Maybe a simple floating shelf actually is the very kind of thing you're looking for but you just haven't been able to track down the style of shelf you really want in stores? Well, if the aesthetic you're aiming for has a little bit of rustic chic, then we think you'll get along very well indeed with this tutorial from Sugar and Cloth that shows you how to make distressed wood shelves and mount them with metal brackets.
4. Rope shelves
Are you actually such a lover of rustic aesthetics that you can't help enjoying when a finished piece is very clearly homemade and guests can openly tell that you created it yourself? Then perhaps you'll get along very well indeed with something like this wood and rope tiered shelf outlined step by crafty step on Recreate Home!