Backyard with Kids in mind – DIY Swing Sets
Now that the weather has finally warmed up, we can hardly keep our kids in the house. They're completely obsessed with playing outside and would stay out there all day and night if we'd let them (which we actually try to do as much as possible since the winter was so long and cold). Since they want to spend so much time in our backyard, we've been thinking about setting up a swing set and play structure for them but, being the crafty parents we are, we're feeling pretty intent on making it ourselves rather than just buying a set to assemble from a box at a store. That's why we've had our eyes peeled for awesome DIY swing sets for a number of weeks now!
Just in case you love the idea of making your own kids a DIY swing set and play structure for the spring and summer just as much as we do, if not more, here are 15 of the very best ideas, designs, and tutorials that we've come across so far in our search for inspiration and guidance.
1. DIY slide and swing set with rock climbing wall
If you're going to make your kids a whole swing set of your very own and put in the time, money, and effort it takes to do so, would you rather create something that's got a few extra features to really delight them? Then perhaps you'll get a real kick out of the way Professional Projects NY included not just swings but also a rock climbing wall that leads to a slide on the other side.
2. Simple wooden swing set for beginners
Perhaps you're actually quite new to the world of building structures and doing woodworking but you're absolutely confident enough in your abilities to make something that's solid enough to be safe for your kids to swing on? In that case, se'd definitely suggest taking a look at the way HGTV outlines the process of building this simple wooden swing set for beginners.
3. DIY airplane swing
Perhaps you're actually handy enough to make all kinds of shapes and things so, instead of building a whole swing set with its own frame and features, you'd prefer to concentrate on shape and theme and make a singular fun tree swing that you know your kids will go totally wild for? In that case, we'd absolutely suggest taking a look at the way Whitney's Workshop made their little future pilots a gorgeous wooden swing shaped like an airplane.
4. DIY jungle gym with a swing set
Are you fortunate enough to have an extremely large backyard or green space near your country home, so you're feeling quite intent on making your little ones an entire play structure, rather than just a few swings on a frame? In that case, we think you just might be the perfect person to try your hang at something like this full DIY jungle gym and swing set outlined step by detailed step on How Did I Do It.
5. DIY club house and slide swing set
Were you actually originally feeling torn between building your kids a swing set and building them some kind of play house in the back yard, having all kinds of trouble choosing between the two? Well, who says you have to choose between them at all? Instead, take a look at how The Tool Belt made this adorable clubhouse that features its own set of swings, a rooftop deck, and a slide leading from top to bottom.
6. Deck style treehouse with a swing set
Perhaps, rather than being torn between a play house and a swing set, you were actually originally toying with the idea of building your little ones a whole tree house? In that case, we think you're about to find everything you want in one place thanks to this ultimate tutorial from Ana White! They show you how to make a deck-style raised treehouse that also features its on swing set, climbing wall, and even monkey bars.
7. Full backyard playground with a sand box
Just in case you're actually extremely experienced in woodworking and looking for more of a complete idea and challenge than some of the designs you've seen so far on our list, here's a stunning tutorial from Kenarry that basically shows you, in great detail, how to do it all! We love the way they enable others to create a complete backyard playground, with all the cool features of something you'd see in a park.
8. Fabric covered platform swing
Are you actually still planning on sticking to something a little smaller and more space efficient because your yard is very small but you're still intent on building your child something unique that they can have a blast swinging on? Then perhaps you'd prefer to take a look at the way Reese Dixon made this fantastic platform swing that's covered in super fun and brightly patterned fabric!
9. DIY tree swing
Did we really catch your attention when we started talking about the idea of making a tree swing but your kids are a little bit older and taller and you're not sure the airplane swing is quite the ideal concept for them? Then keep things simple! We love the way A Beautiful Mess outlines, step by step, the simple process of building a more classically designed tree swing in a way that's very safe but still a lot of easy fun.
10. Basic freestanding swing set with a hammock swing
Just in case you loved the idea of making some kind of alternative, larger swing to go on your set but you'd also like to make sure the kids have a couple regular swings to play on as well, here's an idea from Instructables that will give your kids fun options! We love the way they included an awesome knotted rope hammock swing to go along with the rest of their more classic set.
11. Grown up hammock seat swing set
Believe it or not, kids aren't the only people who can enjoy a swing set in the spring and summer! We're actually completely in love with the way Pretty Handy Girl made these adult sized hammock swings on a wooden set that are perfect for chatting, reading, or relaxing in when the sun is out. We like that they even included a little table between them to set a drink on while you sway lightly in the breeze!
12. Monkey bars to slide swing set
If you're going to build your kids a swing set from scratch, would you actually like to make sure it's the kind of piece that gets them moving around and staying as active as possible while they have fun? In that case, we think you'll get a real kick out of the way Instructables made this simple swing set that, on one end, also features a set of monkey bars that lead straight into the top of a slide. This is also the perfect idea for yards that sit on a slope.
13. DIY modern frame swing set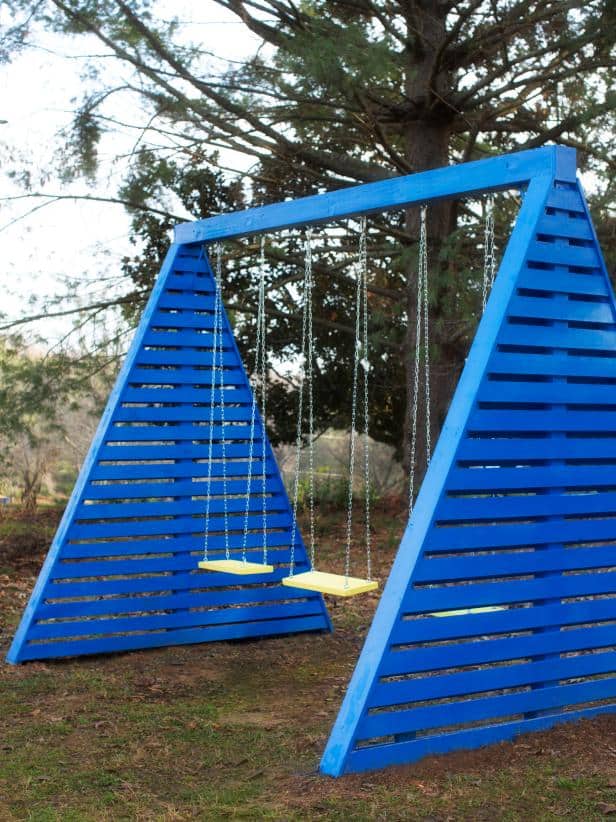 What if you're still thinking that the most basic swing set design is the best idea for your kids because they really just want some simple swings to play with their friends on, but you're also the kind of DIY enthusiast who likes to put a creative and artist spin on anything you make? Then we're convinced you just might be the perfect person to give this colour popping modern swing set frame from HGTV a try!
14. DIY pergola swing set
Do you live in the kind of place that gets a lot of hot, direct sun at all times and you've been thinking about whether or not there might be a way to build your kids a swing set that will also give them some shade while they play in the yard? In that case, we'd definitely suggest taking a look at how Only From Scratch actually made themselves a backyard pergola instead of a classic frame and attached their swings solidly to that instead! Now the kids can swing around under a slightly shadier overhang.
15. Rope and bucket swing
Perhaps you've been scrolling through our various options and trying to find something that's a little more unconventional and low maintenance because you're working on a budget and repurposed DIY projects are your favourite kind to make for your home? In that case, we have a strong feeling that this adorable rope and bucket swing outlined step by step on Three Channels will be right up your alley (so long as your kids are still small enough to fit inside a big bucket, of course)!
Have you made other kinds of awesome DIY swing set before that you were very happy with indeed and that your kids loved but that you don't see here on our list? Tell us all about what you created and how in the comments section or link us to photos of your finished piece in the comments section!