25 DIY Candles For Gifts, Decor and More!
Candles are versatile pieces of home luxury. Whether it's to set the mood, partake in a bit of aromatherapy, provide the most perfect gift or decorate with a subtle romance, candles can be both functional and beautiful too. Today, we're sharing 25 great DIY candle projects that you can dive into, learn from, get inspired by and hopefully share with others!
1. Leftover Wax
Living the Fancy Life teaches us all how to take the leftover wax we all have from our expensive candle splurges and utilize them to build smaller candles for around the house.
2. Cupcake
If you're interested in fashioning a candle after a cupcake, then you'll want to check out this YouTube video and find out how! This would be a great gift for neighbors, friends of hostesses too!
3. Layered
Hello Natural shows us how to make a layered, scented candle. Perfect for seasonal fragrances, gifts and to add pops of color around the house, this candle is easier to create than you may think!
4. Seashells
Sincerely Kinsey took some seashells and use them in a super innovative way. Add this uniqueness to your own home by learning how to make these beachy candle.
5. Ombre Dipped
Create something really special with these ombre dipped candles from Momtastic. Not only are you getting an ambiance booster but something that pops inside the house too!
6. French Vanilla Candles
Henry Happened happened to make one of my favorite candle scents around. Learn how to create a French vanilla candle with this tutorial!
7. Colorblock
Brit + Co provides a tutorial (and you can buy the kit) to make these gorgeous and trendy colorblock candles to sprinkle around the house!
8. Starbucks Latte
Are any of you a lover of Starbucks? Or maybe some of your friends? If so, then this DIY candle is definitely for you! Check out this video on YouTube and find out how to create one at home!
9. Beeswax
The Sweetest Occasion shows us how to create simple beeswax candles that could be used for favors, gifts and more! They're a great way to get started in candle making.
10. Vintage Teacup
You're definitely going to want to visit Hey Gorgeous and learn how to make these charming little candles. Perfect for decorating shower parties or springtime porches, they're so much fun to create!
11. Lanterns
Petite Candela features a tutorial that shows everyone how to make a candle lantern. We love the warmth and romance of this project!
12. Lavender
Over at A Pumpkin and A Princess you'll find the details on how to create one of these lavender candles – inside a charming mason jar. These are prime example of how easy DIY candles can turn into the perfect little gifts!
13. Spice
Check out Little House Living if you love fall scents! You'll learn how to make this spice candle in no time with their tutorial!
14. Soy Wood Wick
eHow gives us an especially great idea when it comes to creating simpler candles. But this time with wood wicks and soy ingredients.
15. Geometric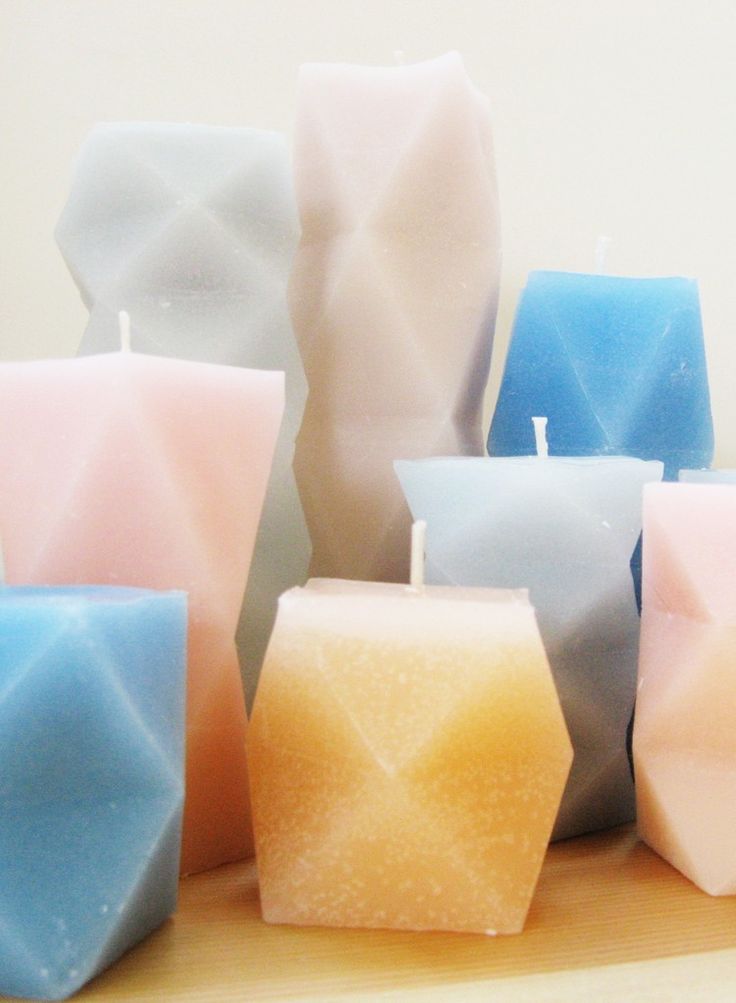 Personally, I'm in love with these geometric candles. And if you visit HDYMT? you'll find out just how to make these beauties.
16. Glitter
Something Turquoise brought glitter to the project! And how can one resist anything with a bit of sparkle? Check these out for holiday gifting!
17. Citrus + Spice
Martha Stewart makes these delicious-smelling candles that are sure to brighten up your home, create rich vibes and may also be the perfect present for your neighbor!
18. Coffee
If you don't want a coffee candle that's too overwhelming or specialty, then this simple DIY is right for you. Get the morning richness you desire over at Art Ideas Crafts.
19. Pillar
Check out these gorgeous pillar candles from Candle Tech. We're loving all of the vibrant colors and how you can really personalize these to your liking.
20. Patterned
Brit + Co has one of my favorite projects on the list! Visit the site and check out how to make quick patterned candles with ease!
21. Aromatherapy
If you'd like to learn how to make a simple aromatherapy candle you'll need to visit Scratch Mommy and grab all the details.
22. Scentsy
If you're a fan of Scentsy candles you can learn how to make your very own from scratch over at Capturing Joy.
23. Pink
Sometimes just the most simple DIYs give us the best results and this project from Bird's Party  will give you both the candle tutorial and show you how to make the glitter votive too!
24. Travel
We're swooning for this genius idea! Check out For The Makers to learn how to create your very travel candle so you have your favorite scents with you wherever you go.
25. Recycle Ice
Hello Natural gives us a genius "recycling" tip by creating "ice" candles out of your favorites scents. Find out how after the jump!