Awesome Summer Recipes Made With Tomatoes
We're pretty good at eating our fruits and vegetables like the healthy adults we are all year round. Don't get us wrong, we love a sweet treat or two in there as well, but we're lucky that everyone in our family actually really enjoys healthy foods. It means we have to fight with our kids less at dinner to get all their nutrients into them and we really appreciate that. It also means that we don't have to keep track of which vegetables the people at our dinner table will eat and which ones they won't because it's pretty easy to please everyone! That doesn't mean, however, that we don't have our favourites. Probably the most popular thing for our family in the summer is tomatoes. There's just something so delicious about ripe tomatoes in warm weather that makes us feel refreshed and satisfied! The best part of tomatoes, though, might actually be that they're so versatile, which means there are so many different kinds of things you can make with them. That's why we're always on the lookout for new tomato based recipes to try out!
Just in case you love to eat fresh, ripe tomatoes in the summer as much as we do, if not more, here are 15 of the best recipes and meal ideas we've come across in our search so far.
1. Summer tomato and cantaloupe salad
Besides the tomatoes themselves, there's actually one more thing we adore eating as often as we can each and every summer, which is also helped along by the fact that our whole family literally loves vegetables; we're obsessed with fresh fruit and vegetable salads! The combination of the two things just complements so well no matter what the ingredients are, which is great because the options are almost endless. This particular salad featured on Minimalist Baker, which is made with tomatoes, cucumbers, onions, and cantaloupe, is the perfect example of what we mean!
2. Summer tomato salad with tangled herbs
Are you very intrigued by the idea of making a fresh tomato summer salad but you're not actually sure that including fruit is the best idea because you've never really liked melon or cantaloupe? Then perhaps you'd do better replacing those with an array of herbs instead! The Clever Carrot guides you through the process of prepping and cutting your herbs so that they release their flavour as effectively as possible, playing perfectly off the seasoned tomatoes.
3. Summer tomato and salami salad
We know we've been talking a lot about how well tomatoes match with other vegetables, as well as fruits and herbs, but have you ever thought about combining fresh tomatoes with meat in a way that still constitutes a salad, rather than just slapping tomato slices on a summer grilled burger? Now, don't get us wrong, we love eating tomatoes like that too, but the less time we have to spend over a hot surface to make dinner, the better. That's why we thought this delicious tomato and salami salad idea outlined on SBS was such a good idea! Throw some fresh basil on top and you're really in for a flavourful treat.
4. Oven candied summer tomatoes
If you're a tomato lover too, you probably already know how fantastic they taste with a little bit of slat or some other savoury seasonings, but have you ever considered eating them when they've been prepared in a sweet manner too? Well, if you've never tried candied tomatoes before, we're sorry to let you know that you've kind of been missing out! Just in case you'd like to give it a try, here's a delicious recipe with a really great step by step guide from Splendid Table.
5. Summer tomato, onion, and cucumber salad
Are you still thinking about how much you liked the idea of a fresh tomato salad but you're just not sure any of the veggie combinations we've shown you so far have quite been the ones for you? Then here's another alternative for your consideration! Eating Well suggests slicing your tomatoes and tossing them with fresh sliced onions and sliced cucumbers as well. The whole thing just tastes beyond fresh.
6. Giant summer tomato tart
Just because tomatoes are the primary reason you're looking for new recipes doesn't meant they have to be the main ingredient that carries the whole dish. What if you'd rather have your tomatoes adding to something yummy as a topping that will simply elevate the whole flavour experience? Well, we can certainly understand this because we find that sometimes a salad alone won't actually fill us all the way up. That's why we were so pleased to come across this savoury tomato tart recipe featured on Food and Wine! It's kind of like eating a fancy pizza but with a flakier crust and more fresh tomatoes (because, let's face it, those are still the best part).
7. Slow cooker braised chicken with tomatoes
We know we've talked about fresh sliced tomatoes a lot throughout our post so far, but we promise that's not actually the only way you can enjoy your tomatoes this summer! This delicious slow cooker braised chicken with cooked tomatoes featured on Popsugar is the perfect example of what we mean. Pair this with a side or keep it low carb and low calorie by just enjoying the chicken in its own broth along with the tomatoes that helped flavour it.
8. Tomato pie
When we started talking about the tomato tart idea, were you actually very interested indeed but concerned that the layer of sliced tomatoes you saw on top wasn't actually quite enough tomatoes for your liking? In that case, we have a feeling that you might get along a little bit better by making your family this fantastic dinner pie outlined on Style Blueprint that's jam packed with juicy tomatoes of all different kinds.
9. Marinated tomatoes with mint
Are you actually still scrolling through our list thinking about how much you love the idea of fresh tomato salad but the kind you usually make yourself really is, in fact, just seasoned tomatoes? Honestly, we can't actually saw we blame you. When you get the right kind, at just the right stage in their ripeness, those are some of the delicious things we might eat all summer! That's why we thought this marinated tomato salad from Saveur would make such a yummy snack, particularly since their recipe shows you how to marinate them in a healthy, delicious helping of mint.
10. Muffin pan tomato tarts
Did you actually love the tart recipe we showed you above so much that you immediately wanted to share it with family and friends but you've been wondering whether there's a more easily shareable option out there that people can pick up and eat on the go, since you love to host dinner parties on your back patio while the kids run around and people socialize? Then we're pretty sure Home is Where The Boat Is is here to save your day! They show you how to make bite sized tomato tarts that will have everyone coming back to grab more.
11. Zucchini, eggplant, and tomato gratin
Perhaps you're actually a huge fan of the idea of vegetable heavy dishes that combine tomatoes with some of your other favourites but you actually would prefer to make a warm dish that you actually cook rather than just a fresh salad, since you already have a cool side dish? In that case, we'd absolutely suggest taking a look at how Simply Recipes made a deliciously grilled gratin using sliced tomato, zucchini, and eggplant.
12. Tomato basil mozzarella salad
We've shown you a few more unique tomato based recipes so far on our list, but what if you were hoping to come across one that's more of a classic? Well, we understand that this salad idea from Savoury Sweet Life might be self explanatory to some, but that doesn't mean beginner kitchen enthusiasts won't need a bit of guidance anyways! This tomato, basil, and mozzarella salad is packed full of flavour that's basically irresistible.
13. Roast tomato and pea risotto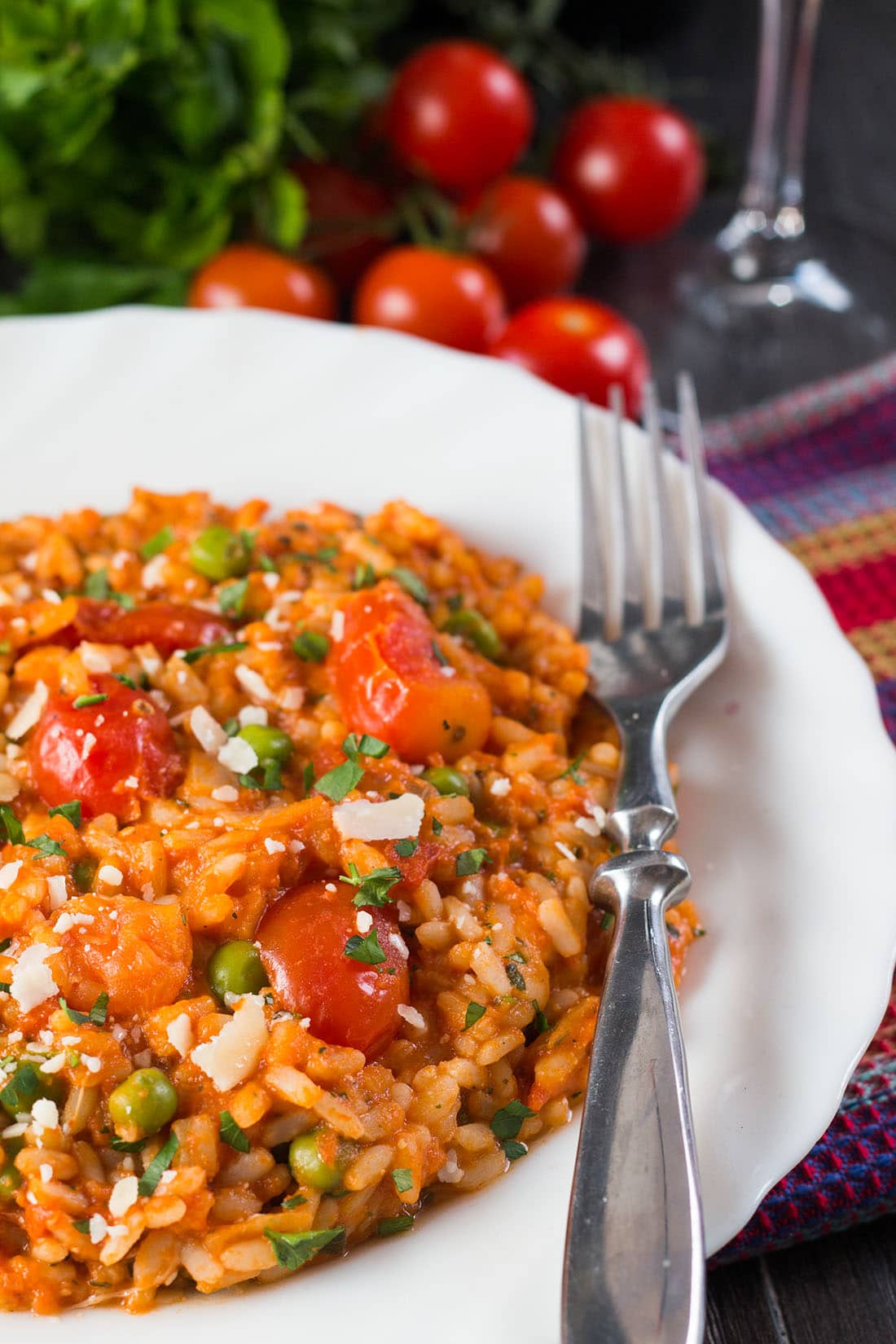 Just in case you're still on the lookout for warm tomato based summer dishes, here's one that our family loves so much that we frequently have to talk them out of making us whip it up again multiple times a week! Erren's Kitchen guides you step by step through the process of making a fantastically creamy risotto made with a tomato sauce, roasted tomatoes on top, and some peas mixed in as well for balance.
14. One pot summer tomato pasta
Are you actually part of a really active family who spend most summer nights playing sports, meeting up with friends, and generally enjoying their time in the warm air, so in addition to being on the lookout for tomato based recipes you'd also like something that's classic, simple, and quite quick and easy to make? In that case, perhaps some of this one-pot summer tomato pasta would be the best thing for you to make! If you make a big enough batch the way Cooking For Keeps does here, it could feed you for several nights in a row, making things even easier.
15. Cherry tomato, leek, and spinach quiche
Before we sign off this post for good, here's one last warm tomato recipe to balance out all the lovely fresh salads we've shown you above, just for good measure! This particular recipe is great because you can actually enjoy it just as well for any meal at all, making it especially versatile. Check out how The Food Charlatan made a mouth watering quiche made with juicy cherry tomatoes, spinach, and leeks.
Do you have another very favourite summer tomato recipe that you love making each year but that you don't see on our list? Tell us all about it or link us to the recipe in the comments section!