How to Make Your Own Beads
We've been crafting all our lives, so by now, we are very experienced in a lot of the classic DIY techniques. We can do papier mache like it's our job. We can cover things in paper or fabric cut outs by doing decoupage with lightning speed. We can also make all kinds of jewelry! Recently, however, we've been feeling like merely putting the pieces of a new accessory together isn't actually quite DIY enough for us, since we've been doing it so long and love challenging ourselves. Rather than simply buying beads, cords and string, or clasps, we've been looking for ways to learn how to make our own jewelry from scratch instead. We want to be responsible for making as much of each piece we create by hand as we possibly can! That's how we started researching different methods of making our own beads. This way, we have complete custom control over things like colour, shape, and size, rather than being restricted to just the beads we can find in stores. The Internet has been an amazing help with teaching us all different kinds of new ways to make our very own beads ourselves!
Just in case you're as interested as we were in the idea of making your very own DIY beads from scratch, here are 15 of the best, most creative bead designs we've come across in our search and learning process so far.
1. Beads made from plastic bottles
Are you the kind of careful DIY enthusiast who loves to get messy, use your hands, and sometimes even try things that might be a little bit dangerous if you're not careful and patient? Then we wouldn't be surprised to hear that you've actually tried crafts that involved melting plastic before. We hadn't until we followed this tutorial from Guidecentral English to make our very own beads out of plastic water bottles but we actually had so much fun doing it (and also loved the finished product so much) that we would 100% try it again! Besides how neat the technique is, we love a good upcycling project that makes our impact on the environment a little more green.
2. DIY painted wood beads
Okay, we know we've talked a lot about making your beads from scratch in this post, but we also fully understand that sometimes, depending on skill level, time constraints, and access to materials or learning opportunities, customizing something that's already made is the closest you'll get to being an actual jewelry smith. That's okay! Luckily for all of us, Think Make Share is here to show you how you can still make pre-made beads like these plain wooden ones your own unique design using a little bit of careful hand painting.
3. Round paper beads from magazine pages
Here's an awesome bead and jewelry making technique that we actually learned many, many years ago when we were kids making fun costume pieces at summer camp but that we loved so much that we're still creating versions of it to make more stylish pieces to this day! Mum in The Madhouse reminds you just how fun and creative making your own wrapped and rolled beads from colourful paper upcycled from old magazine pages can be. We like their tip about sealing the beads once they're rolled so that they don't unravel as you wear the finished piece.
4. Thread wrapped felt beads
If you're going to make beads of your own so that you can have full creative control, perhaps you'd rather try your hand at creating some beads from a material that's slightly more unconventional for that specific kind of craft? These stunning little cylindrically shaped dual coloured beads featured on Handmade Charlotte are the perfect example of what we mean. Their tutorial shows you how to roll a small strip of bright felt and wrap is haphazardly (but stylishly) in embroidery floss or thread in a contrasting colour to help it keep its shape and also give it some visual interest.
5. DIY clay marble beads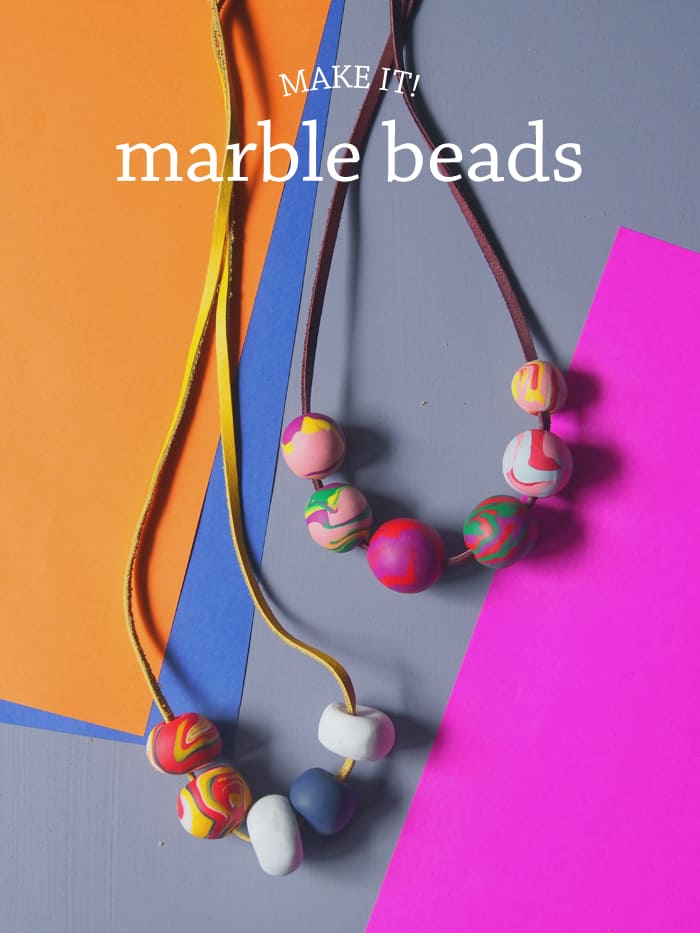 Were you somewhat a fan of the painted wooden beads we showed you above because you liked their spherical shape and how chunky and funky they looked, but you're still intent on making things from scratch rather than starting with a pre-made shape already set for you? Then perhaps you'd prefer to create this hand moulded polymer clay version instead! We love the way Laura Murray combined several colours of clay to give their beads a marbled effect and we also enjoy their cube shaped beads very much as well!
6. DIY copper tube beads
Now that you've customized yourself a few wooden beads using paint, or perhaps moulded yourself some fun chunky spheres out of clay, are you looking for a contrast piece to break them up with in your necklace or bracelet design? Well, if you're the kind of stylish person who likes a bit of industrial chic in their accessorizing, then we'd absolutely suggest taking a look at these fantastic copper tubing beads outlined step by step on Alice and Lois! We're not just calling them that because they've got a shiny copper finish or a cylindrical shape; these beads are actually made from repurposed copper tubing like you'd find in a hardware store.
7. DIY wrapped embroidery thread beads
Did we really catch your attention with the felt wrapped beads idea, but it's not actually the felt itself that caught your eye? Well, making entire beads out of embroidery floss might not necessarily sound like an easy task, but Encourage Fashion is here to show you that it's actually totally manageable (and a whole lot of fun too)! Check out how they gathered different colour schemes of thread and carefully wound them around and around in a ring shape before stringing them into necklaces and bangles.
8. No-glue fabric beads made from ribbon
Now that we've entered the world of making something that's usually hard, like beads, out of softer materials like fabric, are you totally enamoured with the idea and eager for more tutorials and designs? In that case, we'd absolutely suggest taking a look at how Happily Ever Mom made these lovely little patterned beads from rolls of fabric ribbons! We love that this tutorial is actually a "no glue" option because we find that sometimes the glue gets a little sticky with some wear or occasionally even starts to lift. If you can't find ribbon in a colour combination or pattern you love, try just cutting your own fabric strips from scraps in your sewing stash and using those instead!
9. Easy perler bead bracelets
Have you actually been scrolling through our list looking for a DIY beaded project that your kids might be able to help you out with? Well, perler bead projects are the kind of classic crafting technique that have been around for so many years that even we remember doing them as kids, so of course we couldn't finish the list out without suggesting those as an option! We know you're not really making the beads yourself, but the way that One Crazy Mom uses them to create a bracelet still lets your kids transform the shape and constitution of something to make it look, sit, or behave differently than it started out. We think perler beads are a great springboard project for little future jewelry makers!
10. Woven paper beads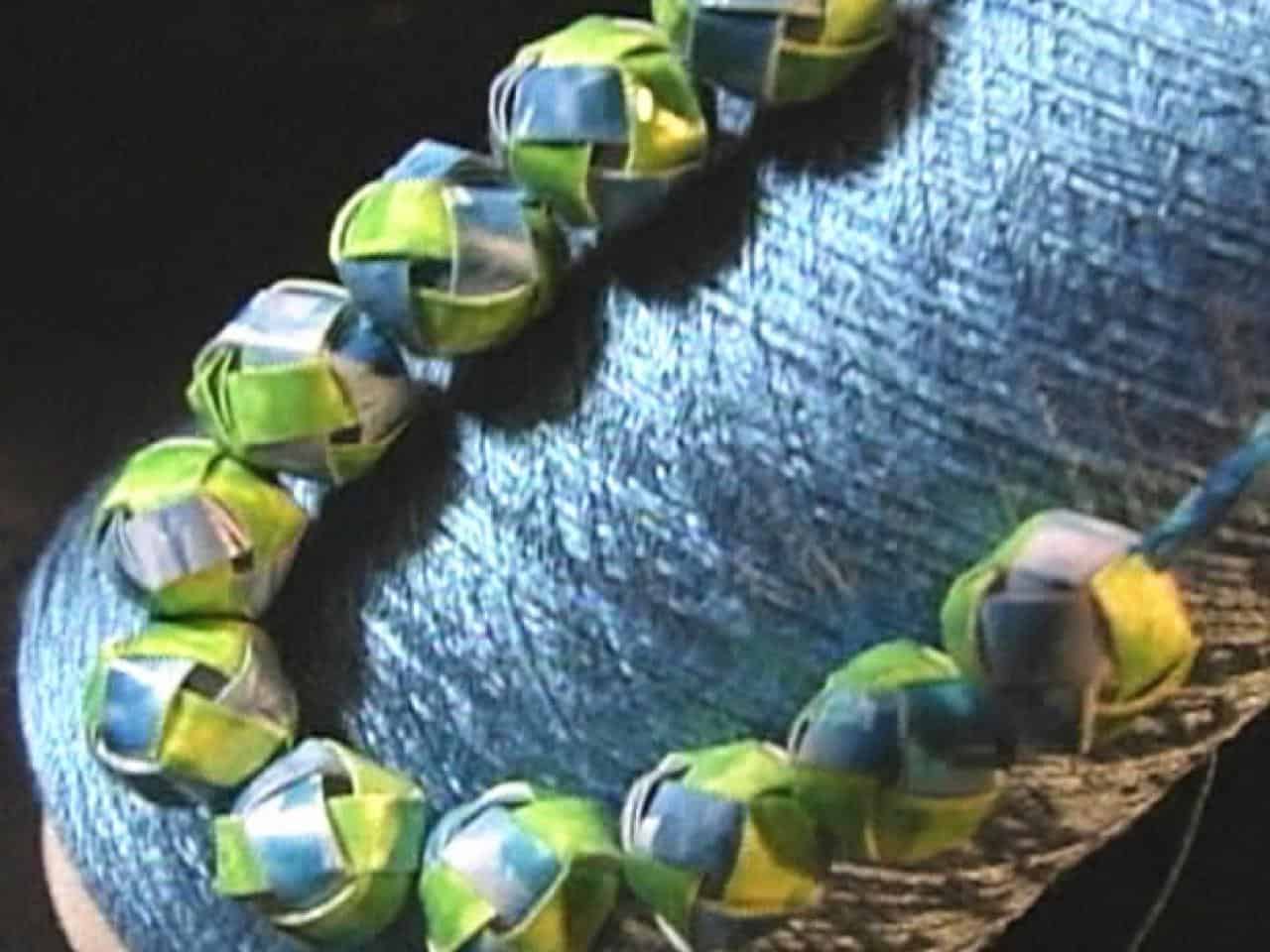 If you're going to use softer, more unconventional materials to make beads, would you rather dabble in something that's even more less likely to come to mind than fabric or felt? Perhaps we really caught your attention the most when we started talking about paper beads in the rolled strips tutorial but you've always had a knack for fiddly, intricate crafts and you'd prefer something that takes a little more patience than just rolling. In either case, we'd absolutely suggest taking a look at how HGTV made colourful ball shaped beads by weaving strips of paper in and out of each other so the colours are intertwined.
11. Simple solid polymer clay beads

Are you still thinking about how awesome the idea of making your own beads out of polymer clay would be but you're very new to the idea of homemade jewelry or perhaps crafting and DIY in general? Then maybe you'd have more success with an even simpler tutorial that really breaks the steps down and primarily sticks to just the basics. That's exactly what you'll get from this resource featured on Fall for DIY! They'll walk you step by step through the process of making simple spherical clay beads happen and you can add colour, detail, and style from there however you please.
12. DIY gemstone clay beads
Perhaps you're still in love with the idea of clay beads but the spherical shape doesn't really appeal to you and you'd rather get a little more creative? Then perhaps you'd actually have a better time making something like these mock gemstone beads that are outlined step by step on Craftionary! They show you how to get the basic size and shape and then how to create the flat, awesomely irregular sides as well. Make them in solid clay colours like these or try combining this technique with the polymer clay marbling we showed you earlier on our list!
13. Silk scarf covered beaded necklace
Perhaps all you have to work with right now are, in fact, pre-made beads so you're feeling kind of trapped when it comes to making them from scratch, but you've got a good stash of old clothes and accessories you've been meaning to upcycle with! Well, believe it or not, a silk scarf and the willingness to embellish the beads that are already in your craft room are almost all you need to make this awesome fabric wrapped style necklace featured on Spunnys!
14. DIY game tile beads
We've talked a lot about upcycling in bead and jewelry making, but what if the kind of upcycling you love doing the most is actually a little more kitschy than what you've seen so far? Then perhaps you'll get along bette with this funny idea from Where The Wind Blows instead! They show you how to make bracelets that combine regular store bought beads with beads you've made yourself out of old repurposed board game pieces. We love how fun and customizable this idea is and how each piece you make using this same basic idea will look different depending on which game pieces you have available.
15. DIY salt dough beads
Perhaps you're actually still looking for more kid-friendly ideas and the idea of moulding beads out of clay caught your eye, but you're just not sure you want to spend the money on craft store quality polymer when your kids are still quite young? Then perhaps you'd be better starting off by making beads from some homemade salt dough instead! It's simple to make, cheaper to purchase the ingredients for, and your kids get the fun of both helping you make the salt dough, moulding and painting their beads, and making those beads into jewelry. Get the full details for making all that fun happen on Red Ted Art!
Do you know a fellow DIY enthusiast who also adores making their own jewelry just as much as we do, if not more, but you also know that they're always looking for new ways to take things to the next level in how much of the process they actually make themselves? Share this post with them so they can venture into the world of making their very own beads!